We work all over the world to reach remote communities devastated by disaster or conflict. Scroll down to see where.
For live operations updates, join our operations team every Tuesday at 9:30 AM EST/6:30 AM PST on the HQ Facebook page.
Follow ShelterBox USA on social media for more:
Syria - Ongoing Conflict
---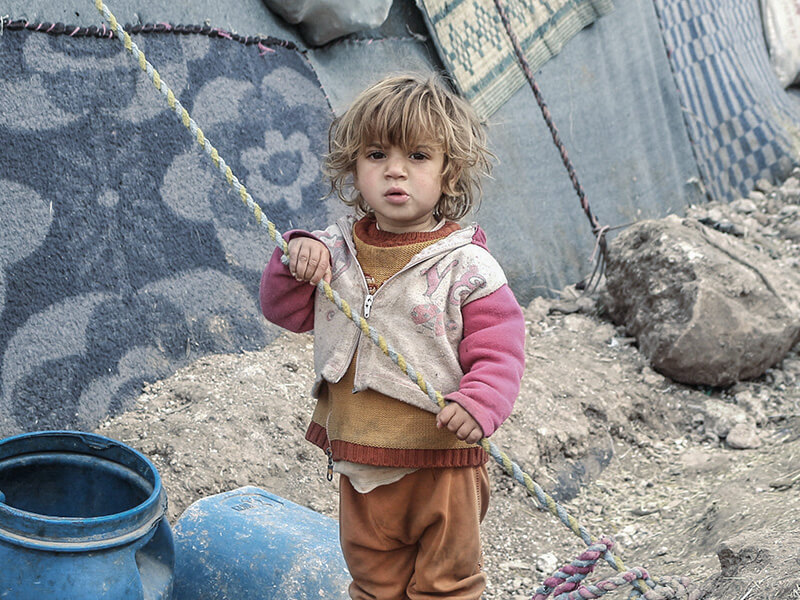 With the arrival of COVID-19 in Syria, the need for humanitarian support is greater than ever for families already living in difficult conditions.
Since December, over 900,000 people have fled the violence in Idlib province. Airstrikes and ground attacks have hounded them into smaller and smaller areas of safety. Even hospitals and displacement camps have been hit.
Together with our trusted partners, ReliefAid, we're providing families with tarpaulins and rope to reinforce their tents, helping people to keep distance from each other. Mattresses, carpets, thermal blankets and kitchen sets can help to keep families to stay warm and prepare meals – helping them stay as healthy as possible.
Working through local partners, we have supported over 55,000 families affected by the conflict in Syria and Iraq since 2012. This makes it the largest and most sustained response in our 19-year history – but the need is as urgent as ever.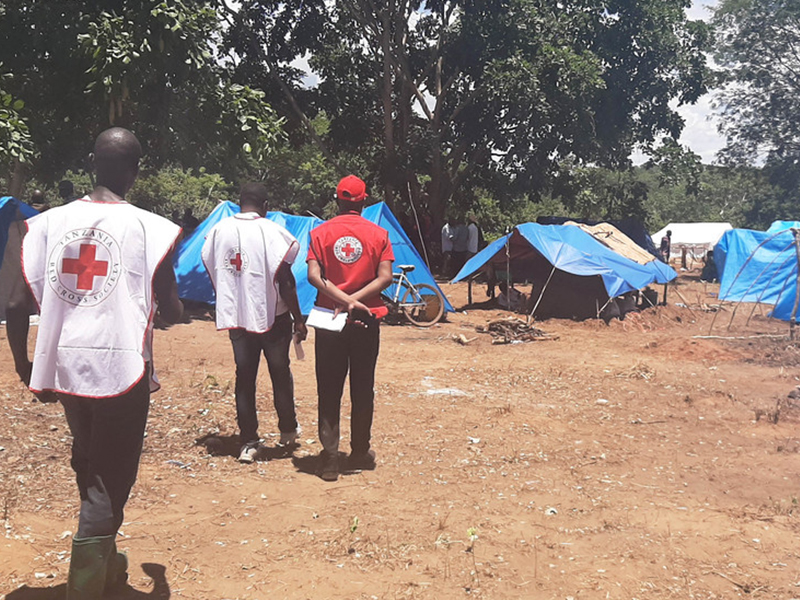 Torrential rain has caused flash flooding across the south-east regions of Tanzania.
Thousands of families have seen their homes severely damaged or completely washed away.
People have moved to resettlement camps on higher ground and are in urgent need of emergency shelter.
Together with our partner, Tanzania Red Cross Society, we have supported families in Tanzania with shelter kits and solar lights. These will help people to build sturdy homes so they can start to rebuild their lives and recover from this disaster.
The aid will also help families to following social distancing guidelines and protect themselves from coronavirus if needed.
Burkina Faso is one of the fastest-growing displacement crises in Africa.
Almost 1 million people have been forced to flee their homes due to extremist violence. Efforts by both government forces and local militias to fight it have uprooted even more communities.
Increased violence through 2019 has continued in 2020, and the situation is not getting any better. Some of the families forced to flee are able to stay with relatives or friends, but many more are in crowded camps or buildings such as schools.
The insecurity and instability make it difficult for aid workers to reach some of the people in need, and coronavirus is making the situation even worse.
Despite the many challenges for humanitarian organizations, including travel restrictions, we are working with our new partner Help to support vulnerable communities.
Unfortunately, our initial project has been delayed until August. However, with our aid already being in the country, we have agreed with our partner to redirect the aid to another area, the Centre Nord region, where is it badly needed.
Heavy rain in the Centre-Nord region has triggered floods that have devastated several camps for Internally Displaced People (IDPs). High winds have also caused damage to existing shelters.
Distributions and post-distribution monitoring activities are now complete. We've supported families with tarpaulins, kitchen sets, water carriers, sleeping mats, high thermal blankets, mosquito nets and solar lights.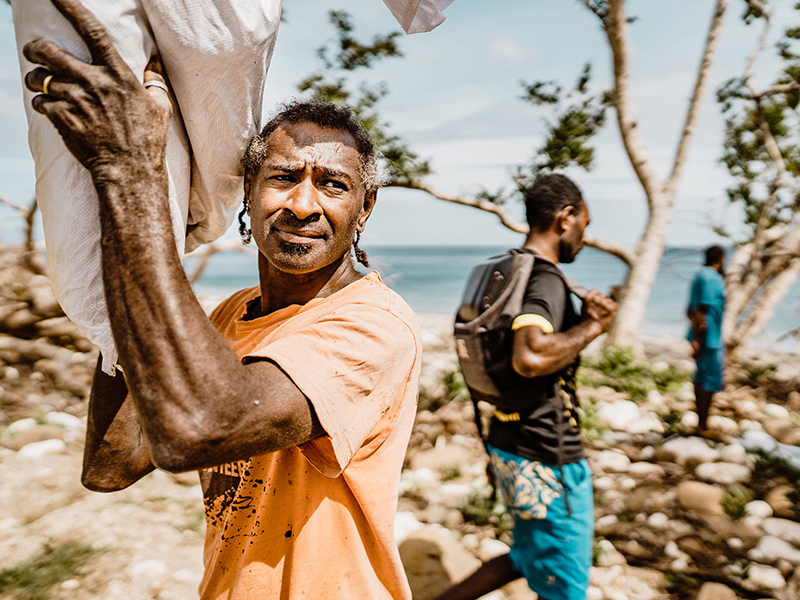 On April 6, Cyclone Harold made landfall in Vanuatu as a Category 5 cyclone, bringing devastation to communities in the north.
The provinces of Sanma, Malampa, Torba and Penama are most affected.
It is estimated that up to 90% of buildings and houses in Sanma are either damaged or completely destroyed. 160,000 people are thought to be affected.
Due to the COVID-19 pandemic, access to the country is extremely difficult right now. Despite the challenges, we will be providing much-needed aid to families who are most vulnerable.
Through our partner CARE Vanuatu, we are providing tarpaulins and rope, solar lights and kitchen sets. Aid distributions, as well as post-distribution monitoring, are now complete.
Somaliland - Drought
---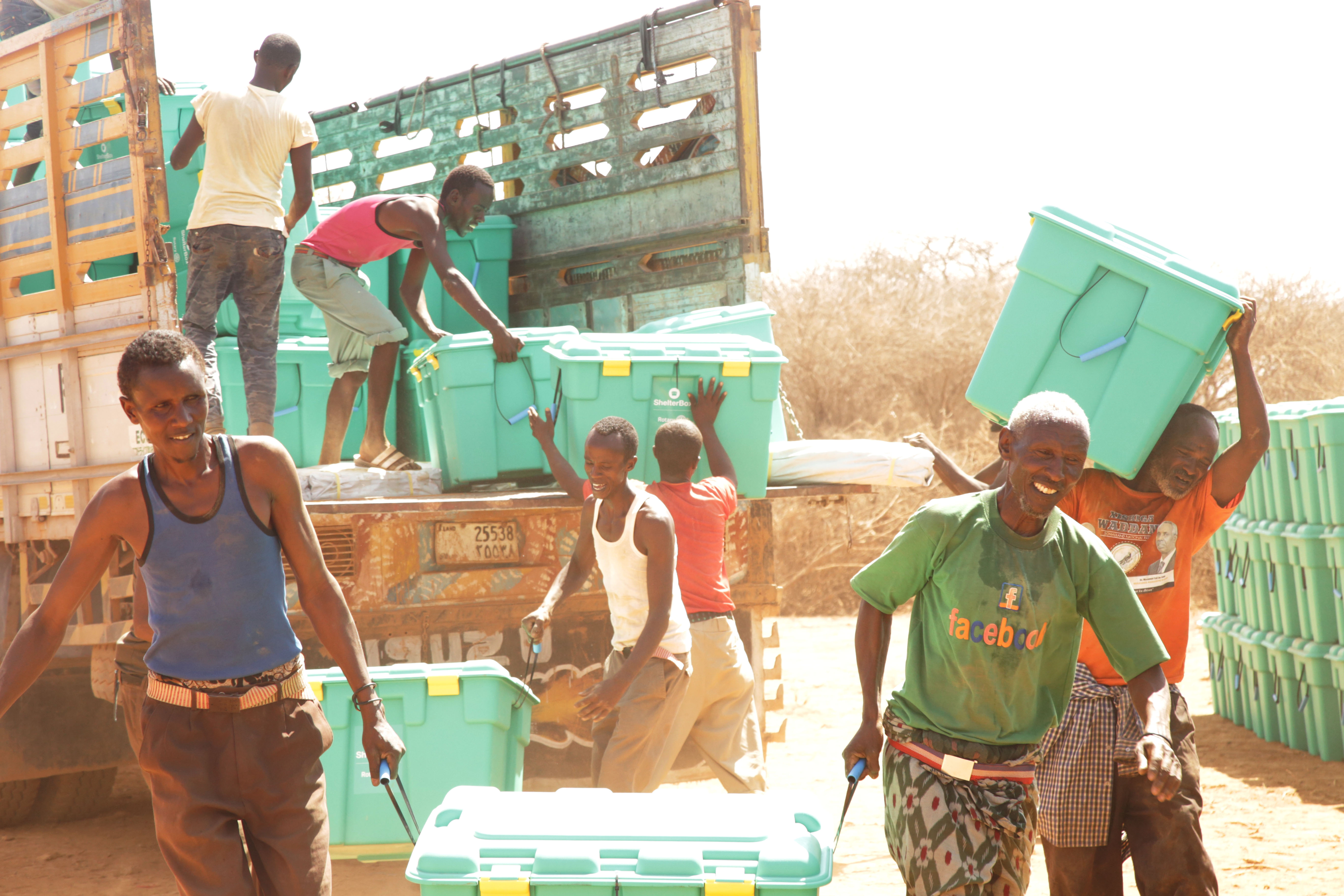 Severe drought in Somaliland has affected an estimated 766,000 people since November 2016, leading to the degrading of grazing land and displacement of families, forcing them to move large distances to seek fresh food for their animals.
As the drought continues, we are working closely with our partner ActionAid to ensure that families have safe shelter throughout Somaliland.
Project 3 is now completed, with 2,000 households in total receiving ShelterBoxes.
In total, we've supported 3,468 families so far with aid items such as blankets, kitchen sets, tarpaulins, tools kits and solar lights, and water filters. A proposal to support 1,000 more households has been approved. This aid will replicate that of previous projects to include tarpaulins, rope, and other essential items.
In mid-May, Cyclone Amphan tore through coastal regions of Bangladesh and north-east India. It was the strongest tropical cyclone to strike the River Ganges Delta since 1999.
In India alone, 1.7 million homes were destroyed. Families in the states of West Bengal and Odisha were affected the worst.
Emergency shelter is likely to be needed for many months, as people struggle to rebuild lost livelihoods and find reliable food sources.
And with coronavirus cases in India continuing to increase, it has never been more vital for families to have the space to self-isolate and avoid sharing items like cooking sets.
We have been working with our partner Habitat for Humanity India to support 1,400 families in the Sundarban Islands, one of the areas worst hit by Amphan.
We have prioritized vulnerable families who need help the most.
Distributions are now complete. Families have received shelter kits to enable them to repair or replace damaged and destroyed homes.
We have also provided blankets, sleeping mats, mosquito nets, kitchen sets and hygiene kits with soap, buckets and face masks.
These everyday items will help people keep themselves safe from coronavirus and begin to think about the future.
Ethiopia - Conflict and Flooding
---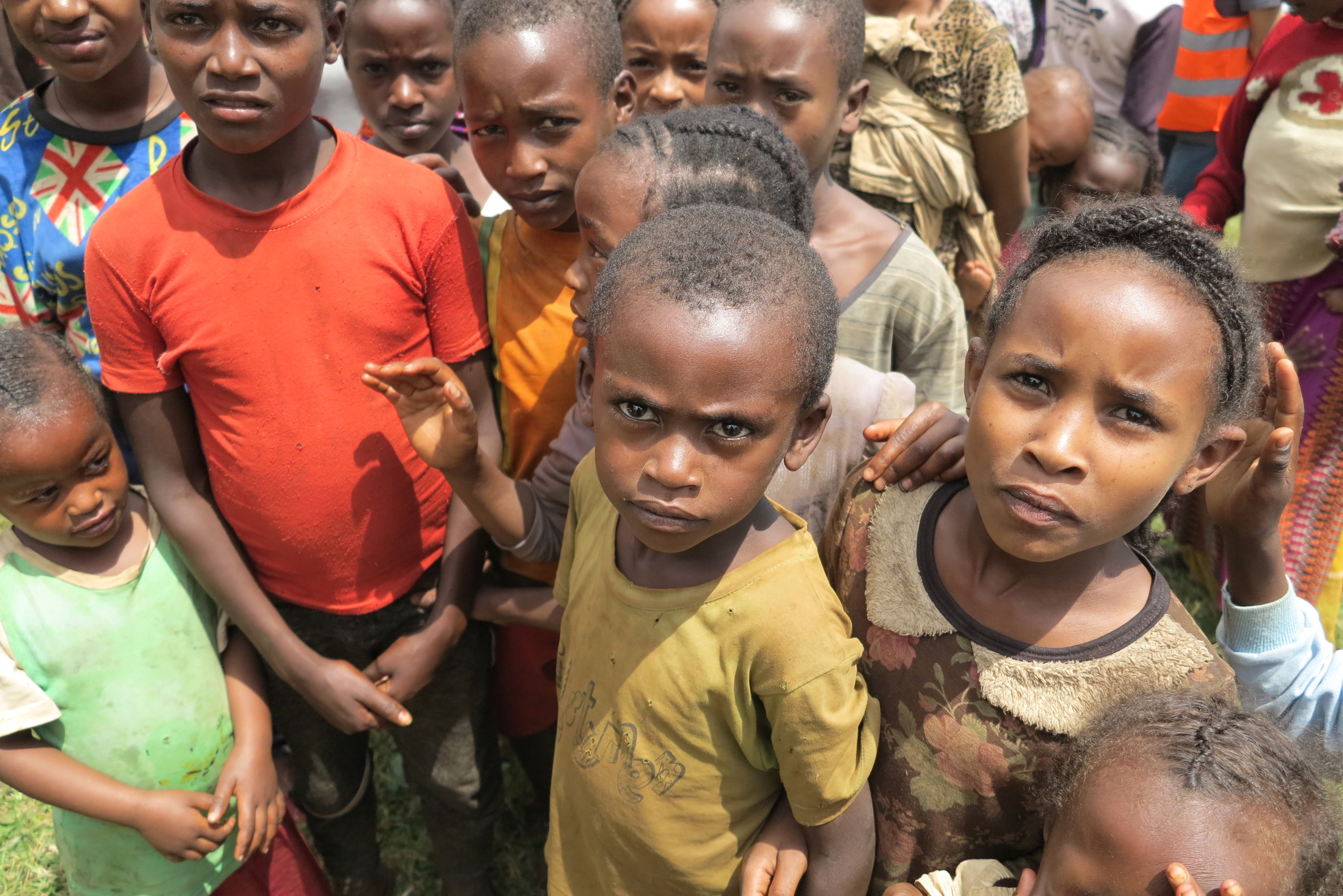 In Ethiopia, conflict, disease outbreaks, rainfall shortages and flooding, have forced people from their homes.
The UN predicts at least 8 million people will need humanitarian assistance in 2020.
Our latest project has been supporting the coronavirus country response as well as the emergency shelter displacement needs. Distributions of aid and post-distribution monitoring activities are now complete.
With the help of our partner, the International Organization for Migration (IOM), we have supported over 3,500 families in total since May.
Coronavirus mitigations were put in place for distributions, such as only allowing a maximum of 50 people per distribution, to ensure physical distancing was being followed.
Lake Chad Basin - The Forgotten Crisis
---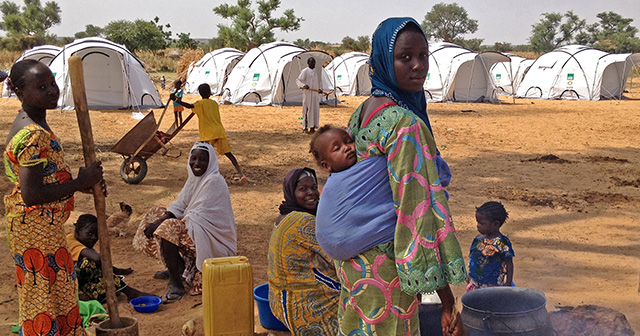 Since 2009, Boko Haram has been waging an insurgency in Northern Nigeria.
The violence has since spread to the neighboring regions of Niger, Chad and Cameroon.
Around 10.7 million people in the Lake Chad region are in need of relief assistance. 2.4 million people are estimated to have been displaced and perpetual insecurity continues to drive displacement.
To date (since 2015), we have supported more than 11,000 households across Cameroon, Niger, Nigeria and Chad.
Together with our partner IEDA Relief, we've provided shelter to over 7,000 families in Cameroon.
Last year, we completed our first distribution of hygiene kits for young women and teenagers affected by the crisis. These kits include personal and laundry soap, a bucket and sanitary towels. Our ongoing project right now aims to serve 800 families with tents, ShelterKits, and other essential items.
We've also worked in the extreme north of Cameroon, where families who have escaped Boko Haram needed our support. During 2017-18, we have provided 1,700 tents, 500 ShelterKits, 1,850 semi-permanent shelters, and 6,600 hygiene kits.
In Chad, we are partnering with the local aid agency ICAHD to support vulnerable families who have been affected by conflict.
So far, we've distributed vital aid to nearly 4,000 families. The aid includes blankets, buckets, solar lights, mosquito nets and ground sheets.
Distributions are now complete for this project. The final phase provided nearly 2,000 families with tarpaulins, blankets, water carriers, kitchen sets and solar lamps.
Recent Boko Haram attacks in Kablewa have led to massive population displacement in Niger. Many families have been forced to find shelter in host communities, spontaneous sites in the bush or in displacement camps.
We've been working with Plan International Niger to provide emergency aid to these families. Throughout Project 2, we have provided ShelterKits, mosquito nets, water carriers, ground mats, and kitchen sets to nearly 2,500 families. Distributions are now completed. Now ShelterBox has decided to pursue a new local partner APBE to develop a new project.
The conflict in Nigeria is now entering its ninth year and the devastating consequences continue to impact structures and the lives of 8.5 million vulnerable people.
We have partnered with ACTED and we have supported over 2,000 families in Nigeria so far.
Project 2 has been completed with 1,205 households provided with shelter. Project 3 is complete and has supported nearly 500 families with essential aid items.
PHILIPPINES - Typhoon and Volcano
---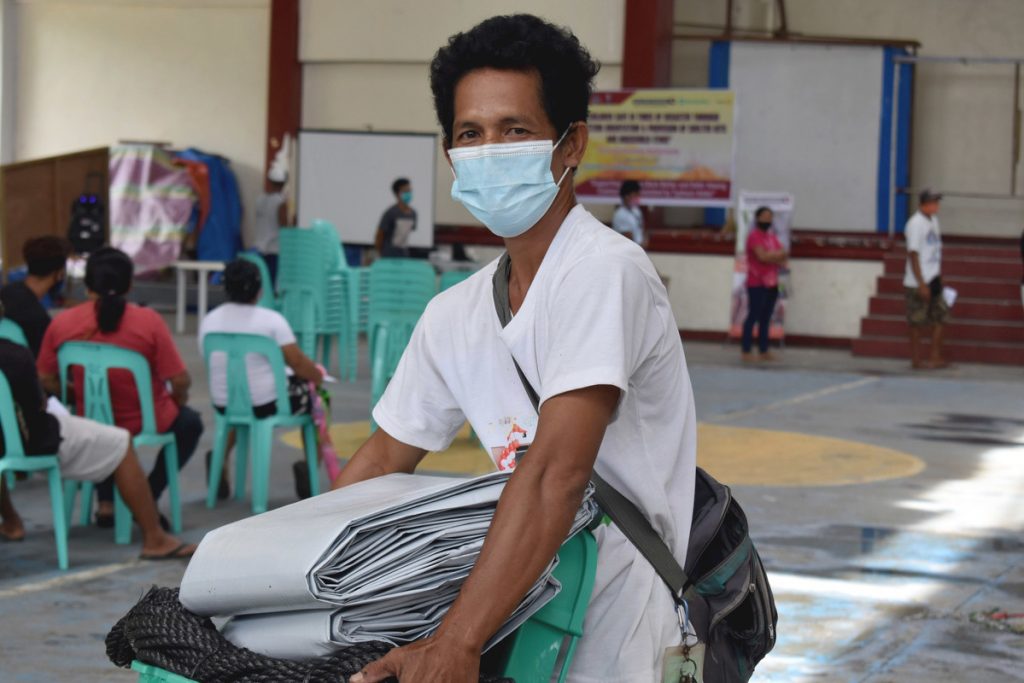 Category 3 Typhoon Vongfong (local name Ambo) made landfall in May in Eastern Samar, Philippines. Torrential rains brought devastating damage, affecting nearly half a million people.
Together with our partner Terres des Hommes (TdH), we have provided essential aid to families who have seen their homes destroyed by the powerful typhoon. Distributions of aid and post-distribution monitoring activities are now complete.
Families, some of them staying in evacuation centers or with relatives, have received tarpaulins, rope, and other household aid items. The emergency aid enables people to rebuild their homes and provide a private space to protect themselves from the threat of coronavirus.
We've adopted coronavirus mitigations to ensure the safety of everyone involved in the distributions. These include physical distancing, handwashing, and the use of personal protective equipment (PPE).
In January 2020, the Taal Volcano erupted in the Philippines.
Now, more than four months later, many people have not been able to return home. There are still around 2,000 families living with host families.
Working with YKBI, we are hoping to provide essential items that will allow host families to extend the footprint of their homes, providing more space for social distancing. We're also speaking to our local Rotary contacts to see how they can support our response.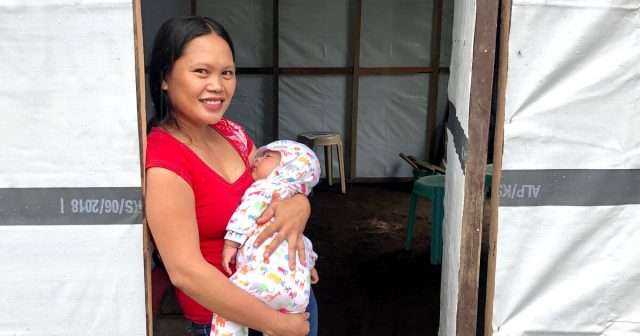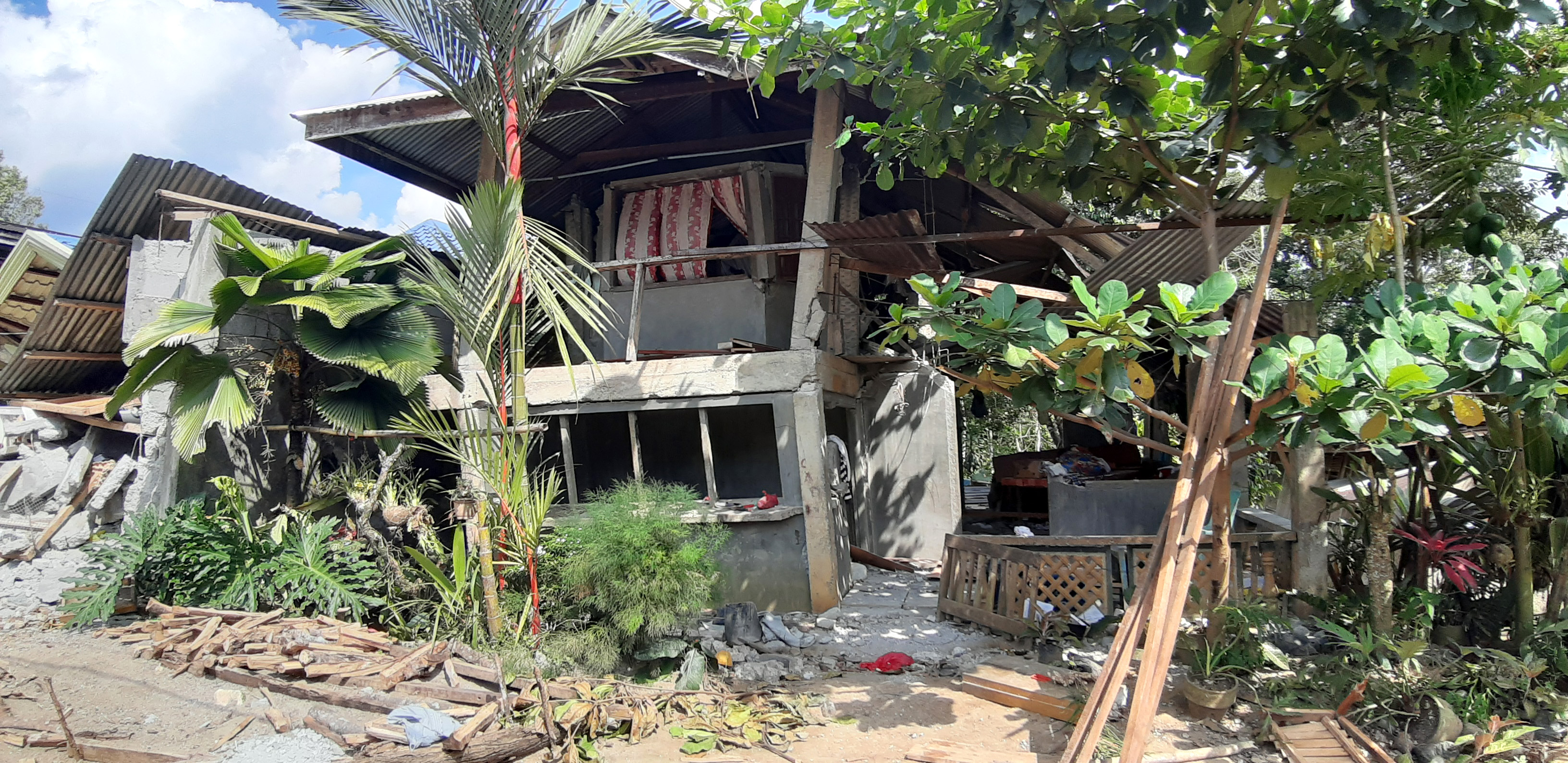 In October 2019, three powerful earthquakes shook Mindanao island, turning homes and buildings to rubble.
Thousands of people have fled to evacuation centers and some are staying with host families.
We have worked closely with Rotary and the local government to support over 1,500 families who've lost so much.