What is the forgotten crisis?
---
Also called the Boko Haram Crisis, the Lake Chad Basin Crisis affects some of the world's poorest people.
Reaching across Nigeria, Cameroon, Niger and Chad, it is a huge and complex humanitarian crisis with many causes. Extreme poverty, underdevelopment and climate change are just some of the factors at play, alongside growing insecurity caused by Boko Haram attacks.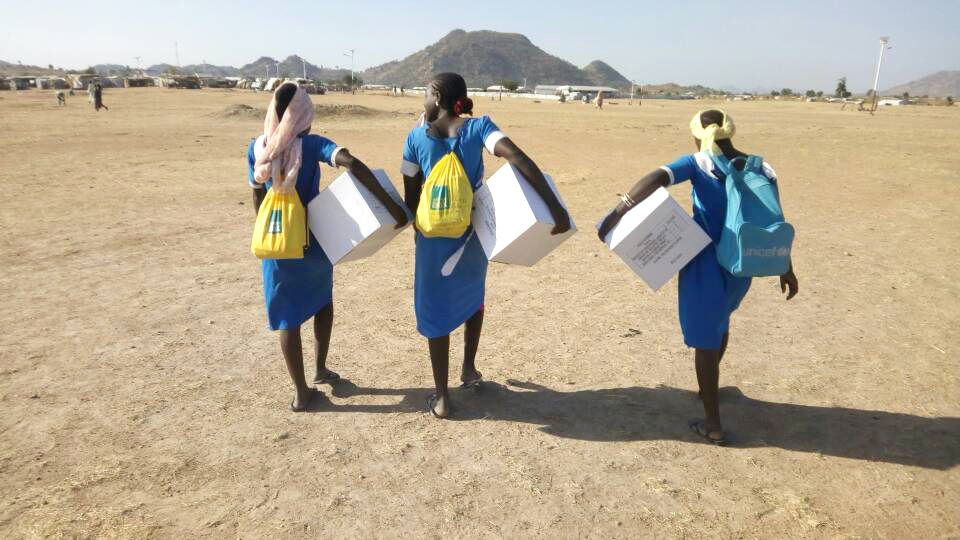 Why is it forgotten?
Could you point to Lake Chad Basin on a map? Have you heard much about the crisis in the news recently?
If the answer is 'no', you're not alone. It is called the forgotten crisis because it receives little media attention from western countries.
Boko Haram gained notoriety when it kidnapped 276 Chibok girls from a school in Nigeria in April 2014. The world responded with the Bring Back Our Girls campaign.
But the widespread issues in the Lake Chad Basin continue with women and children continuing to be targeted.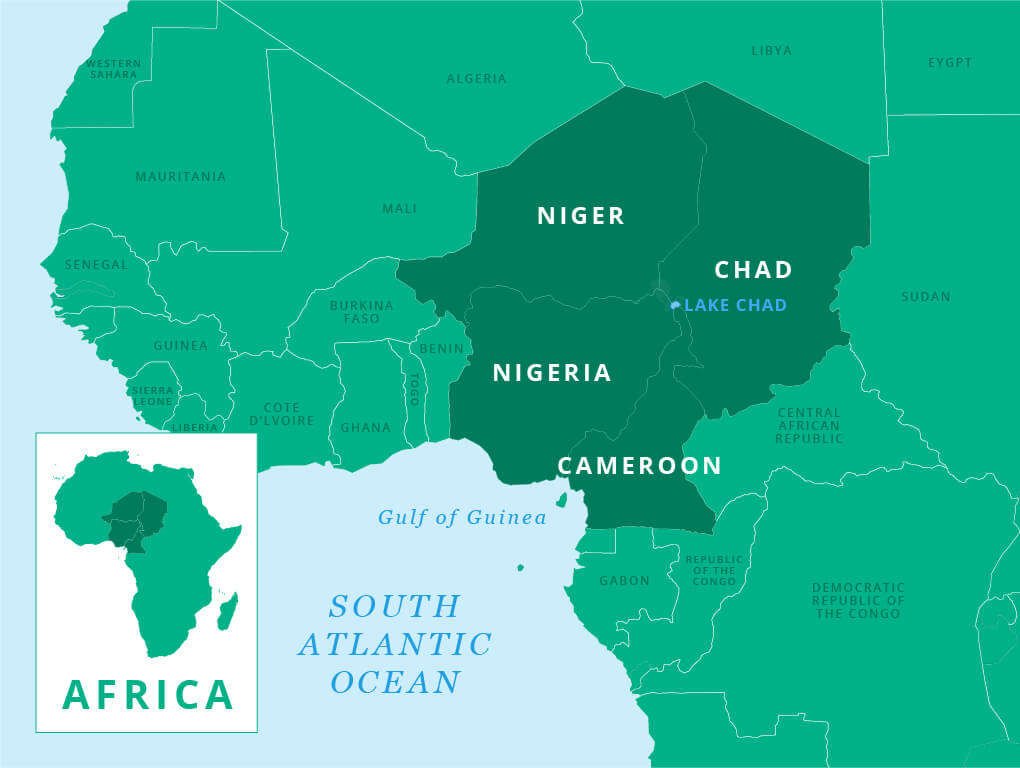 Lake Chad is a freshwater lake that is located where Chad, Nigeria, Cameroon and Niger meet.
It was once one of the largest lakes in Africa, providing water for over 30 million people.
Historically, local people relied on the lake for their livelihoods, living on the plentiful fish and fertile land.
But since the 1960's, the lake has shrunk by about 90%, turning the area to desert. This is reportedly due to a mix of climate change, increasing population, overuse and irrigation.
In one of the hottest places on earth, it is now almost impossible to make a living from the land or the lake.
Over 17 million people live in the affected area – that's around the same number of people living in the Netherlands.
Around 10.7 million people are in need of help of some form, with 2.4 million people estimated to be displaced – meaning they have been forced to flee their homes with nothing.
There is little shelter for families who have fled.
Ongoing military and terror offensives mean many people can move suddenly into camps and informal settlements, making conditions worse.
People are now living in overcrowded camps, in which there are food and water shortages, unhygienic living conditions, limited privacy, cholera epidemics and overall insecurity.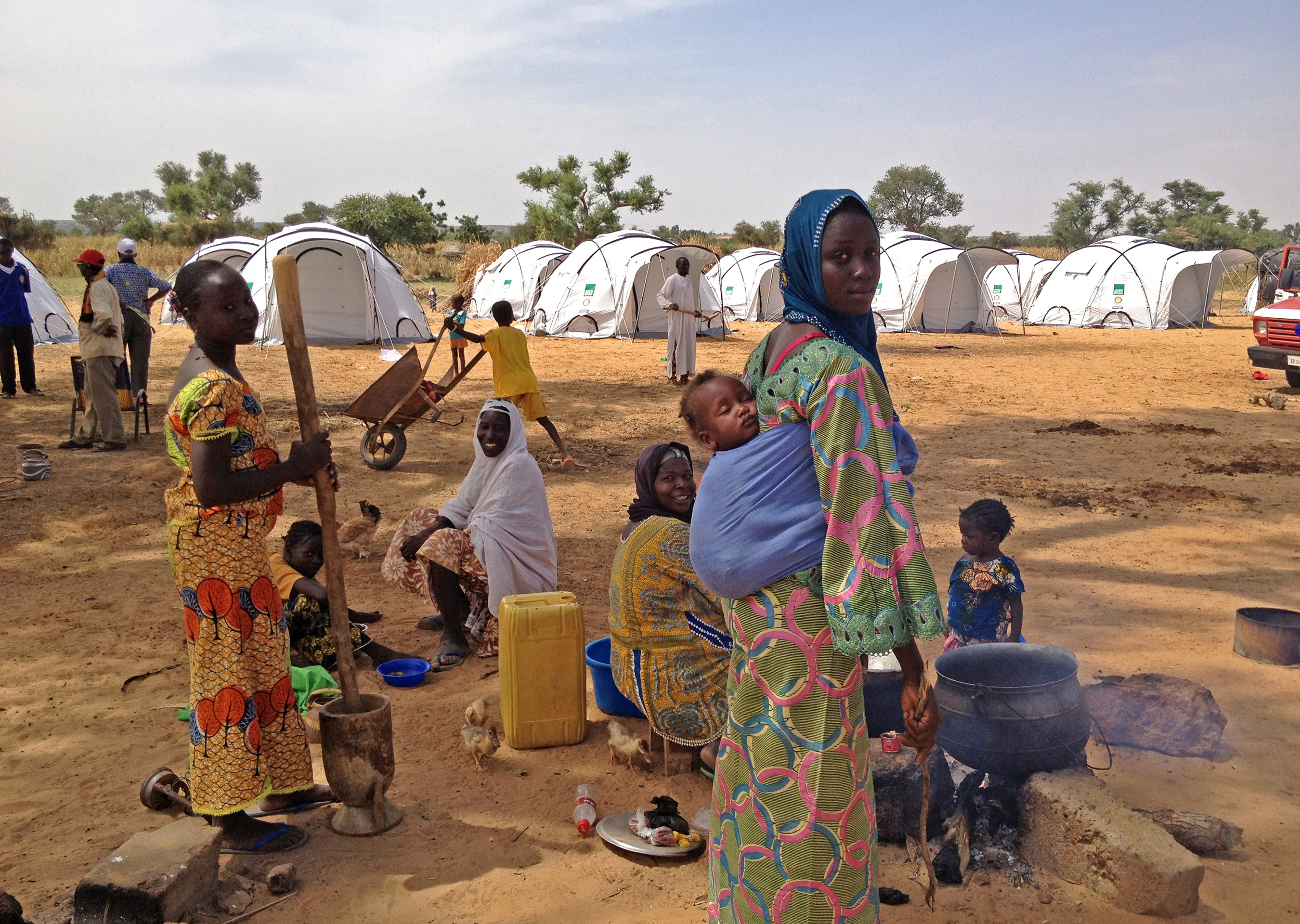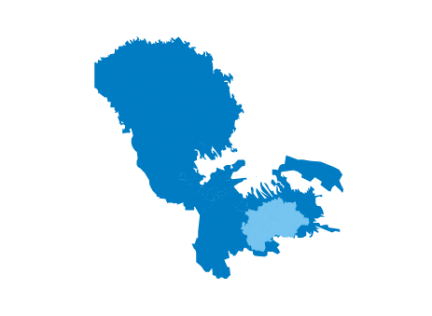 Boko Haram is an extremist militant group that opposes western education and influence in Nigeria.
The terrorist organization has raged violent conflict in Nigeria since 2009, which has spread to neighboring countries of Chad, Cameroon and Niger.
As Boko Haram has occupied territory, farmers and fishermen can no longer freely access what is left of the lake and lands. Today, Boko Haram continue mass atrocities on villages – looting, killing, abducting women and children and conscripting men and boys into their army.
The world's media took a stand in 2014 when 276 Chibok girls were kidnapped in Nigeria. But the atrocities have continued since then, seemingly going unnoticed.
One of the worst examples of Boko Haram terror and abuse is the use of children, mostly girls, as 'human bombs'. Young girls are used as suicide bombers and have explosives strapped to their bodies.
The words 'Boko Haram' roughly translate to 'western education is a sin' and thousands of schools have been attacked, looted and burned. Over 1,000 children have been abducted and thousands of teachers killed.
But Boko Haram and the surrounding military offensive is just one of the driving factors in the Lake Chad Basin forcing people to flee their homes. Extreme poverty, underdevelopment and climate change are also at play in this forgotten crisis.
Together with our partner IEDA Relief, we've provided shelter to over 7,000 families in Cameroon. Last year we completed our first distribution of hygiene kits for young women and teenagers affected by the crisis. These kits include personal and laundry soap, a bucket and sanitary towels.
We're also working in the extreme north of Cameroon, where families who have escaped Boko Haram need our support. Between 2017-2018, we distributed 1,700 tents and 500 ShelterKits.
In Chad, we are partnering with the local aid agency ICAHD to support vulnerable families who have been affected by conflict.
So far, we've distributed vital aid to nearly 3,500 families. The aid includes blankets, buckets, solar lights, mosquito nets and ground sheets.
Distributions are now complete for this project. The final phase provided 1,950 families with tarpaulins, blankets, water carriers, kitchen sets and solar lamps.
Recent Boko Haram attacks in Kablewa have led to massive population displacement in Niger. Many families have been forced to find shelter in host communities, spontaneous sites in the bush or in displacement camps.
Working with Plan International Niger, we provided emergency aid to 3,414 families who have been forced to flee their homes by the Boko Haram conflict. Distributions were completed in September and we are planning our next project in the country.
The conflict in Nigeria is now entering its ninth year and the devastating consequences continue to impact structures and 7.7 million people are reported as being in need of assistance.
We partnered with ACTED to distribute 765 ShelterKits and other aid items in two camps in northeastern Nigeria.
We completed a second phase of the project in Nigeria with ACTED, which provided 1,130 families with ShelterKits and other aid items in Borno state.
SALAMATOU
---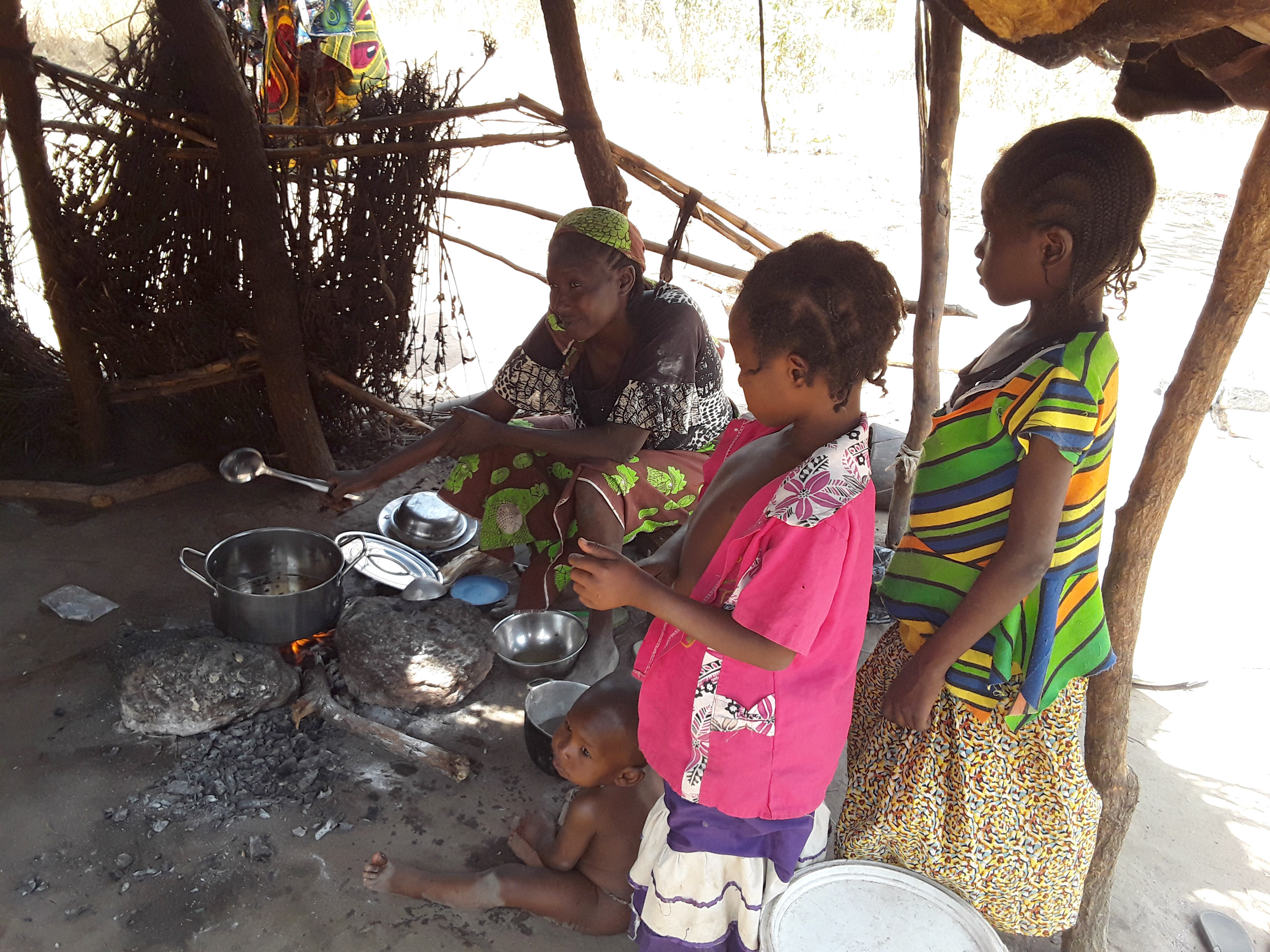 'They attacked us during the feast of crops in the village. I hid in the crops with my children. We could hear the bandits beating people and shooting them.'
Salamatou hid in the same place for three days with all of her children until she felt it was safe to move.
'We left at night. Before we ran we ate wild roots and drank the water from the field.'
Eventually they were picked up by the army and taken to the safety of the camp where they received ShelterBox aid to help them rebuild their lives.
I am very pleased to receive these items. I will use the pots to make okra sauce and boil water for my children.
Abdou
---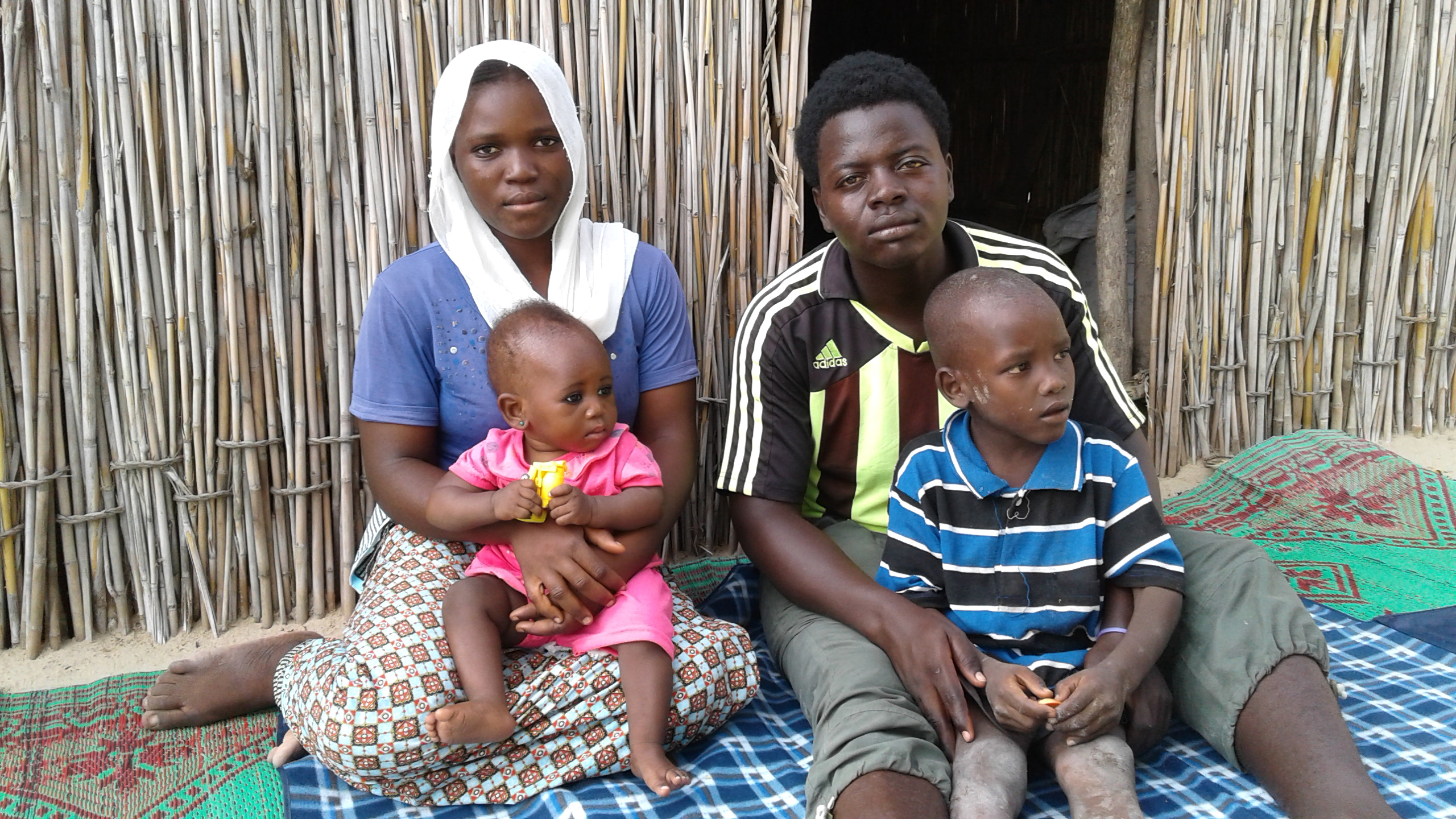 Abdou is a 30-year-old fisherman who provided for his wife and their three children, until Boko Haram invaded his village.
When Boko Haram began attacking, most of the youth were targeted. Abdou said they started recruiting young children to carry out kamikaze attacks to kill everyone.
'Many of the young people like me were taken by force and they began brainwashing them. The situation had become more and more unstable because they burnt all of our fishing equipment and we could no longer earn money.'
Abdou knew that he and his family had to flee their village in order to save their lives. They travelled for days and found refuge in a camp in Chad where ShelterBox and our local partner were distributing aid.
The site where Abdou and his family are located is 5km from the river, and mosquitos can be a problem. He said the mosquito nets provided by ShelterBox were of great help.
My family is protected against diseases such as malaria, especially during this season of rain.
As well as the mosquito nets, Abdou and the family are happy with the other aid items they received.
Your Action Moves Us
---
As Boko Haram continues to be a threat, families like these will continue to need our help to recover and rebuild.
You can help today by providing life-saving shelter aid to families suffering from conflict and disaster.