Just 40 miles east of the Nigerian border lies Minawao camp – a dusty, sprawling refugee camp in the extreme north of Cameroon.
It is officially home to around 51,000 refugees, but families in the camps say that the number is much higher. Families have come here from Nigeria after escaping Boko Haram.
They might have escaped the attacks, but their loved ones have been killed, their homes have been torched and their livelihoods lost.
ShelterBox has been working in Minawao camp since 2015.  Tents and other items like solar lights, ground sheets, mosquito nets,and hygiene kits, allow families to start paving the road to recovery.
We have also provided shelter to families outside of the camp, who have been forced from their homes due to Boko Haram violence, climatic changes or economic pressures.
To date, we've provided shelter and essential aid to nearly 8,000 families in Cameroon. We're currently working with IEDA Relief, our partner on the ground, on Project 8. We'll be providing tents, household items, shelter kits, tarpaulins and rope, and additional aid items to families in need both within Minawao camp and people living off-camp.
Due to Coronavirus, we're working closely with our partners to ensure the safety of affected communities and staff in our work.
SHELTER KIT TRAINING
---
We provide training in the field to help families understand how to use their new equipment.
In this video, a ShelterBox team works with a local community in Cameroon, training them on how to use our shelter kits.
These community members will then go on to train other members of their community.
Watch this video to see our aid and specific tips and techniques, like how to secure a tarpaulin.
Cameroon shares borders with six countries. It is bordered by Nigeria, Chad, the Central African Republic, Equatorial Guinea, Gabon and the Republic of Congo.
Minawao Camp lies in the extreme north of Cameroon, close to the Nigerian border.
Cameroon is an incredibly diverse place, with over 200 different languages and one of the highest literacy rates in Africa. But when Boko Haram led an insurgency in Nigeria in 2009, Cameroon was affected as violence and displacement spread across the border.
Today the crisis has become more complex, with extreme poverty, underdevelopment and climate change adding to the violence that has forced millions of people from their homes. Millions are in extreme hardship and dependent on humanitarian aid to survive.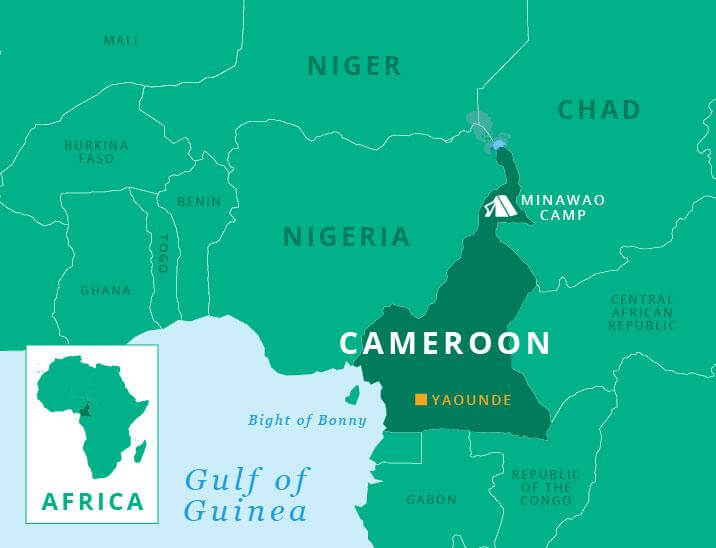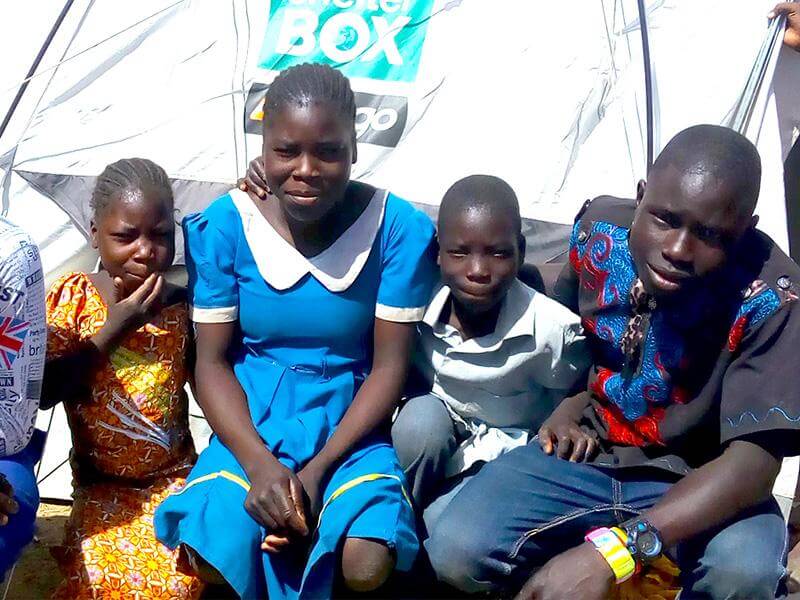 When people arrive at the Cameroon border, they are picked up and transported to a transit center where they are given a hot meal, water and a medical screening.
They also have to undergo a series of questions and behavioral checks, as Boko Haram supporters have previously posed as refugees to try and gain access to the camp and its resources.
After 3-4 days, families are then transported to an overcrowded collective center, where disease and gender based violence are rife. This is where ShelterBox comes in.
By providing tents that are quick to put up, families are able to avoid the threats of the collective center and start their journey towards recovery sooner.
Working in partnership with IEDA Relief, ShelterBox has helped nearly 8,000 families in Cameroon.
In Minawao Camp, our tents enable families to leave collective centers sooner and start their journey towards recovery.
In more rural areas, our white tents can make families a target, so we're giving families the tools and training they need to build more discreet shelters.
This project will provide shelter and related training as well as blankets, cooking equipment, solar lights, ground sheets, mosquito nets and hygiene kits, to improve both the physical and emotional wellbeing of these families who have already been through so much.
Your support can help us reach many more people in Cameroon and around the world who urgently need emergency shelter by supporting Rotary District 7210 in their Global Grant for Refugee Relief in Cameroon.  For more information, please email [email protected].
What aid do families need?
---
A SELECTION OF THE AID WE'RE SUPPORTING PEOPLE WITH IN CAMEROON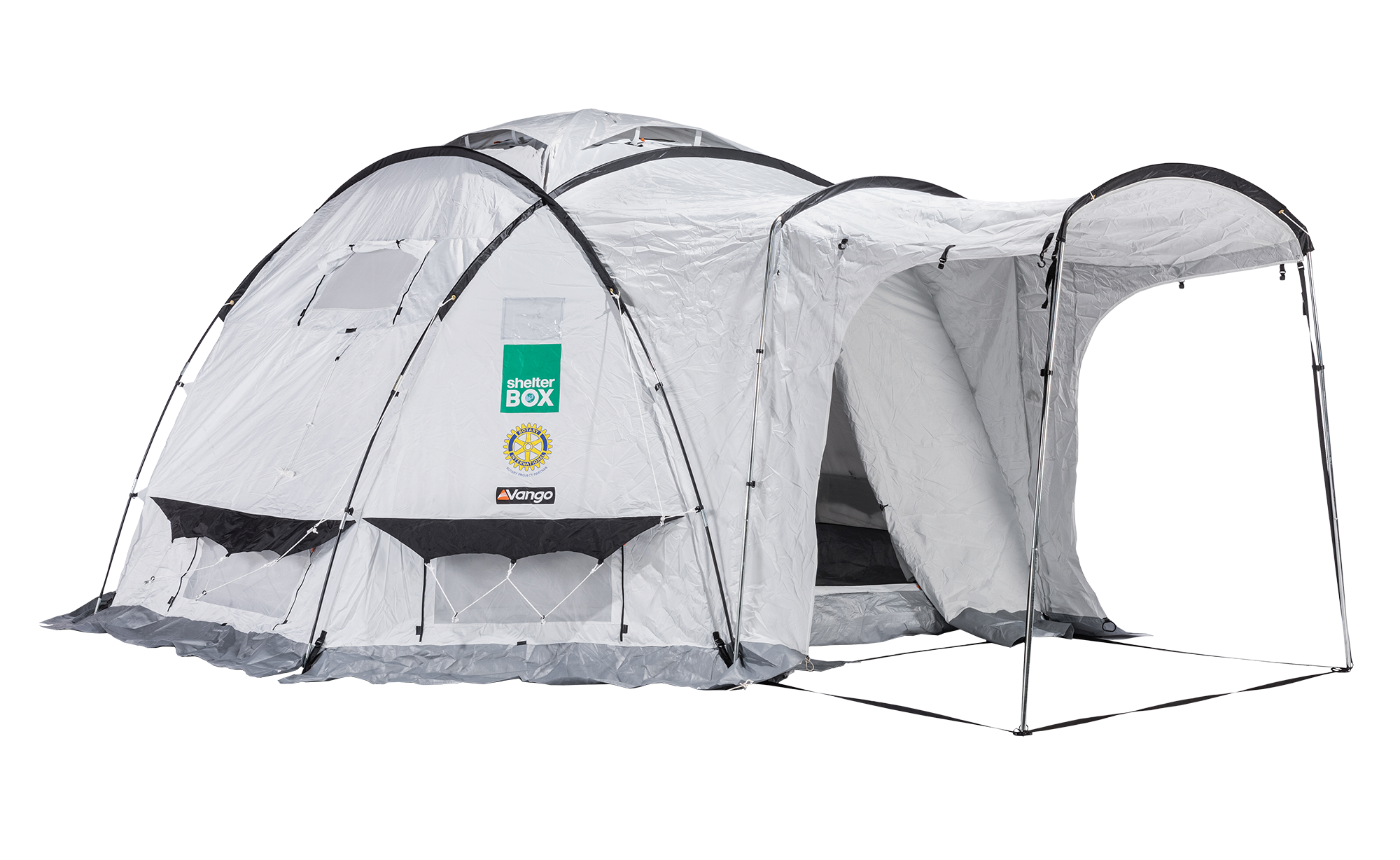 25-year-old Modu is originally from Nigeria. She now lives with her four children in Minawao Camp.
When Boko Haram destroyed her village, Modu fled with her neighbours. In the chaos, she lost her husband and hasn't seen him since. She still lives in the hope that she will one day see him again.
Weeks after fleeing their home, Modu and her children eventually made it to Minawo Camp. Their first days inside the collective center were not easy – Modu couldn't sleep at night and they were living in incredibly overcrowded conditions.
Modu received a ShelterBox tent, as well as a kitchen set, mosquito nets and other essential items.
'Life has become so much better. I still miss my husband, but I feel highly relieved. We finally have some privacy in our own home.'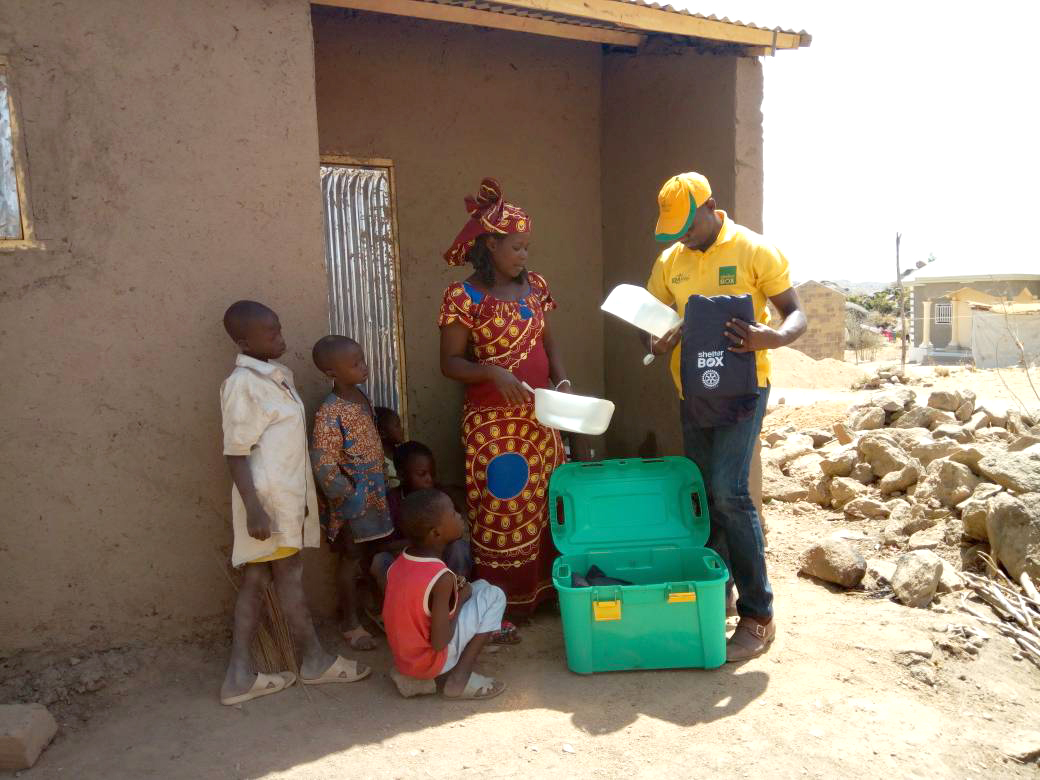 'My husband and I were at home entertaining the children, when suddenly we heard gunshots and people started running everywhere. My husband told us to go with a neighbour, then people started quickly leaving the village, especially the women and children, but I could not see him.
'I was afraid, and the children did not stop crying as we ran. I just followed the others without knowing where we were going.
'That was the last time I saw my husband.
'My home makes me feel something that I cannot explain. In my shelter I can recover in my own privacy, and I have the feeling of security for all of us. My children also recovered some peace and freedom. They can play and sleep well whenever they want.'