In 2016, ShelterBox provided lifesaving aid to more than 29,000 families during the course of 14 deployments around the world.
---
From the ongoing refugee crisis in Syria to the devastating effects of Hurricane Matthew in Haiti, ShelterBox Response Teams have delivered emergency shelter to survivors of disasters or conflict in their moment of need.
The aid we provide varies on the unique needs of each response – and can include anything from the iconic green ShelterBoxes for families made homeless in disasters, to ShelterKits which provide essential tools to repair or rebuild damaged homes, to palletized aid – including water filters, solar lights, mosquito nets, cooking equipment, blankets, tools kits, and more. While the aid may vary depending on the need, our commitment to helping vulnerable families in crisis does not.
In the endeavor to provide urgently needed disaster relief, our most important ally is you. By supporting ShelterBox with charitable donations, volunteering, or helping to spread awareness on social media, you directly helped to provide shelter and hope to disaster survivors globally last year.
ONGOING
Syria – Conflict
9,404 families in Syria have received emergency shelter in the form of UN Tents or ShelterKits as well as non-food items including kitchen sets, water carriers, water filters, blankets, solar lights, mattresses and clothing. Since 2012, more than 20,000 families fleeing the crisis have been helped by ShelterBox relief efforts. ShelterBox continues to aid families fleeing the conflict in and around Aleppo by providing emergency shelter items including tarps, mattresses, blankets, hats, gloves and scarves.

ShelterBox response in Syria 2016
Iraq – Conflict
3,662 families have received emergency shelter in the form of Family Relief Tents, UN Tents, ShelterKits and tarps. This deployment is coordinated with distribution partners: ACTED, Board of Relief and Humanities Affairs and People In Need.

A family receives a ShelterBox tent in Iraq
Niger – Conflict
More than 900 families are being served with complete ShelterBoxes as well as 120 SchoolBoxes for teachers and students. This deployment is coordinated with distribution partner PLAN.
Cameroon – Conflict
3,662 families are receiving Family Relief Tents and specialized shelter equipment with the help of distribution partner IDEA.
JANUARY
Philippines – Typhoon Melor
900 families received locally procured ShelterKits in partnership with ACTED.
FEBRUARY
Paraguay – Flooding
2,515 families received ShelterKits in partnership with Paraguay Red Cross.
Fiji – Typhoon Winston (The strongest storm to make landfall in the southern basin in recorded history)
1,880 families received a combination of ShelterBoxes, Family Relief Tents, ShelterKits and tarps in partnership with Sea Mercy.

Photos from the island nation of Fiji show ShelterBox and Sea Mercy delivering emergency shelter.
APRIL
Ecuador – Earthquake
3,290 families received ShelterKits and non-food items including, water filters, water carriers, solar lights, kitchen sets and mosquito nets – in partnership with local NGO Progad.

A ShelterKit was used to secure a family home in Ecuador
MAY
Sri Lanka – Flooding and Landslides
126 families received complete ShelterBoxes.
Read about our coordinated response with Rotary in Sri Lanka
AUGUST
DPR Korea – Flooding
500 families received winterized Flex 3 Tents with stoves as well as non-food items including, water filters, water carriers, solar lights and kitchen sets. An additional 2000 blankets were also distributed. The deployment was coordinated with International Federation of the Red Cross and DPRK Red Cross.

Photos from ShelterBox's deployment in North Korea show the the winterized Flex 3 Tent which allows a stove to be placed inside.
OCTOBER
Haiti – Hurricane Matthew
This deployment is still underway with an expected 3,000 total families to receive ShelterKits and other non-food items such as water carriers, water filters, mosquito nets and solar lights.

ShelterBox aid arrives in Haiti
Altenor Gabrielle
---
ShelterBox story of survival in Merci Boujourli Two, a rural village outside Les Cayes, Haiti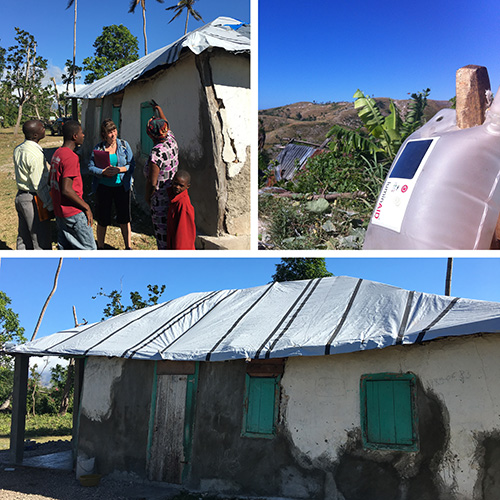 Altenor's home where she lives with 8 children, the youngest of which is 5 years old.
She was in her house when the storm started at around 10pm. By 4am the roof was rattling and the corrugated iron started flying off. Terrified, her family ran from the house, dodging the flying debris and the trees, fighting against the wind in a desperate effort to get to the cover of a neighbor's house that was made from concrete.
The next morning when the storm had subsided, she returned to a scene of utter devastation. Her four room house had no roof. There were fallen trees and debris from other houses all around. All of her belongings were either missing or destroyed. The storm also flooded her house with two feet of water. Altenor and her family stayed in the neighbors house for a couple of nights while she made one room habitable by using corrugated tin that she recovered from other damaged houses. All nine family members slept in the one room.
Upon receiving a ShelterKit, Altenor was able to make the whole structure watertight and use the tools to fix her house and roof. She was particularly fond of the solar lighting as there is no electricity in the area. She expressed her sincere thanks to the volunteers who came to her assistance and the generous donors of ShelterBox.
Marcel
---
ShelterBox story of survival in Merci Boujourli Two, a rural village outside Les Cayes, Haiti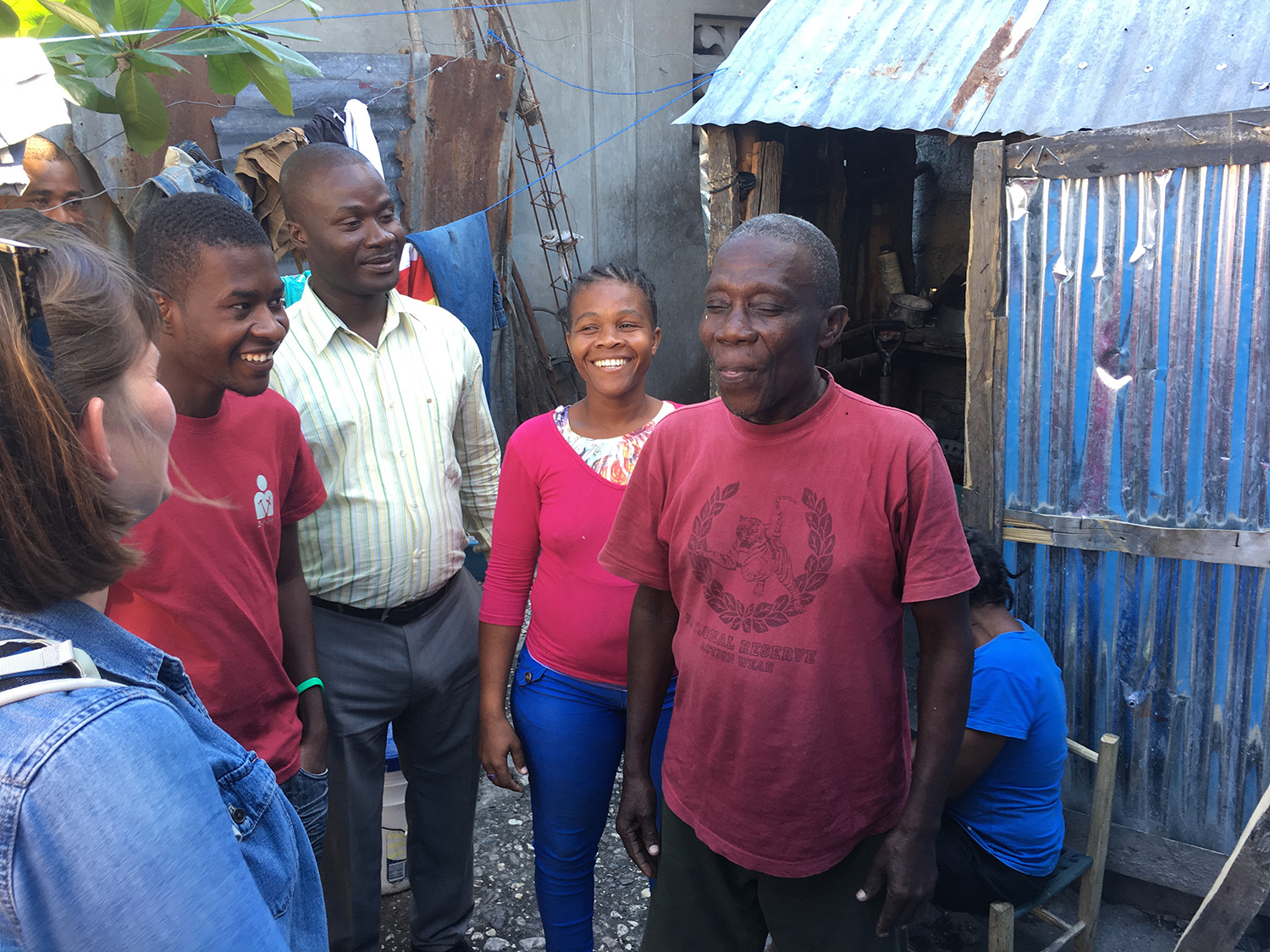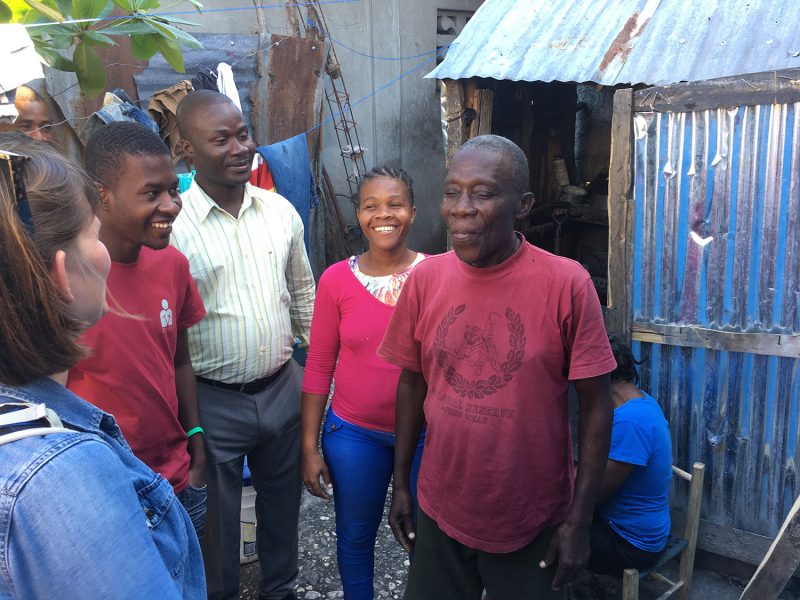 Marcel is an elderly man in his 70's who is completely blind.
He used to be a mason until he lost his sight. He lives in his small one-room house with five others including four children.
When Hurricane Matthew came his house was flooded with 2 feet of water and all of his possessions were gone or destroyed. His family gathered what corrugated iron they could find from other houses that had blown into their area for a makeshift roof.
When they received a ShelterKit they were able to rebuild and make the roof watertight. He said that it is nice to think that when a disaster strikes other people far away think of them.
The lifesaving work of ShelterBox would not be possible without our donors and volunteers. Please consider helping ShelterBox by making a donation or volunteering to raise awareness about our mission.