SHELTERBOX RESPONSE TEAM TO DEPLOY
---
A ShelterBox Response Team is on the ground in the Philippines after Typhoon Mangkhut made landfall as a Category 5 typhoon. Known as Super Typhoon Ompong in the Philippines, the storm sustained winds of 130 mph, gusting more than 170 mph, and threatened more than four million people. We have enough shelter aid pre-positioned in the Philippines to help an initial 2,000 families and more aid close by, if needed. 
ShelterBox's Operations Team has been in touch with Rotary contacts in the area to understand how to quickly help families who might lose everything in the storm. We anticipate that the focus will be on providing tarpaulins, tool kits, and other essential household items.
Heavy rain has caused widespread flooding and reports of landslides in the mountainous regions. Roads are impassable from landslides, flooding and fallen tries. Combined with rain from monsoon season, which is putting more water on top of damage and flooding, rural communities are becoming even harder to reach.
The ShelterBox Response Team is assessing affected areas to determine the most critical shelter needs and will coordinate with other organizations in the Philippines who are responding locally. Approximately 58,000 people are sheltering in evacuation centers or with other families.
The Philippines is one of the world's most disaster-affected countries. ShelterBox has responded to disasters there more frequently than any other country – an average of nearly twice a year since 2004 (24 times in 13 years). This includes Typhoon Haiyan, which remains the strongest storm ever recorded to make landfall in the world.
In 2017, ShelterBox established ShelterBox Operations Philippines in Cebu to improve their ability to respond. After Tropical Storm Urduja hit in December 2017, the in-country status, local contacts, and pre-positioned aid items enabled ShelterBox to act faster. This system is in place as ShelterBox prepares for Typhoon Mangkhut.  
TROPICAL STORM URDUJA
---
In December 2017, Tropical Storms brought devastation to the Philippines triggering devastating mudslides and flooding.
When Storm Kai-tak, known as Urduja in the Philippines, made landfall in early December, it released two months of rainfall within 48 hours. Thousands of families were forced to flee after the storm destroyed over 30,000 homes.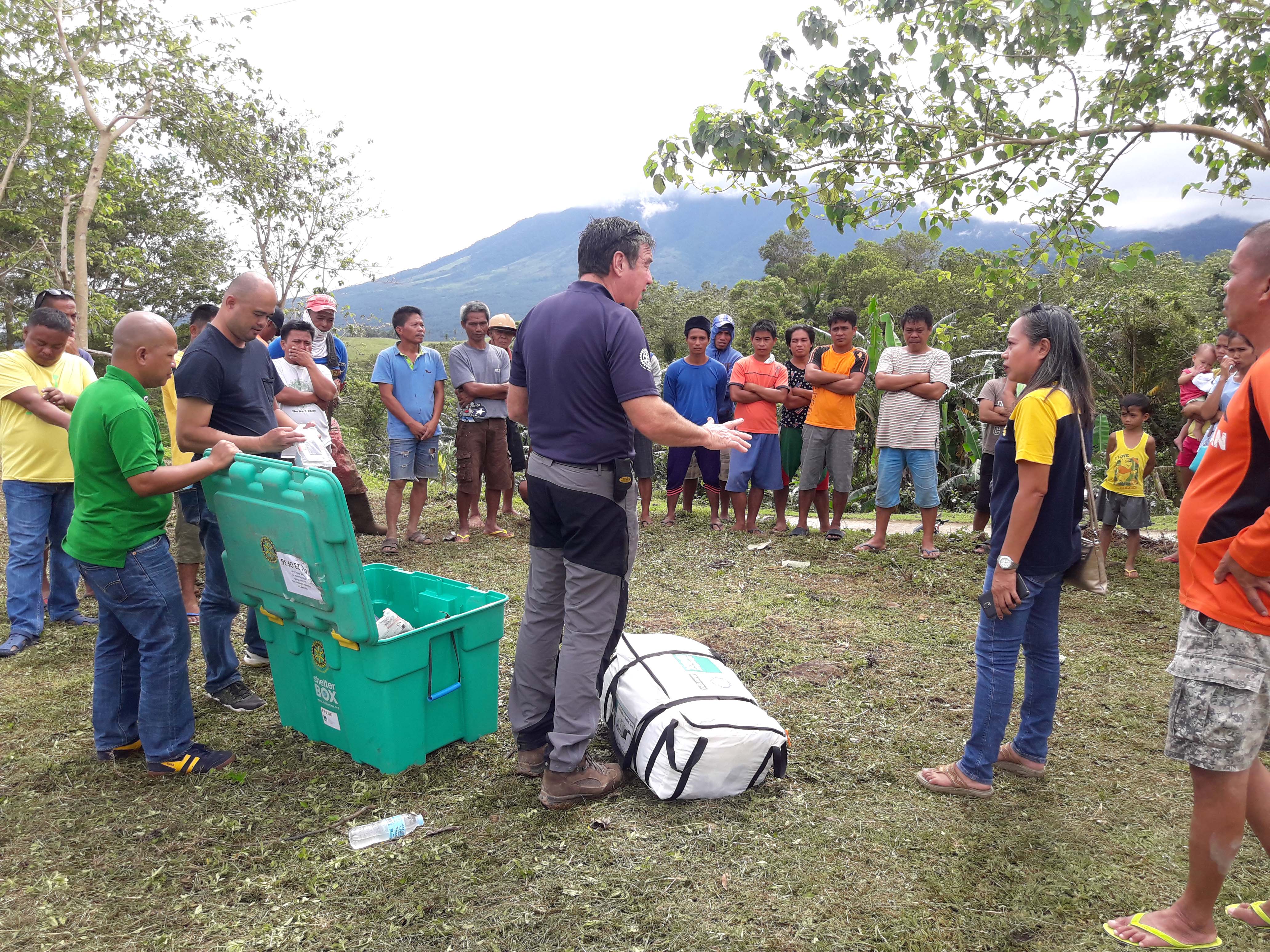 But after the storm subsided, families were still not out of danger. Just a few days later, a second storm developed in the West Pacific Ocean.
Tembin, also known as Vinta in the Philippines, left a second trail of destruction, killing more than 240 people, displacing over 70,000 and damaging houses and livelihoods.
A ShelterBox response team was soon on the ground carrying out needs assessments and initial distributions. We have been distributing a variety of aid items such as ShelterBoxes, ShelterKits, water carriers and solar lights to support those families that need our help the most.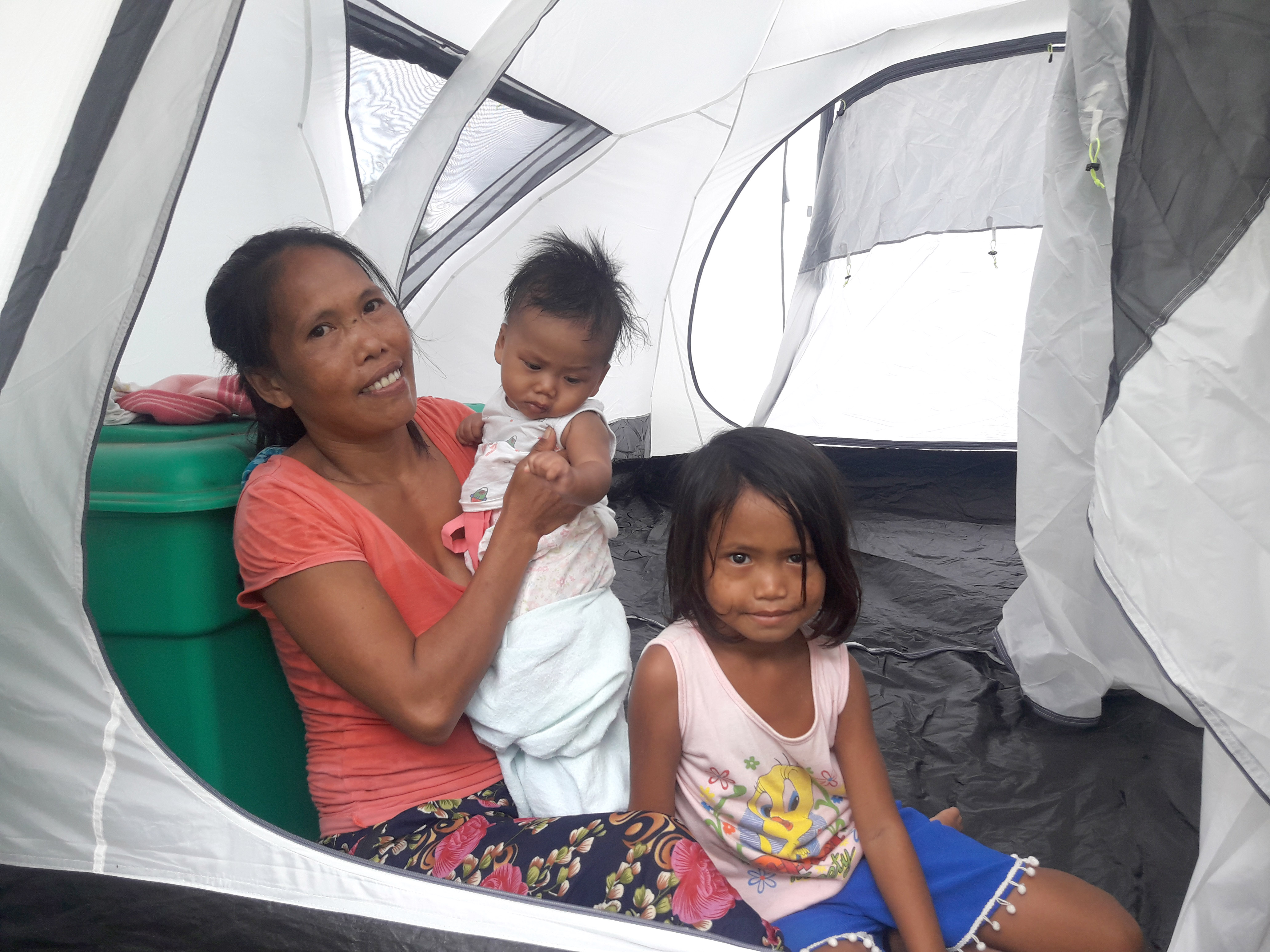 Within just a few weeks of the storms hitting, our Response Teams were on the ground with Rotary International.
Together, they worked to assess needs and find out whether families could safely stay where they were and what they would need in order to continue being there.
THE AID ARRIVES
---
36 ShelterBoxes arrived in the Philippines, for families affected by flooding and mudslides caused by Tropical Storm Kai-tak.
In this video, a ShelterBox Response Team is marking out the site and planning where temporary shelters can be, making sure all families have enough space to live.
The team are providing temporary shelters to large families previously staying in crowded makeshift structures that have no water or cooking facilities.
DISTRIBUTIONS START
---
Distributions start in Caibiran, helping 36 of the many families that have lost everything through landslides and floods.
In this update we join the ShelterBox team on the ground, where they are providing ShelterBoxes and helping families to put up their tents in sites earlier marked out by Response Team members.