ShelterBox is responding in the Philippines after Super Typhoon Rai (known locally as Typhoon Odette) caused widespread devastation. 
It was the most severe storm to hit the country in 2021. With gusts of up to 150mph, the storm was equivalent to a Category 5 hurricane.
We're working closely with local partners, the international response coordination teams, the Philippines Navy, and Rotary contacts to make sure we respond where the need is greatest.
Despite challenges related to communication lines and COVID-19, we've helped more than 15,000 families so far, providing shelter kits, tarpaulins, and other essential items.
This work is not possible without your support. Please donate today to help families rebuild after Typhoon Rai. 
Every donation will provide shelter and other essential items for families affected by this terrible disaster. Any additional funds raised over what is needed will go towards our wider work, providing shelter to families who need it after disaster.
UPDATES FROM THE PHILIPPINES
---
Super Typhoon Rai left over half a million people in the Philippines without a home.
Communities have been receiving emergency shelter and other aid items like solar lights. Distributions are led by ShelterBox Operations Philippines with support from our local Rotary contacts. We're hoping to reach 20,000 families in total.
Watch as Henry provides an update from Bohol, where the latest distributions are taking place.
Super Typhoon Rai has caused devastation in areas with high levels of poverty.
3.8 million people who were in the direct path of the storm are already living below the poverty line.
In the day before landfall, Typhoon Rai rapidly strengthened from a Category 1 to a Category 5-equivalent storm. It made landfall in Siargo and traveled westward across the Central Visayas, Eastern Visayas and Palawan.
Between December 16-17, it made landfall nine times across seven provinces in The Philippines.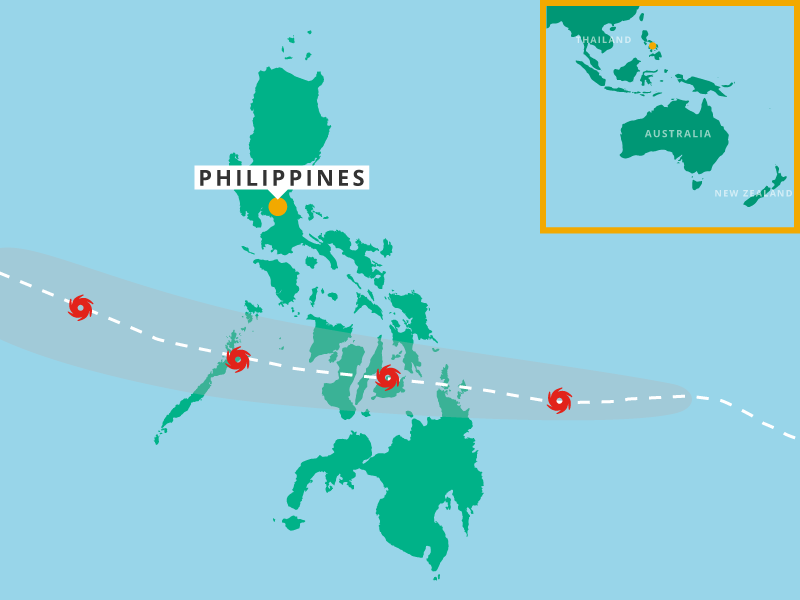 How will COVID-19 affect the response to Super Typhoon Rai?
Coronavirus can be  a deadly risk for vulnerable families who have lost their homes. The impact in evacuation centers and host communities could be devastating.
We know that emergency shelter can save lives by slowing the spread of coronavirus. That's why we need your support in emergencies like these.
Is Typhoon Rai linked to climate change?
While tropical storms like Typhoon Rai are a natural part of our climate, the severity of a storm like this is likely to be linked to climate change.
Rising temperatures are causing storms to become much more intense and have a far more devastating impact.
The Philippines is used to powerful storms. It is hit by an average of 20 storms and typhoons a year.
When did Typhoon Rai make landfall?
Super Typhoon Rai made landfall in the Philippines on Thursday,  December 16.
It hit the popular tourist island of Siargo with winds of approximately 110mph before traveling westwards across the Central Visayas, Eastern Visayas and Palawan.
The storm made landfall nine times across seven provinces in The Philippines, bringing torrential rain and the threat of widespread flooding.
At its peak, the typhoon had max sustained winds of 120mph with gusts of up to 150mph. Strong winds extended outwards 300 miles from the center.
After the initial landfall, Odette continued to downgrade in severity and exited the Philippine area of responsibility on December 18.
How many people have been affected?
More than half a million families are still displaced. The death toll has risen to over 400 people and reports suggest over 800,000 homes have been damaged or destroyed. In total, 6.8 million people have been affected.
ShelterBox Chief Executive, Sanj Srikanthan said,
"This deadly typhoon has left hundreds of thousands of people displaced just before Christmas and the damage to homes we are witnessing is truly harrowing.
"The Philippines is a country still rebuilding having been ravaged by storms far too often, but Typhoon Rai is on a scale our team there simply haven't seen before. It's left large areas of the country decimated, and we're expecting the death toll and damage reports to get much worse.
"We'll be responding with emergency shelter that we have stored locally to help Filipinos whose homes were in the path of the storm – many who haven't yet fully recovered from previous disasters."
Support Families Devastated By Typhoon Rai
---