In August and September this year, Indonesia was hit by a series of devastating earthquakes and subsequently, a tsunami.  The strongest earthquake, a magnitude 7.5, triggered a tsunami that struck at a speed of 500 mph with waves up to 20 feet high.
Across the islands of Lombok and Sulawesi, half a million people were displaced. ShelterBox responded on both occasions, providing shelter and support to some of the most vulnerable and isolated communities.
In both deployments, ShelterBox focused on the hard-to-reach places. We've distributed much needed tents, water purification sets, water carriers and mosquito nets to communities which had been without electricity and other necessities for days, using every mode of transport at our disposal.
Deliveries have been made by helicopter, for example, because other routes are blocked due to mudslides and other damage.  As rains intensify, we are providing additional tarps to improve durability of the tents.
Working in coordination with Rotary International and the Indonesian government who led both responses, our Response Teams have worked tirelessly to meet the need of those who lost everything.
Together, we supplied aid to 1,716 families in need and assessments, trainings, and distributions are ongoing to help the most vulnerable people who would not otherwise receive support.  We also provided 14 tents to replace maternity and post-natal clinics destroyed by the earthquakes.
Meet Fatnizar
---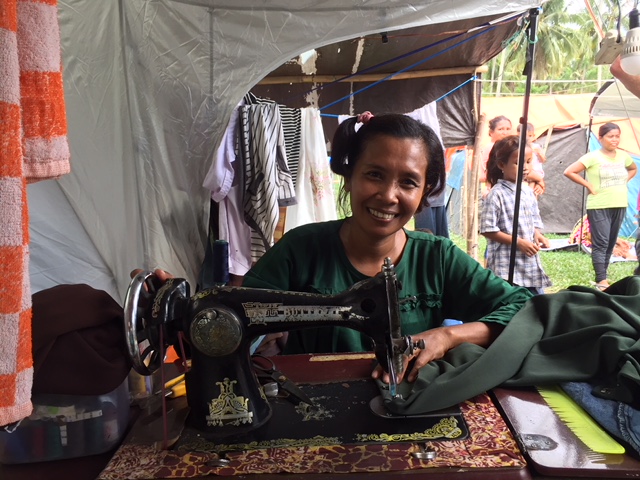 Many of the homes in Fatnizar's neighborhood survived the earthquake in Sulawesi, only to be swept away moments later by the subsequent tsunami.
After the devastating tsunami, Fatnizar, her husband and 4 children were living under a tarp with 15 other families, until they received a ShelterBox tent and had a space of their own again.
Fatnizar has been able to return to her work as a seamstress and can be found sewing under the awning of her tent.