ShelterBox offers gift ideas that offer the promise of hope!
This page provides several ways to give back when you purchase a gift: Global Gifts, Online Partners and the ShelterBox Store.
ShelterBox Global Gifts are perfect for holidays, a birthday and or any special occasion. Scroll down to choose from various online partners offering deals to help you support ShelterBox while you shop! Or scroll down a bit more to visit the ShelterBox Store for our latest apparel and accessories.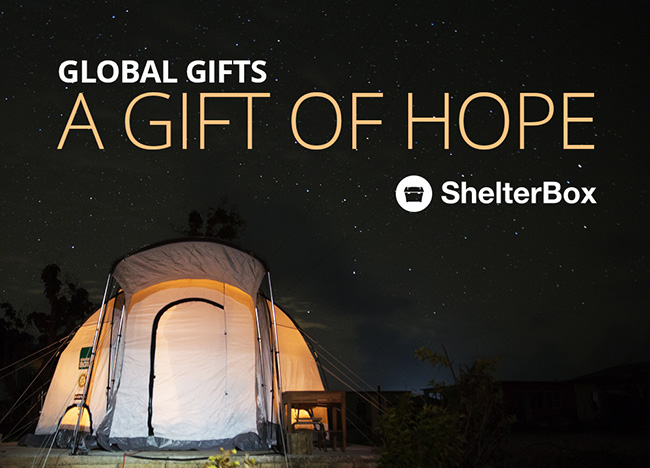 Give a gift that will help to provide shelter and hope to families in their darkest hours.
Select the appropriate gift and choose to print or email a card to notify your recipient. All gift amounts are approximate valuations used for the ShelterBox Global Gift campaign.
Please note that all links will direct you to MyShopify.com to complete your transaction.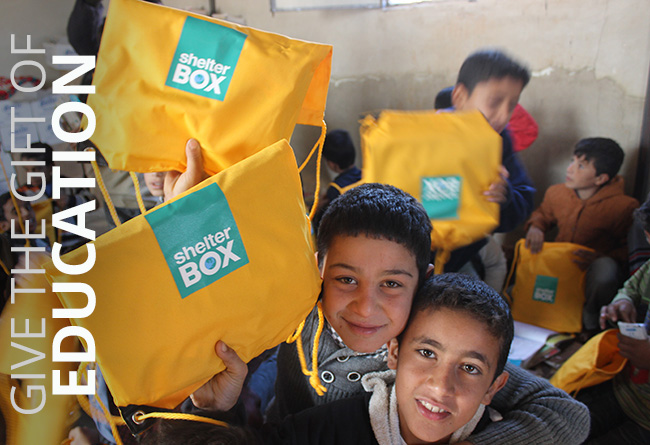 Children's Education — $25
When disaster strikes, all of a family's possessions may be destroyed and the children, who may have had very little to begin with, are left with nothing.
By simply providing children with some pencils, crayons, coloring books and other basic supplies, we can remind them that life isn't only about survival. Our children's activity pack help children affected by conflict or disaster forget about the trauma and be a kid again. Give the gift of an education.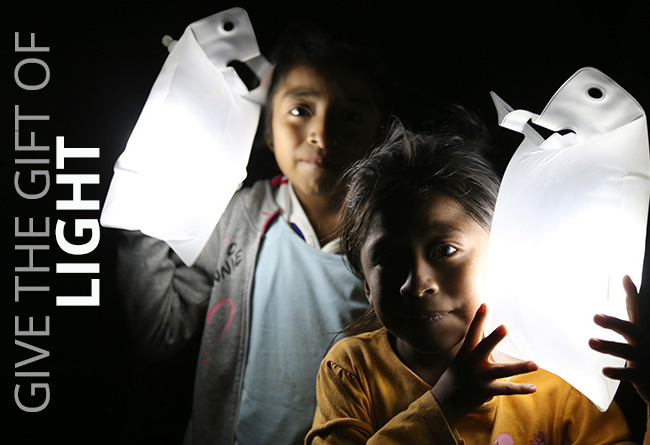 Light in the Darkness — $30
After a disaster, darkness can be a dangerous and persistent challenge for families and loved ones.
LuminAID is a solar-rechargeable light that is waterproof, lightweight, and inflates to diffuse light like a lantern. Access to light not only increases safety within communities struck by disaster, but also gives them a light to cook by and allows women and children to move safely through the night. Give the gift of light.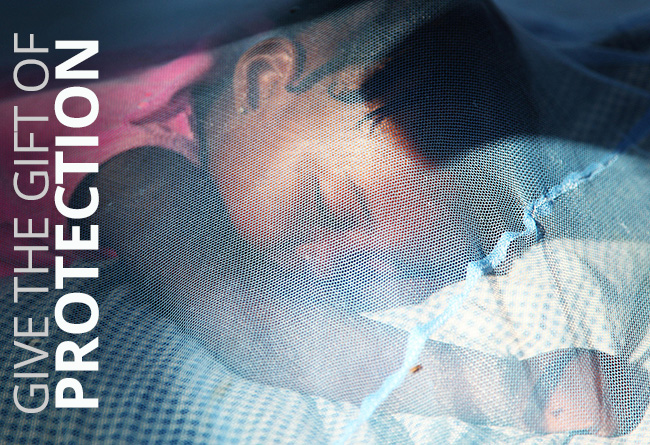 Protection from Disease — $40
Malaria kills an estimated 3,000 people every single day across the world.
This deadly disease can be prevented by simply avoiding mosquito bites. We send mosquito nets to areas of the world where malaria and other mosquito-borne diseases are prevalent. Each net is treated to keep mosquitoes away, providing families with a safe place to sleep. Give the gift of safety to families around the world.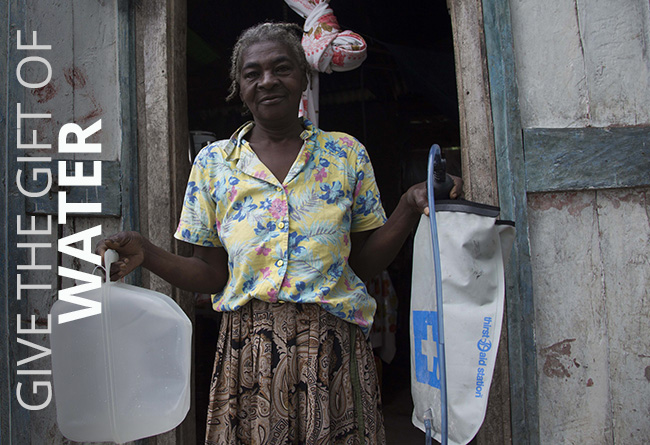 Access to Clean Water — $50
When disasters devastate the landscape and force families far from home, it can be hard to access safe, clean water.
By providing families with water containers and purification equipment, safe drinking water becomes one less thing to worry about. Give the gift of clean water.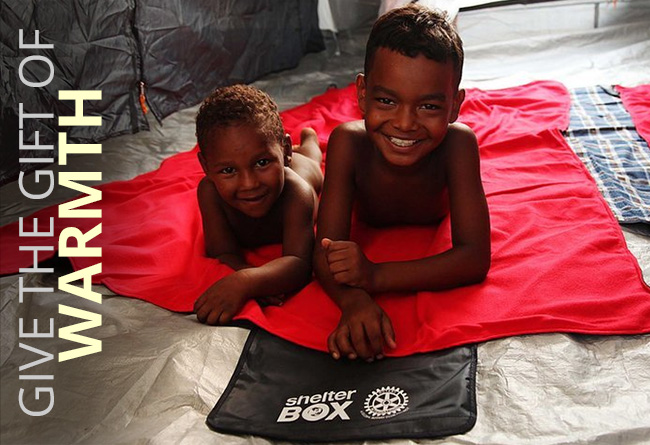 Warmth — $75
Nights can get cold and in certain parts of the world, staying warm is essential to survival.
ShelterBox thermal blankets, insulated groundsheets, as well as the hats, gloves and scarves give families the warmth they need to endure the harsh conditions they may be living in and protection from plummeting nighttime temperatures. Give the gift of warmth.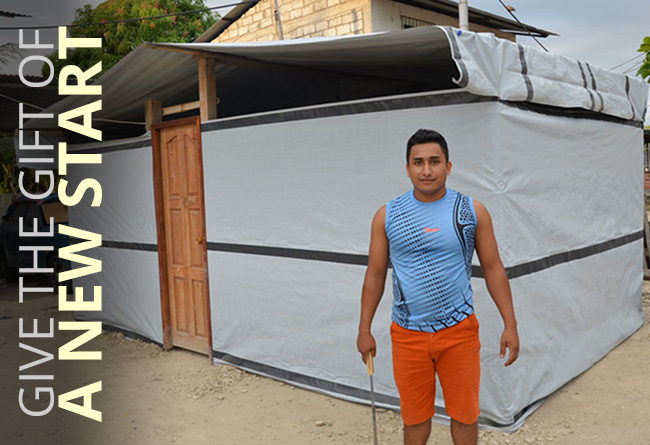 Tools For a New Beginning — $100
When disaster strikes, families lose their homes, possessions and livelihoods.
Basic Shelter tool kits are equipped with a hammer, saw, rope and pliers to provide families with the supplies they need to salvage their possessions, make repairs, and start rebuilding their homes and lives. Your donation will support a family's path to recovery.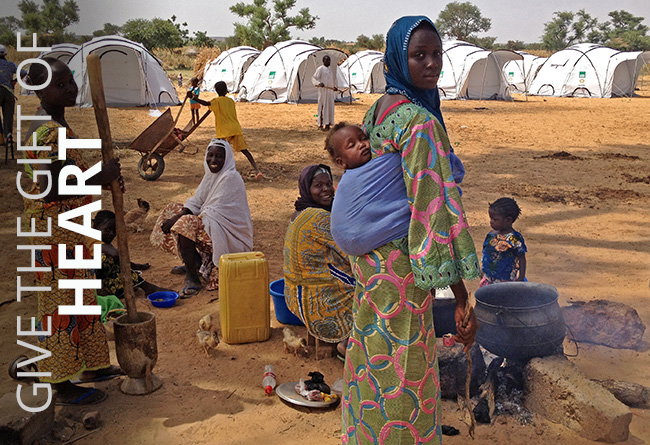 Heart of the Home — $250
Our stainless-steel cooking equipment provides families with a heart to their shelter home, where water can be boiled, food can be cooked, and a family can gather together at the end of the day to share a meal. This giving season give the gift of the heart.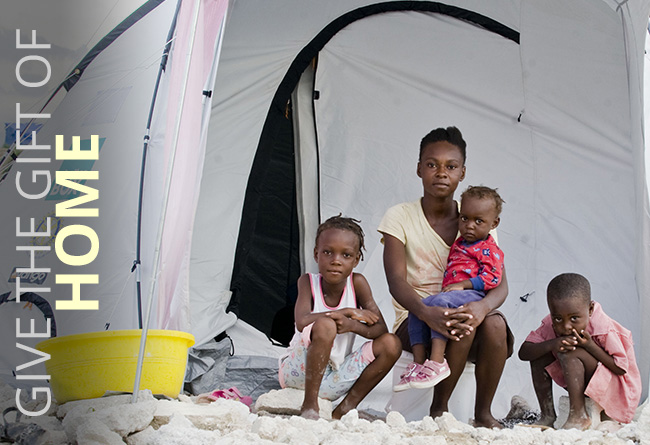 A Temporary Home — $500
ShelterBox disaster relief tents are custom-designed to withstand extreme temperatures, high winds and heavy rainfall.
These tents provide families with the shelter they need to survive and live in safety after a disaster. Above all, our tents give families a place to call home, where they can start rebuilding their lives and communities. Give the gift of a shelter to call home.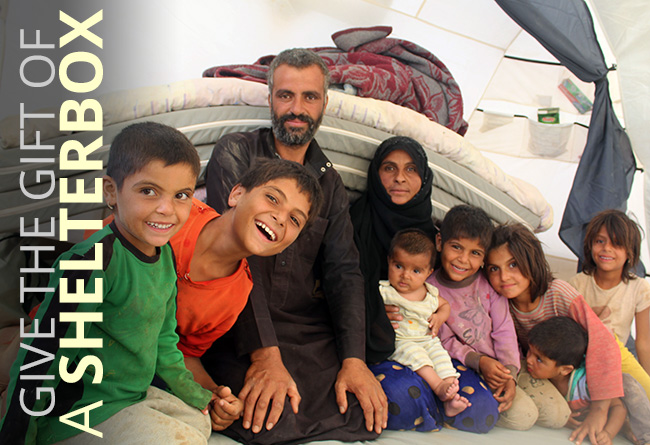 A Complete ShelterBox — $1,000
When disaster strikes, families lose their homes, possessions and livelihoods.
Each ShelterBox provides a family with emergency shelter and other vital equipment, such as blankets, water filtration, and solar lights; to use while they are displaced. This holiday season give the gift of a new home to a family who has lost everything dear to them.

ONLINE PARTNERS
---
Other ways to support ShelterBox's humanitarian work!
AmazonSmile – You shop. Amazon gives. Amazon donates 0.5% of the price of your eligible AmazonSmile purchases to the charitable organization of your choice. AmazonSmile is the same Amazon you know. Same products, same prices, same service. Choose ShelterBox and shop now.
Animoto – Sign up for Animoto, and a portion of the proceeds will directly benefit our relief efforts. By signing up for a month of Animoto Pro, $20 of your purchase will go directly to ShelterBox. Use the promo code: SB1Month. Sign up for a year of Animoto Pro and $75 of your purchase will go directly to ShelterBox. Use the promo code: SB1Year.
eBay Giving Works – ShelterBox USA is a member of the eBay Giving Works program. When you sell your merchandise on eBay, you can choose to donate some or all of your proceeds to ShelterBox USA.
GiveBackAmerica – Visit online retailers through this online charity mall and a portion of your purchase will be donated to ShelterBox USA!
Giving Assistant – Easily transform everyday shopping. Use Giving Assistant to save money and support ShelterBox USA.
GoodSearch – Each time you search the web with GoodSearch, money will go to ShelterBox USA. Also, every time you shop online at 1,000 participating stores including Amazon, eBay, Target, Apple, Staples, Expedia, etc., a percentage of your purchase will be donated for free! They've been featured in the NY Times, the Wall Street Journal, CNN, Oprah Magazine, Good Morning America and more.
Humble Bundle – This digital store offers collections of video games sold at pay-what-you-want and with a portion of the price going towards charity and the rest split between the game developers.
Skint Wallets USA – Shop and Skint will donate 30% of the product purchase price of their flexible and compact wallets to ShelterBox's disaster relief efforts.