The crisis in the Lake Chad Basin stems from an insurgency by the Islamist military group Boko Haram, that began almost a decade ago in North East Nigeria.
Over time, the conflict spread to Niger, Cameroon, and Chad to create what is now one of the world's most severe and complicated humanitarian emergencies.
The UN estimates that around 10.7 million people in the region are currently in need of relief aid, with just over 2 million displaced from their homes, either within their countries of origin or across borders into neighboring states.
A Multi National Joint Task Force, formed to combat Boko Haram, was set up in 2015. As this force has regained territory, previously inaccessible areas have opened to humanitarian agencies. However, the response remains chronically underfunded and constrained by persistent insecurity.
This severe emergency has been exacerbated by underlying vulnerabilities such as underdevelopment, economic marginalization, climate change and rapid population growth, all contributing to create these fragile communities.
Some displaced families are living with host communities, others in managed camps, or in informal settlements. Even as people are newly uprooted, some are returning home but to areas where basic infrastructure is absent or destroyed and the ability to recover is extremely challenging.
Since 2015, ShelterBox has supported over 11,000 households across Cameroon, Niger, Nigeria and Chad with items such as ShelterKits, tarps, blankets, solar lights, mosquito nets, kitchen sets, water carriers, and plastic buckets.
Meet Catherine
---
Catherine is now a single mother of seven children.
Her life was normal until one Friday evening, after prayer, her village in the northern region of Cameroon was attacked by Boko Haram.
"My husband and I were at home entertaining the children when suddenly we heard gunshots and people started running everywhere," said the former dressmaker.
She gathered her children in a house nearby before they all started running. It wasn't long until she noticed her husband was not with them.
"I just followed the others without knowing where we were going," she said. "That was the last time I saw my husband. I have heard no news of his whereabouts since then."
Catherine and her children walked for days. When they arrived in Mokolo, Cameroon, they were first sheltered in a church and then taken in by a local family.
Because of the size of her family, they needed to find a different place to stay. Eventually, Catherine was given a mudbrick shelter provided by IEDA Relief and ShelterBox.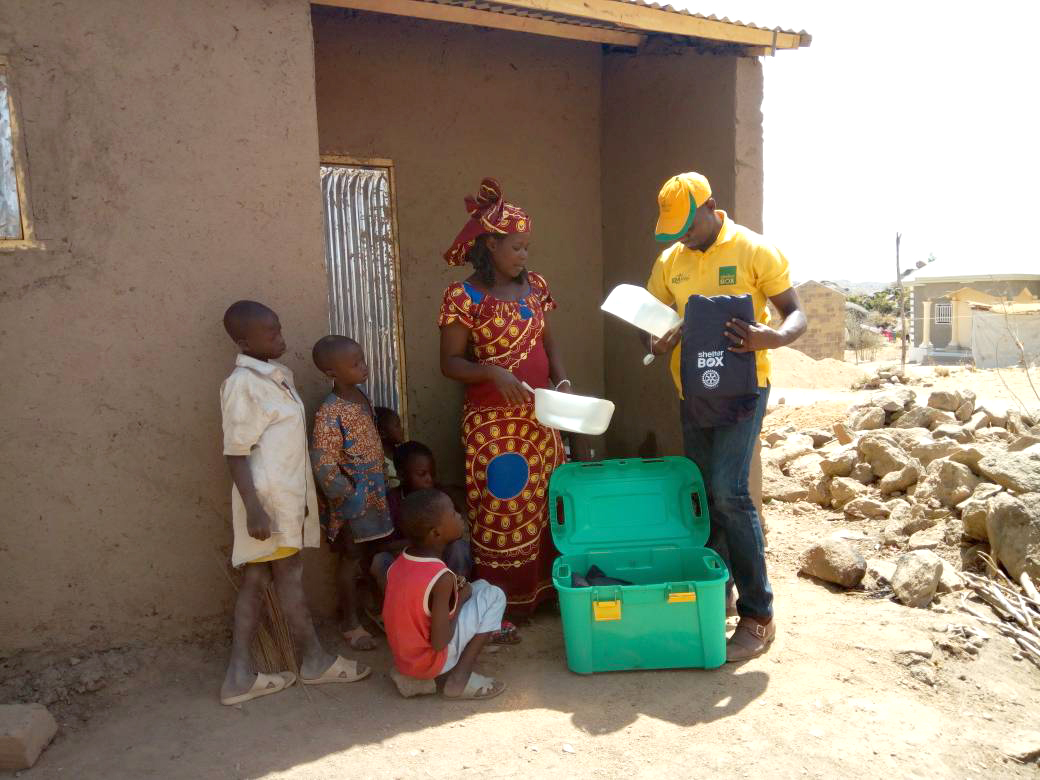 "My home makes me feel something that I cannot explain. In my shelter I can recover in my own privacy, and I have the feeling of security for all of us. My children also recovered some peace and freedom."
Catherine and her children received other aid items, including blankets, solar lights, kitchen sets, and water carriers.
"We live much better with all of this. The kit I was given fills me with joy," she said. "We now have lighting and blankets at night to cover ourselves. We use the bags from the blankets as schoolbags for the children, and the box itself we use to store water. Thank you."