Rotarians are a major force behind ShelterBox's ability to help more people in need.
Below are examples of how a few Rotarians have made a major difference.
Get ideas and follow their example.
Brittney Woodrum's Fourteeners Project
---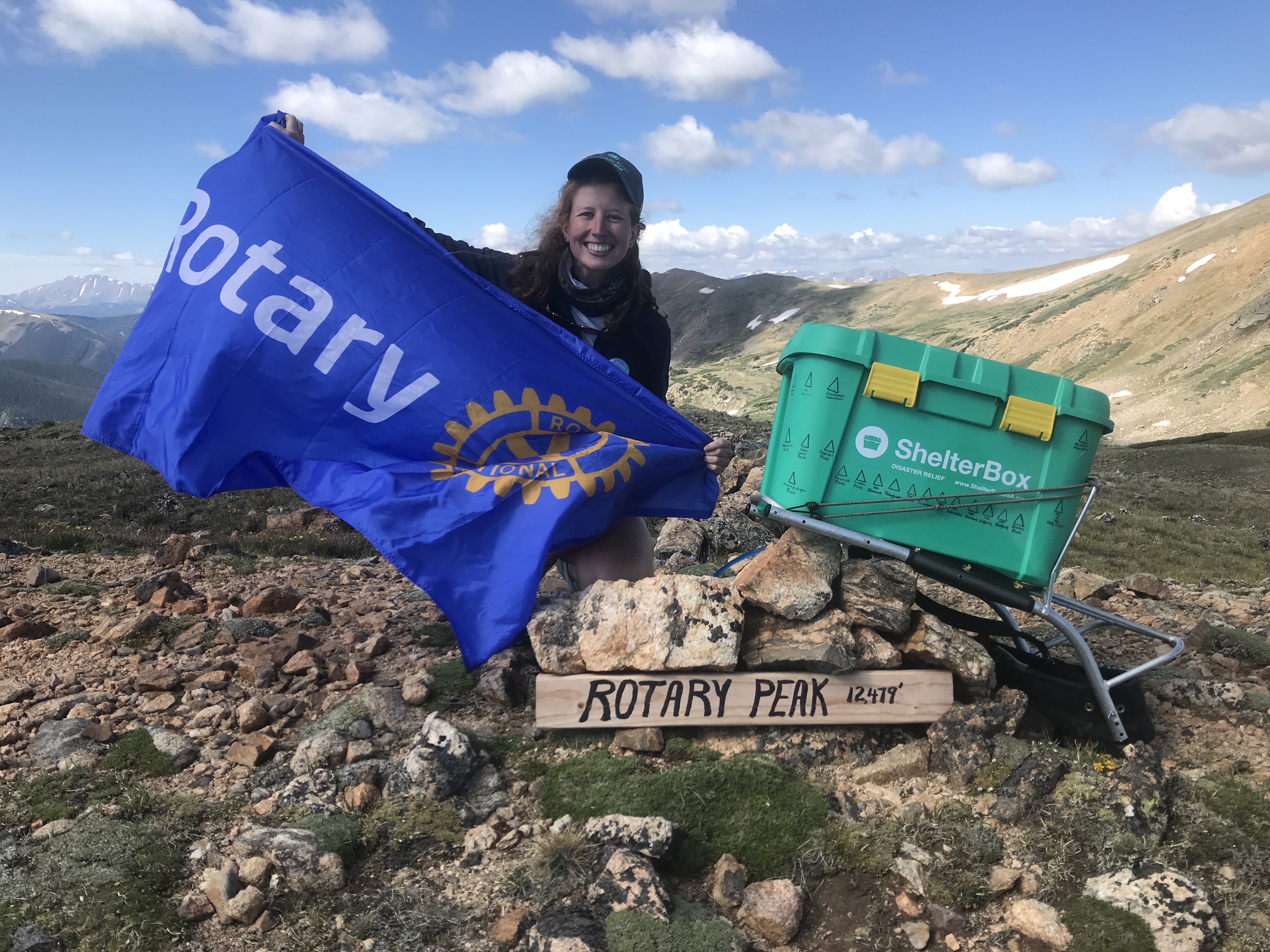 Brittney "Bert" Woodrum, a Rotary Peace Fellow applicant, made it her mission to summit all of Colorado's 58 14,000 foot peaks with the iconic ShelterBox on her back to raise awareness  and funding for ShelterBox. 
Brittney scaled over 232,000 in elevation between July and September of 2020 and raised over $80,000 to help further the ShelterBox mission.
Her ShelterBox journey started when she became an Ambassador in 2019.  Pursuing her masters degree at the time, Brittney reached out to ShelterBox to learn more about the role we play in the humanitarian sector.    Read Brittney's story here.
No one should have to worry about where their shelter will come from, and that's why I was really struck by ShelterBox's mission.
Brittney Woodrum
Rotary Club of Saucon, Center Valley
---
Fundraising Success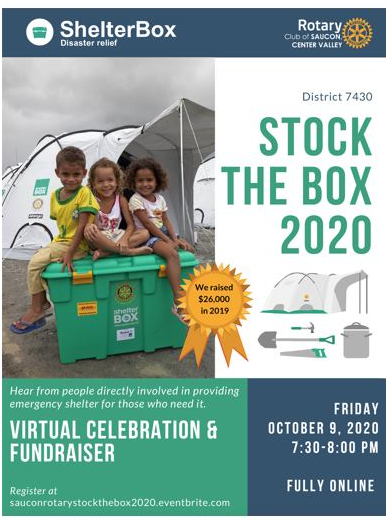 Saucon, Center Valley Rotary Club has been holding a ShelterBox Fundraising event for their District every year for four years (and counting).  Each year the event has more traction and greater fundraising success.
In 2020, the planning committee was forced to quickly adapt what would normally be a community gathering affair into a virtual event.  Not wanting to put any participants at risk, a 30 minute virtual event was planned and executed.  It ended up being their largest success yet – raising over $40,000!
ShelterBox USA Volunteer Manager, Sharee Sheets, had the opportunity to interview ShelterBox Ambassador and Saucon Center Valley club member, Linda Mayger, about the Club's year over year success.  You can watch the recording here.
ShelterBox Scavenger Hunt
---
Alex Goodale is a high school student from Needham, MA.  She reached out to ShelterBox in 2019 wanting advice on how to start a ShelterBox supporting club at her high school.
After learning about the role of a ShelterBox Ambassador, she jumped on the opportunity.  She started a ShelterBox club at her high school and has found creative ways to share ShelterBox in her community.  One of her most successful fundraisers is the ShelterBox Scavenger Hunt.
Because of her innovation and success, Alex was asked to speak on one of the Ambassador monthly calls in 2020.  You can listen to Alex's clip by pressing play on the video here.
Stand Up for ShelterBox
---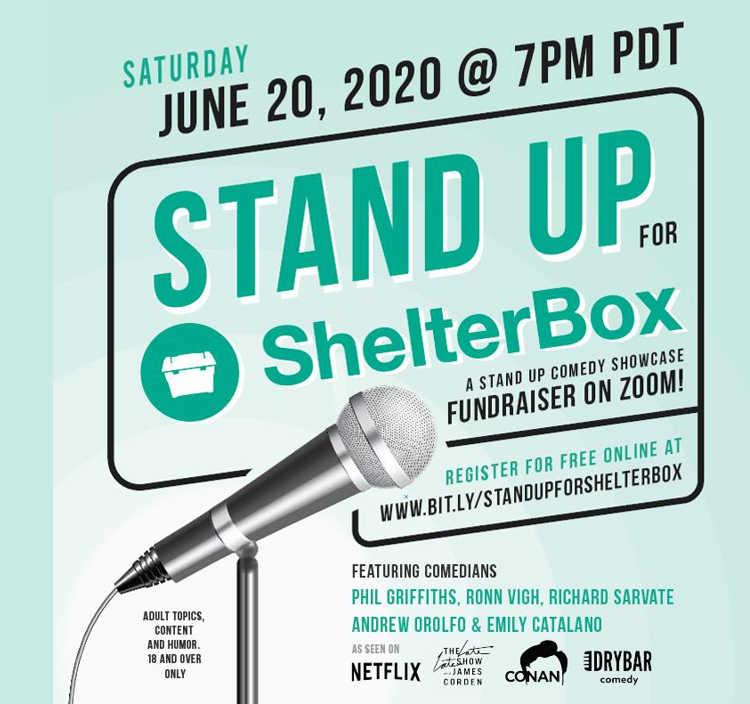 In the summer of 2020, ShelterBox Ambassador and District 5150 Rotarian, Mitone Griffiths, combined a love for comedy with a passion for ShelterBox.  She worked with the ShelterBox team to create a fundraising page while her comedian hubby gathered a group of hilarious entertainers.
Within two weeks, the event was created, promoted, and executed.   Mitone set a goal for herself to raise $5,000 that evening.  She did it!
In those 90 minutes gifts came pouring in while belly laughs were had by all.
Erik Elsea's Mississippi Expedition
---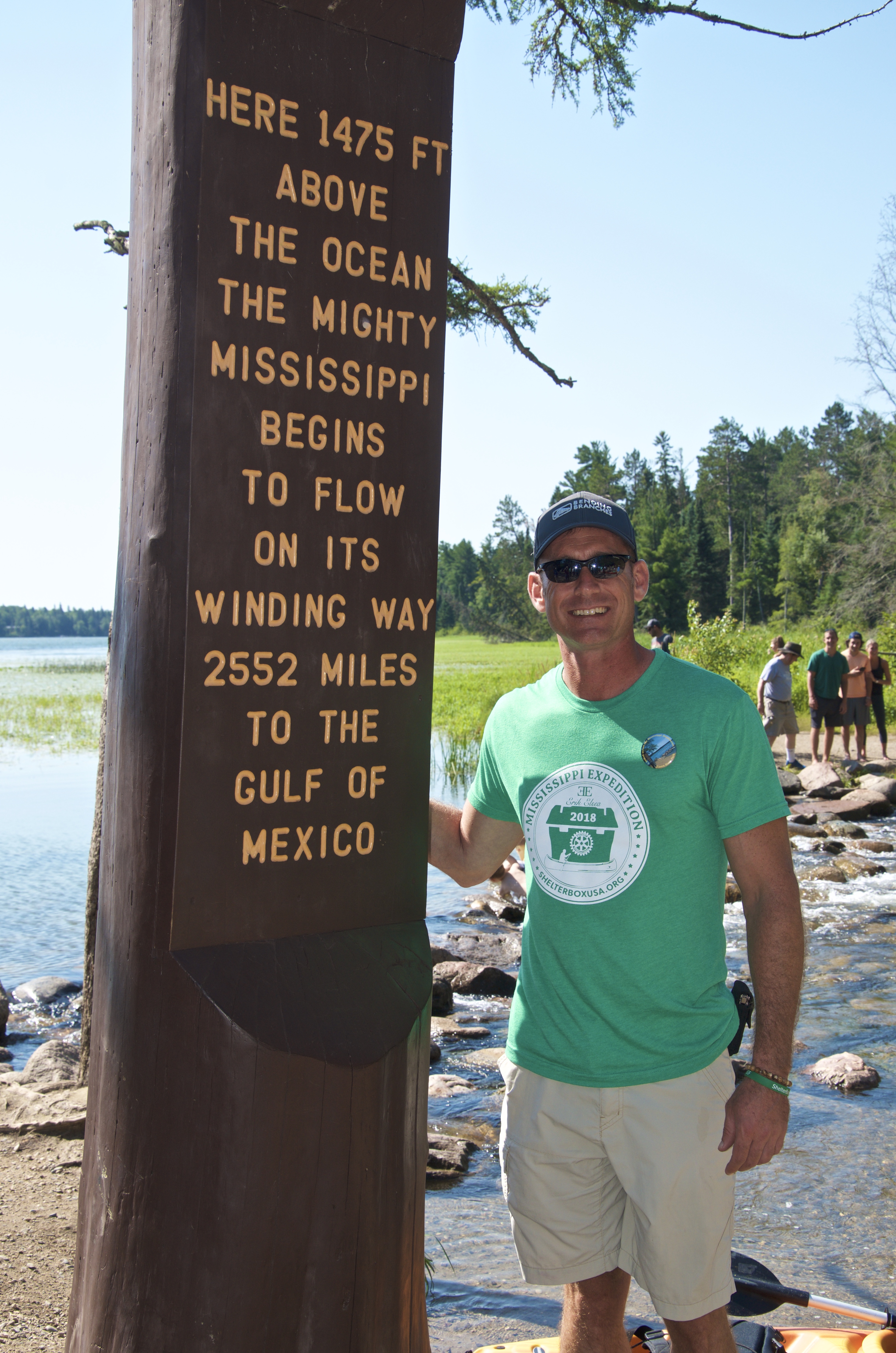 Erik Elsea, a local Rotary member in Cape Coral, Florida, completed a solo paddle of the full length of the Mississippi River to raise funds for ShelterBox USA.
He raised more than $60,000 from his 2,552 mile expedition, enough to shelter over 50 families.
Over the course of his 90 days on the water, Elsea gave presentations about ShelterBox to groups such as Rotary clubs and other interested organizations.
He first learned about ShelterBox through the Cape Coral Rotary Club where he recently served as Club President.
He began his journey on July 7 in Itasca State Park in Minnesota and reached the Gulf of Mexico on Oct. 5. He successfully spread awareness for ShelterBox and raised money to help shelter families around the world.
As a realtor, I know how important it is for people to have a home and a community. By supporting ShelterBox, we can help ensure that many more families around the world will have shelter when disaster strikes.
Jim Carriere's "Jimbalaya"
---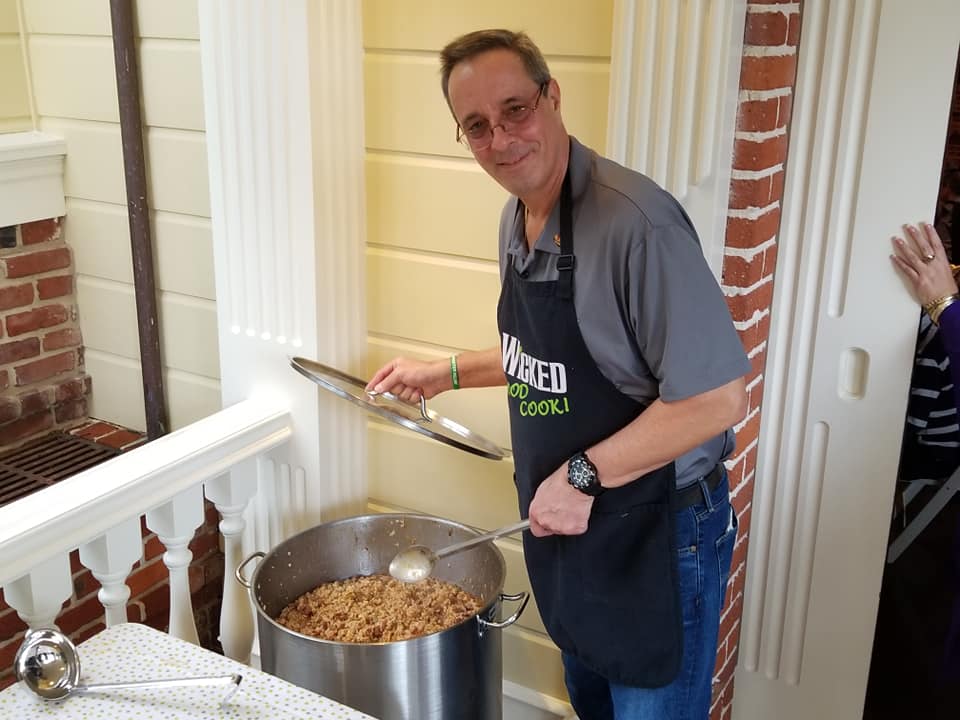 Jim Carriere and other Marin County Rotarians have helped raise more than $100,000 total for ShelterBox USA at the annual "Jimbalaya" fundraising event. 
Jim Carriere is ShelterBox USA's former board chair and a loyal Rotarian. He started this annual event four years ago when he wanted to raise money for a good cause and share his twist on the classic jambalaya he grew up with in New Orleans, Louisiana.
The event is co-hosted by multiple Rotary Clubs, including Carriere's Rotary Club of San Rafael Harbor. This year, 125 guests attended the event and were presented with live entertainment, education about ShelterBox's work, and delicious food. The event raised $40,000 in 2019.
I'm thrilled to share the mission of ShelterBox and my Louisiana heritage with people who have a big heart for helping others in need around the world. This year was our most successful yet and I'm already looking forward to 2020.
Ned Morris' Shine for ShelterBox Dinner
---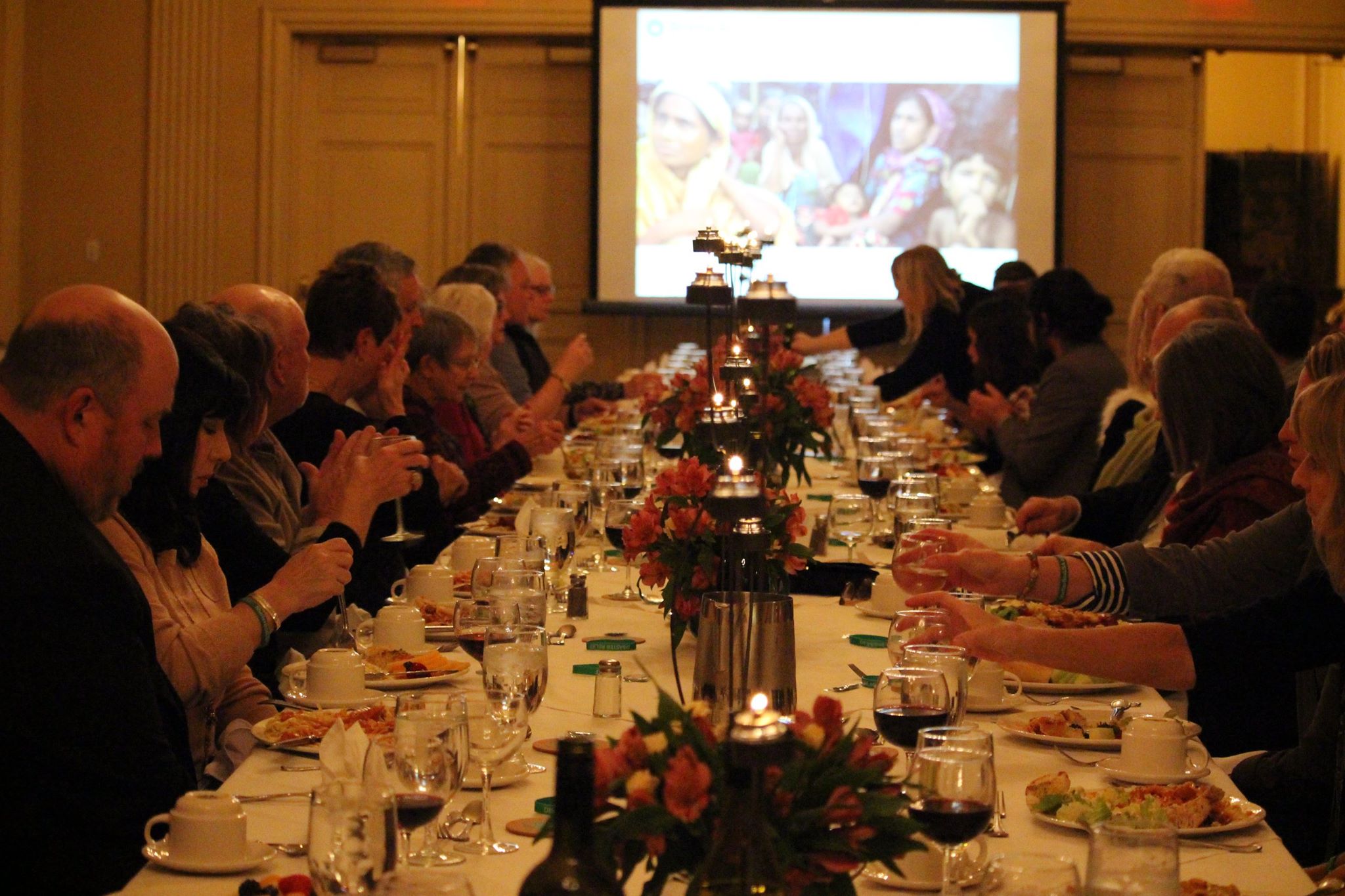 Ned Morris hosted a candlelight dinner for local Rotarians to raise awareness about how to spread light to those deeply affected by disaster and conflict worldwide.
Ned Morris is a certified ShelterBox USA Response Team member who responds to areas plagued with disaster or conflict. Most recently, he was deployed to the Caribbean to distribute aid to the most vulnerable.
Morris held the candlelight dinner with fellow Walla Walla Noon Rotary Club members to raise funds for global disaster relief. The money raised from this event went to providing solar lights, tarps, tents, and tools to rebuild homes that have been damaged or destroyed. This was simply one of many candlelight dinners across the country that hoped to shine a light on ShelterBox's global work.
We wanted to set aside an evening to remember and support people around the world without the comfort and security of light and shelter. We're honored to support the work of ShelterBox.