2019 'Best Lantern for Backpacking' Helps Protect Survivors of Disaster and Conflict
---
Santa Barbara, Calif. | May 29, 2019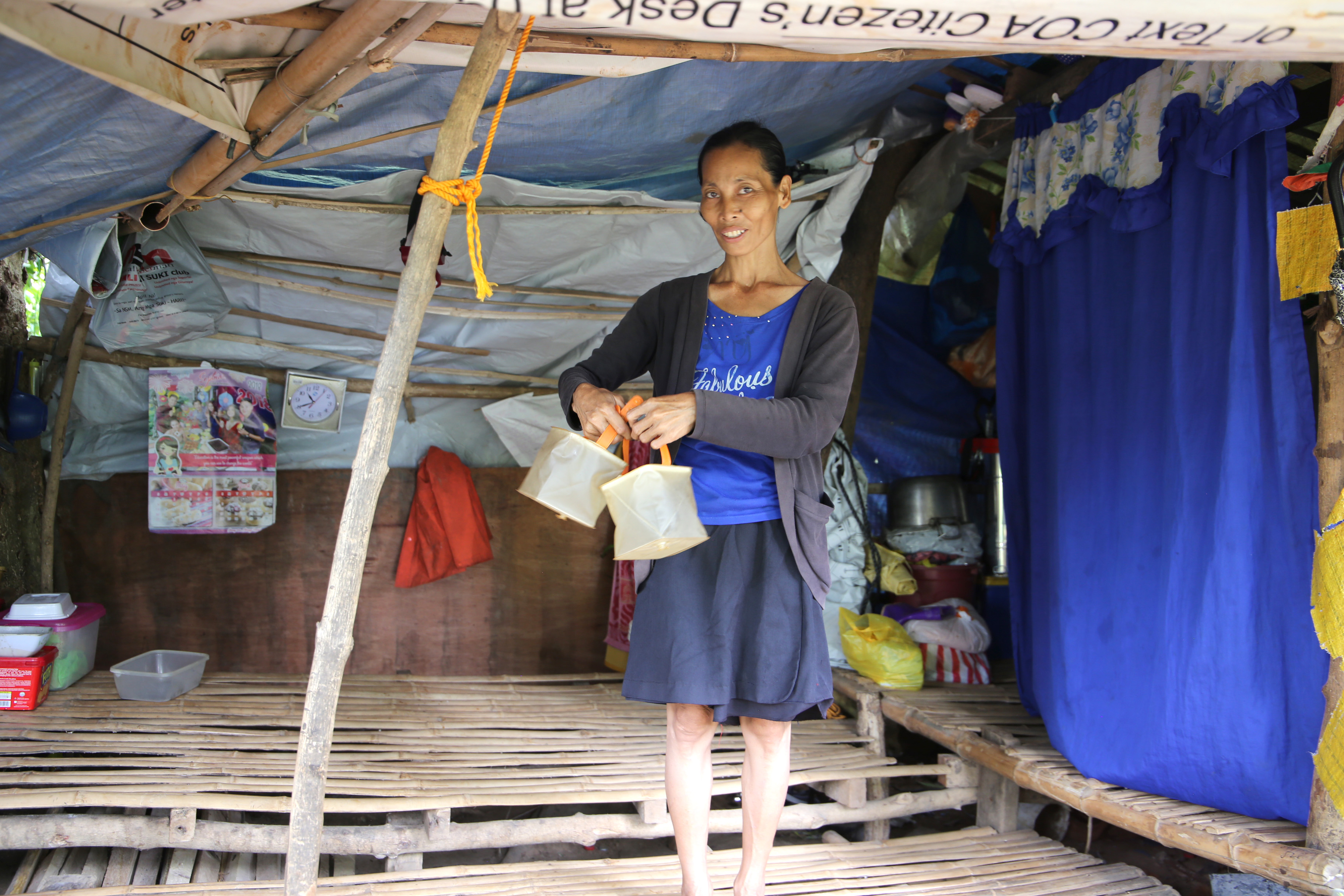 Enisa Penosa uses LuminAID solar lights in the Philippines after Tropical Storm Urduja destroyed her home. She said the light was very helpful because there was no electricity available after the storm.
Named 2019 Best Lantern for Backpacking by REI, LuminAID's PackLite Max 2-in-1 phone charger and solar lantern isn't just a quality product for outdoor aficionados, it also helps save lives after disaster. The features that make LuminAID's products popular among backpackers also make them an essential aid item delivered by international disaster relief organization, ShelterBox.
The lantern's features – compact size, ultralightweight, portability, brightness (up to 150 lumens), waterproof materials, and built-in solar panel eliminating the need for batteries – make the product ideal for people who have lost everything after disaster. The solar rechargeable light allows families to go about their daily lives after dark, without having to worry about fuel or fire hazards from other lighting methods.
"The LuminAID solar lights have been used in a number of ways by the people who receive our aid," said Kerri Murray, President of ShelterBox USA. "From a young woman in Somaliland using them to study at night, to women in Malawi using them to check their tent for snakes, to a man in Kenya who uses the flashing feature to deter lions from his animals at night, these lights allow families to overcome disaster."
Starting with the first distribution after a typhoon in the Philippines, LuminAID has supplied ShelterBox since 2013. The humanitarian nonprofit has deployed the solar lights to more than 20 countries, along with shelter and other critical aid items.
By taking care of the necessities, the shelter and renewable light provided by ShelterBox and LuminAID allow lives disrupted by disaster an opportunity to recover." – Anna Stork, co-founder of LuminAID
"Our mission of providing safe light to those who really need it has driven the design behind LuminAID from the beginning," Stork said.
Chicago-based LuminAID – which was featured on the investment reality show Shark Tank in 2015 – has its roots in disaster relief. After the 2010 Haiti Earthquake, architecture graduate students and soon-to-be LuminAID cofounders, Anna Stork and Andrea Sreshta, were asked to design a product to assist relief efforts. They came up with the idea for an inflatable solar light that packs flat. The product launched in 2011.
The PackLite Max 2-in-1 phone charger came about in 2017 after a successful Kickstarter for the project garnered more than $250,000 and 4,000 backers in less than eight hours.
Evolutions of the product come from not only from customer feedback, but also insights from ShelterBox Response Team members and the people who receive the organization's aid.
"ShelterBox has provided critical feedback to help improve product design and performance – knowledge we would never have gained back at the office," said LuminAID cofounder Andrea Sreshta. "The insights have made our lights better over time, and more useful."
ShelterBox is currently responding in Malawi after Cyclone Idai, Somaliland after severe drought, and is responding to shelter needs of refugees and displaced people in Syria, Iraq, Ethiopia, Chad, Nigeria, Cameroon and Niger.
LuminAID and ShelterBox will be at Outdoor Retailer Summer Market, held June 18-20 in Denver, Colo. You can find them at booths 24308-SL and 24209-SL.