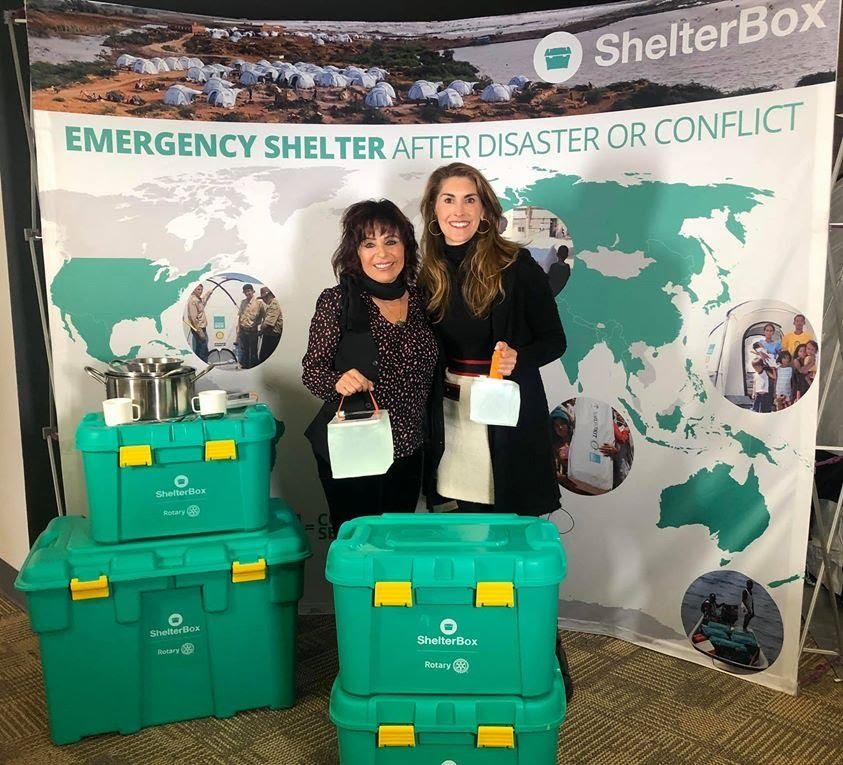 Santa Barbara, Calif., July 20, 2020 – Top 40 Billboard Recording Artist and Philanthropist, Laura Angelini was announced as the first official Artist Ambassador of ShelterBox USA, a global humanitarian organization that has helped provide shelter to over 1.5 million people displaced after disaster.
Laura Angelini has generously endorsed the work of ShelterBox, a non-profit that provides emergency shelter and essential household supplies to families around the world who have been displaced by disaster. "The work that ShelterBox does around the world is truly remarkable. The relief they provide improves and saves the lives of countless people in need. I am honored to support ShelterBox as an Artist Ambassador and congratulate them on their 20-year anniversary of service to humanity," said Angelini.
Angelini is also featured as the cover story for the "See Beyond" Magazine July/August 2020 issue where she highlights the work of Shelter Box, which provides the critical items needed for a family to quickly set up a household. The items include: an emergency tent to live in, solar lights, a water purifier, cooking equipment, blankets, a mosquito net, a tool set, children's activity set, and more.  ShelterBox also deploys shelter kits, which repair damaged homes or can transform into single shelter for a family in need.
Angelini's first single "Share That Love/What The World Needs Now Is Love" reached #36 on the Billboard Dance Charts.   A prolific singer, she toured nationally with the legendary 6-time Grammy nominee Andy Williams. She's also co-produced songs with Claude Amesse, lyricist for Cirque Du Soleil's "Alegria." Laura's new Share That Love EP is available on Spotify and she is currently completing her CD with music producer David Longoria.  She is passionate about philanthropy and recently founded her own charitable organization, Share That Love.
Laura has followed and supported the work of disaster relief agency, ShelterBox, since 2018. Moved by the impact of the work of ShelterBox to help vulnerable families, she was inspired to use her platform to do more, and the ShelterBox USA Artist Ambassador program was born. The program which Angelini and ShelterBox created is designed to provide artists with an opportunity to use their talent and influence to make a positive difference in the world by furthering the reach of a cause and organization they support.
As an Artist Ambassador for ShelterBox USA, Angelini is excited to raise her voice and lend her support for the life-saving work of ShelterBox.  "I am proud to make a difference through my music and to help people in need.  I love what ShelterBox is doing throughout the world and I'm so excited to help them make a difference," said Angelini.
The ShelterBox Artist Ambassador program is an exciting next step in raising awareness of and support for the more than 88 million people around the world that have been displaced by natural disasters and conflict situations. "Laura has boundless energy and extraordinary care and concern for others. She has a long history of using her voice as a channel to make a difference for the world's most vulnerable. She is a natural fit as the first Artist Ambassador for ShelterBox and we are thrilled to partner with her," said Kerri Murray, President of ShelterBox USA.
ShelterBox is currently responding to disasters and crisis situations around the world in Burkina Faso, Cameroon, Ethiopia, Nigeria, the Philippines, Somaliland, Syria, Tanzania, and Vanuatu. We are adapting and scaling our responses, working even harder with our partners to provide displaced families most at risk of being devastated by the COVID-19 virus with the emergency shelter they need.
About ShelterBox
Since 2000, ShelterBox has provided shelter, warmth, and dignity following more than 300 disasters in over 100 countries. ShelterBox responds urgently to earthquake, volcano, flood, hurricane, cyclone, tsunami, or conflict by delivering boxes of essential shelter aid and other life-saving supplies. Each iconic green ShelterBox contains a disaster relief tent for an extended family, blankets, a water filtration system, emergency lighting, and other tools for survival. ShelterBox USA is a 2-time Nobel Peace Prize nominee and is based in Santa Barbara, California.
ShelterBox is an official Project Partner of Rotary International. Tax-deductible donations to the organization can be made at www.ShelterBoxUSA.org.
###
Contact: Carrie Baptista
(559)349-1666/[email protected]