Oakland, Calif. | July 2, 2019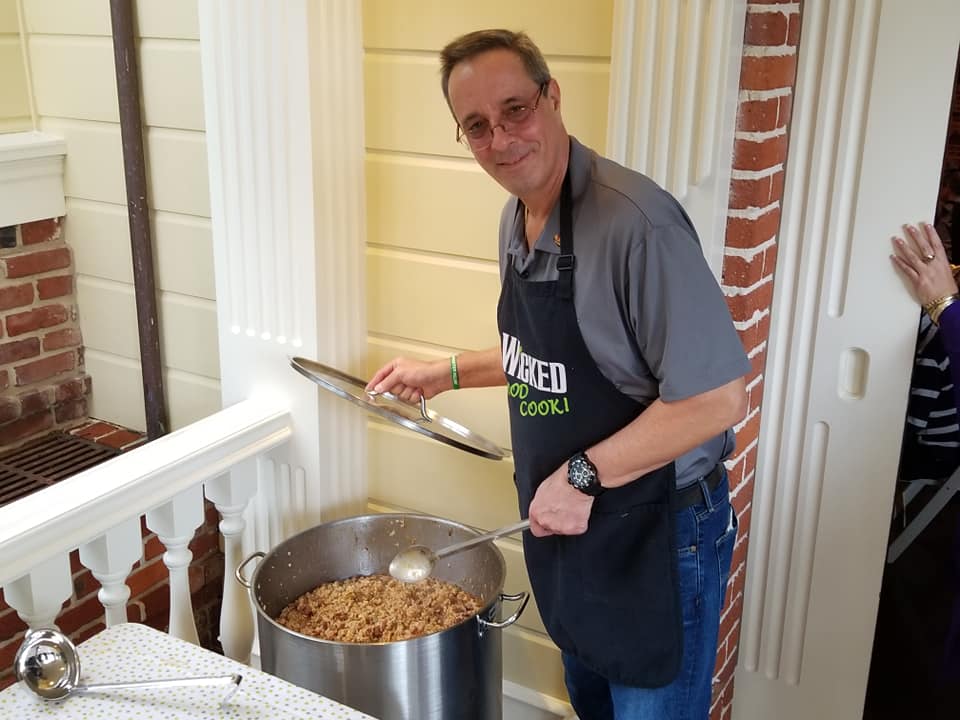 Jim Carriere dishes up his homemade jambalaya at the 4th annual "Jimbalaya" event at the Pines. Photo by Bill Tobin.
Oakland resident Jim Carriere recently exceeded $400,000 in funds raised for international disaster relief charity, ShelterBox USA, earning him recognition as the organization's top all-time fundraiser. ShelterBox delivers emergency shelter and life-saving supplies to people affected by natural disasters or conflict around the world.
"ShelterBox would not be able to help so many families in need of shelter without the exceptional efforts of volunteers who have a passion for helping people in need," said Kerri Murray.
Jim has truly gone above and beyond and his extraordinary service to raise funds for ShelterBox has resulted in hundreds of families receiving life-saving aid."
Carriere, who is senior vice president of First Federal Savings and Loan Association of San Rafael, has been involved with the organization for more than a decade. He served on ShelterBox USA's board from 2010-2018, including service as board chair in 2017 and 2018. He is a mentor to fellow ambassadors in northern California and has been recognized multiple times with the Presidential Service Award for his time spent volunteering with the organization.
For the last four years, Carriere has hosted a successful fundraising event for ShelterBox called Jimbalaya, in which he treats guests to cuisine from his hometown of New Orleans. In total, the event has raised more than $100,000.
A member of the Rotary Club of San Rafael Harbor, he first learned of the organization through its connection to Rotary. ShelterBox is the official Project Partner of Rotary International in disaster relief. Rotarians are often the first point of contact for the ShelterBox Response Team when they arrive in a country that has been devastated by a disaster. Others, like Carriere, help in fundraising and volunteer projects.
In 2013, Carriere was inducted to ShelterBox USA's Hall of Fame after reaching the milestone of raising more than $100,000. He was the seventh person to achieve this status. Currently, 34 of the more than 400 ShelterBox volunteer ambassadors across the country are a part of this elite group.
ShelterBox is currently responding in Somaliland after severe drought as well as to shelter needs of refugees and displaced people in Syria, Iraq, Ethiopia, Chad, Nigeria, Cameroon and Niger.
To learn how to volunteer, fundraise, or to make a donation to ShelterBox USA, visit www.shelterboxusa.org or call (941) 907-6036. Legacy giving and corporate giving options are available as well. ShelterBox USA is a 4-Star rated charity by Charity Navigator and has Platinum status from GuideStar.