Survivorman, Les Stroud, has been a ShelterBox Celebrity Ambassador since February 2013, raising awareness of ShelterBox's effort to assist families affected by conflict and disaster around the world.
Now, international disaster relief charity ShelterBox is taking the relationship one-step further and will be working with Les Stroud and his production company to better share the ShelterBox story.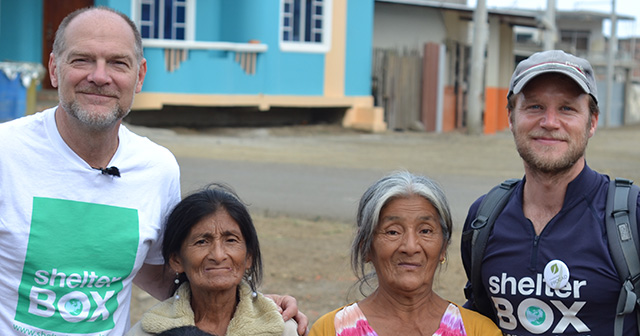 ShelterBox is thrilled to announce a renewed partnership with Les Stroud, star of TV's Survivorman. Since 2013, ShelterBox has welcomed Les as a celebrity ambassador, a role in which Les excelled helping the charity extend their reach and raise awareness. Since then, Les has participated in the Understanding ShelterBox Operations course at the ShelterBox Headquarters in the UK where he received a better understanding of how ShelterBox works and how the organization delivers aid to those in need.
In October 2016, Les accompanied ShelterBox Canada Executive Director Stephanie Christensen as they joined a ShelterBox Response Team in Ecuador. The charity responded in April 2016 following the devastating 7.8 magnitude earthquake that struck the coast, killing 654 people and injuring over 12,500. A ShelterBox Response Team returned in October as frequent aftershocks made previously habitable buildings unstable, and displaced more families from their homes.
Les is an award-winning producer, creator and star of the hit series 'Survivorman' and is well-equipped when it comes to gathering exceptional video content and stories from the field. He is energized and excited to transfer these skills to ShelterBox, as on-the-ground content is essential to communicate the ShelterBox story to supporters around the world.
Les will join a ShelterBox Response Team on four deployments throughout the year to gather footage and provide coverage from the ground to share with ShelterBox supporters. This is an incredibly invaluable, as ShelterBox will be able to better communicate to supporters how they help ensure that no family is without shelter after disaster.
When speaking of his relationship with ShelterBox, Les says,
My involvement and new relationship with ShelterBox is, for me, such a no brainer that it has been so very easy for me to get passionate about all the great work they do in areas of devastation and disaster.

My whole life whether the public one, as Survivorman: both the instructor and the documentary filmmaker, or the private one: as an emergency first responder, CPR instructor, Volunteer fire department, Search and Rescue volunteer and adviser, elite military survival trainer, has given me the privilege and blessing of developing a certain set of skills that I feel are perfectly matched to the incredible life-saving work ShelterBox does around the world.