Blog
---
The Forgotten Crises: Mozambique
There is little in the news about Mozambique, a country of over 31 million people in southern Africa. However, since 2017 over 800,000 people have been displaced, and 3000 killed. Attacks by an Islamist extremist group known as a local Al-Shabab (a terrorist group that originated in Somalia) have forced civilians to flee their homes and communities, seeking refuge in other parts of the country or over the border to Tanzania.
The violence has mainly taken place in the North East of the country in Cabo Delgado. This area is rich in rubies and natural gas, and militants have expressed grievances over the state doing little to support the area. Over 118,000 people have been displaced from the city of Palma in Cabo Delgado alone. A staggering 52% of those were children and nearly 800 of them were unaccompanied by adults. Despite the dire situation for these children and other people who have been forced from their homes and livelihoods, there is very little coverage of this conflict.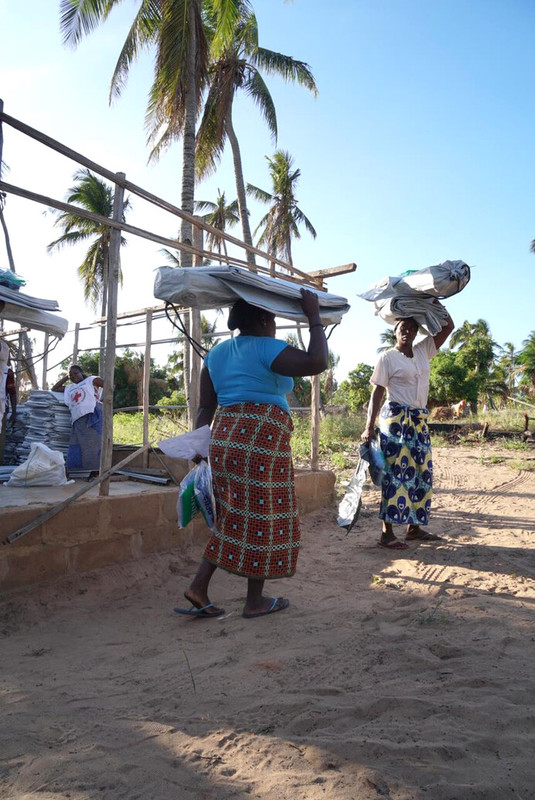 Families in Mozambique receiving ShelterBox aid following Cyclone Dineo in 2017.
This complex conflict threatens to destabilize the region, which has caused Tanzania to tighten their border security. The UN has recently criticized Tanzania for not allowing civilians seeking asylum to cross the border, and for repatriating ones who made it into the country. Tanzania has also banned cross-border food exports which has driven up prices in Cabo Delgado causing further human suffering.
Making matters even worse, due to a lack of humanitarian assistance in the area, it is predicted that 40,000 households in dire need of aid will not receive anything. ShelterBox is working to change this. Our teams are working with our local partner CARE Mozambique to deliver shelter and vital supplies to thousands of families in need. However, without regional and/or international action to stop the violence, hundreds of thousands of innocent civilians, many of which are children remain in danger and in urgent need of humanitarian assistance.
You can learn more about ShelterBox's efforts in Mozambique here.

Blog
---
Preparing for Disaster
Everything you need to know about how ShelterBox prepares to respond to disasters around the world.

Blog
---
World Humanitarian Day 2022
Discover everything you need to know about World Humanitarian Day and meet four real-life humanitarians.