Since 2009, conflict has been raging in the Lake Chad Basin. The Lake Chad region in Western Africa covers Cameroon, Chad, Niger and Nigeria.
The conflict has been going on for over 12 years, with innocent people bearing the brunt. And yet, this humanitarian crisis remains underreported.
The crisis stems from an insurgency led by the Islamist militant group, Boko Haram. It started in north-eastern Nigeria in July 2009. But the conflict quickly spread to the surrounding countries.
ShelterBox has been working in the Lake Chad Basin since 2015. We've been supporting families fleeing the violence with emergency shelter and aid. Read more about how the conflict started and learn how ShelterBox is helping vulnerable families.
Boko Haram is an extremist group formed by Mohammed Yusuf in 2002. Loosely translated, Boko Haram means Western education is forbidden. The group aims to overthrow the Nigerian government and create an Islamic state.
When did the Boko Haram uprising begin?
The Boko Haram uprising began in July 2009, when the group staged a failed uprising against the government.
As a result, nearly 1,000 people were dead – including Mohammed Yusuf.
Authorities believed they had crushed the group, but that was only the beginning.
The uprising marked the start of a long conflict that is still raging through Nigeria, Niger, Cameroon, and Chad.
Initially, authorities believed that Boko Haram violence only took place in the north-eastern region of Nigeria. But the attacks quickly spread to neighboring countries.
Currently, the conflict is affecting the whole of the Lake Chad region. An estimated 350,000 people have died – more than nine out of ten were children.
About 314,000 deaths have resulted from indirect causes. For example, agricultural production and trade has declined, resulting in limited access to food. Many families who used to depend on agriculture for their livelihood can't make ends meet. And thousands of people don't have access to health facilities, shelter and clean water (UNDP).
As a result, over 10.6 million people need urgent humanitarian aid across Nigeria, Cameroon, Chad and Niger.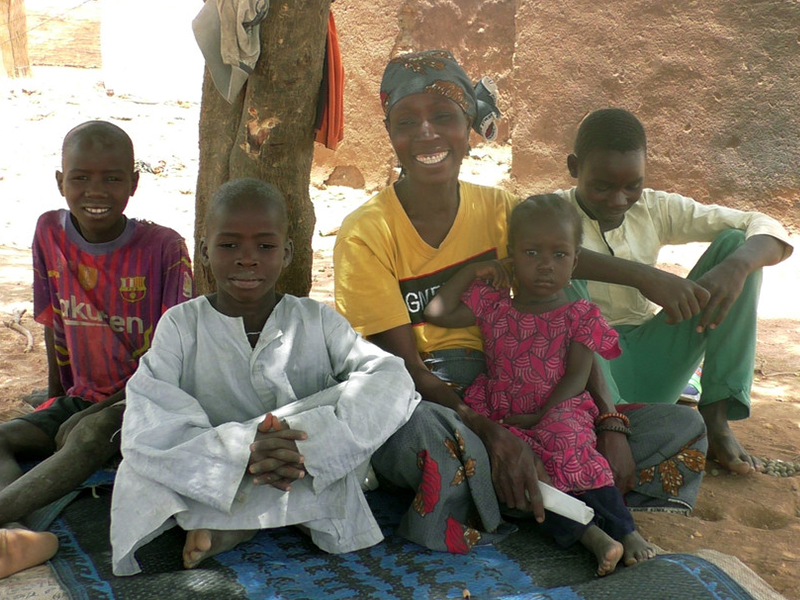 Esther watched her brothers being murdered – together with her children, she narrowly escaped Boko Haram more than once, whilst being pregnant. Now, she lives in Minawao camp. She said: "I was very relieved, the assistance I received from IEDA Relief and ShelterBox was beyond my wildest expectations."
July 26, 2009: Boko Haram launches an uprising in north-eastern Nigeria.
August 2011: A car bomb hits a UN compound in Abuja, killing 23 people and injuring 75.
November 2013: The US labels Boko Haram as a terrorist organization.
April 2014: Boko Haram members abduct 276 schoolgirls in the northern town of Chibok. More than 100 girls are still missing today.
By 2015, the group was in control of much of Nigeria's Borno state.
HOW IS SHELTERBOX HELPING?
---
We've been working with partners in the Lake Chad Basin to reach people fleeing their homes in search of safety.
In Nigeria, we've reached over 30,000 people together with our partner ACTED since 2018. In 2022, we have worked together to support people with a type of shelter known as the Bama shelter.
Bama shelter is a timber framed structure, with tarpaulin material providing the wall and roofing structure. It has windows for natural sunlight and ventilation, and a secure lockable door. It's a suitable size for a family of six, and can be internally partitioned for added privacy.
We've also provided sleeping mats, blankets, and kitchen sets, to allow people to start again.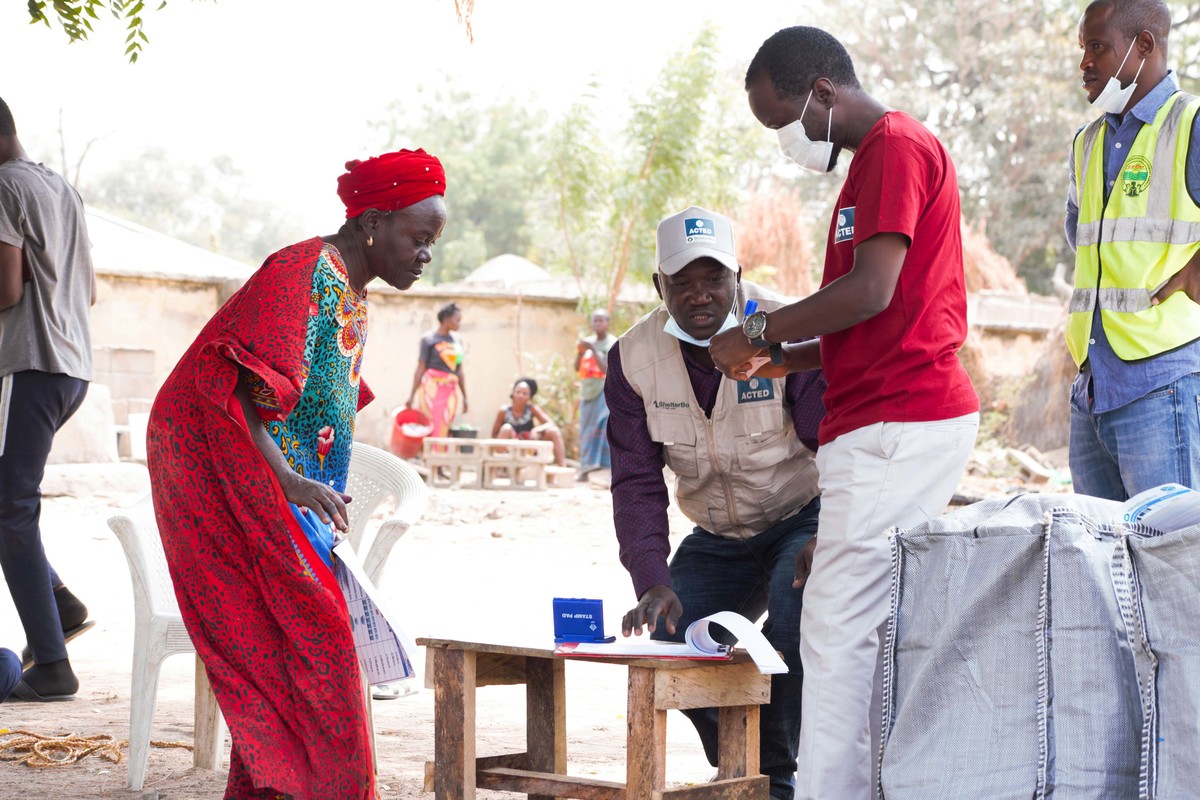 Our partner ACTED distributing essential items including mats, water carriers, blankets and kitchen sets in northern Nigeria.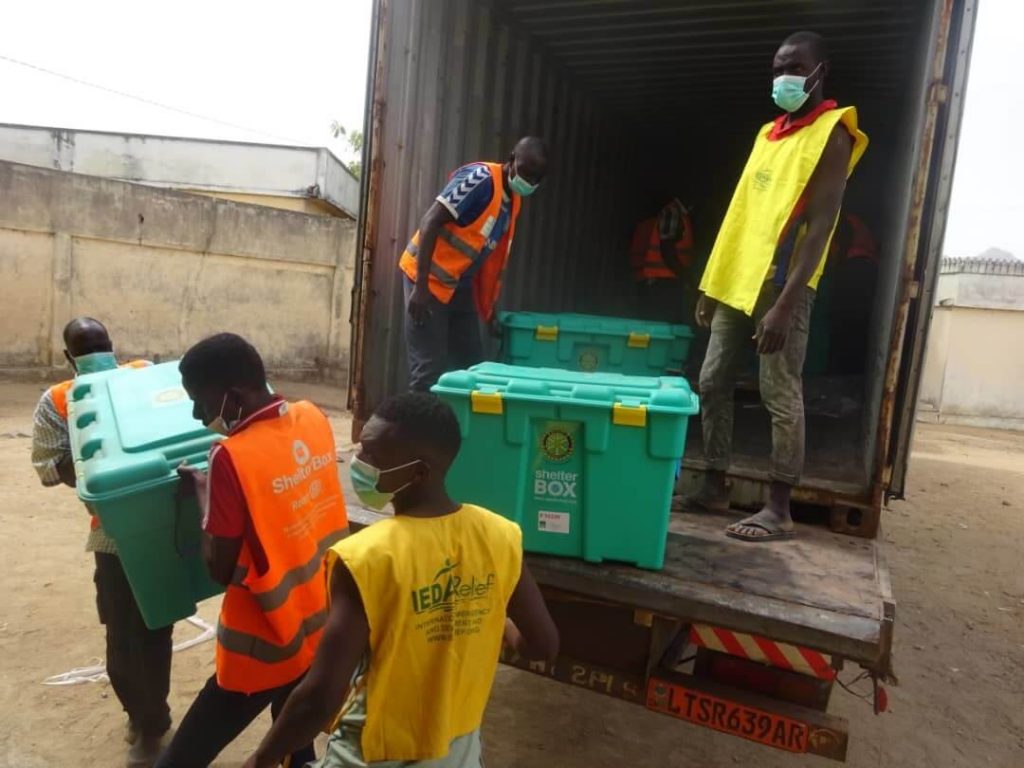 In Cameroon, the IEDA Relief team are taking extra precautions as they unload ShelterBox aid.
Our work in Cameroon started in 2015. We're currently the only providers of emergency shelter like tents within Minawao camp. Minawao is a refugee camp in the north-east of the country.
Cameroon is the second most affected country by the crisis, after Nigeria. Underdevelopment, unequal economic opportunities and climate change are making the situation even worse.
Together with our partner IEDA Relief, we've supported over 100,000 refugees and internally displaced people (IDPs) so far. We have provided tents, shelter kits, rope and tarpaulins, and other essential household items. These allow people to rebuild their lives after conflict. Right now, we're working to support even more people.
We have also worked in Chad and Niger in the past.