ShelterBox has partnered with Airbnb through their Open Homes program to help provide accommodation for our Response Team Volunteers while responding to disasters.
To help Airbnb's Human Team learn about ShelterBox, we delivered an inspiring and memorable team-building event inspired by our Response Team Volunteer training.
Airbnb's Human Team exists to make a contribution to the world by creating tools for exponential generosity that advance humankind. Their first project is called Open Homes.
They allow hosts around the world to open their homes to those that have been displaced by disaster, those fleeing conflict, or those with terminal conditions seeking care and respite.
Open Homes community has helped house over 30,000 total people in need to date. Their second project is the Airbnb Donations platform.
The first version of this project allows Airbnb hosts to donate a percentage of their proceeds to our trusted partner non-profits who support the same groups as Open Homes.
ShelterBox and Airbnb are perfectly aligned to make a big difference together and share a focus on what 'home' means.
CAMP OUT AMONGST REDWOODS
---
Airbnb's Human Team wanted to do something a little different for their annual off-site team-building event in San Fransisco.
As part of a fun, team-bonding experience, they seek to work with their partners and the communities that they serve.
We provided relief tents, a program of team-building activities taken from our intense ShelterBox Response Team volunteer training, and the opportunity for staff to interact and engage with a new Open Homes partner.
After a long bus ride out of San Francisco, deep into Big Basin Redwood State Park, we explained who Shelterbox is and what we do, introducing them to the aid items we distribute and where we are currently responding.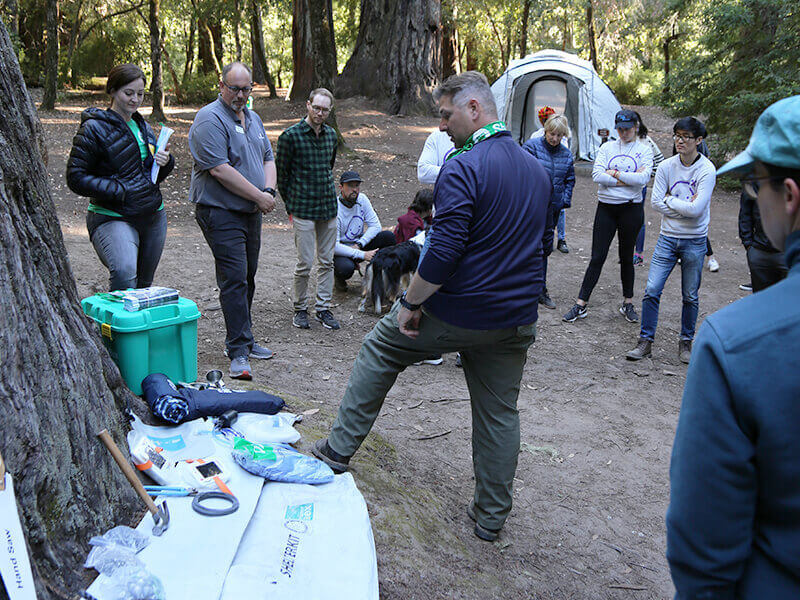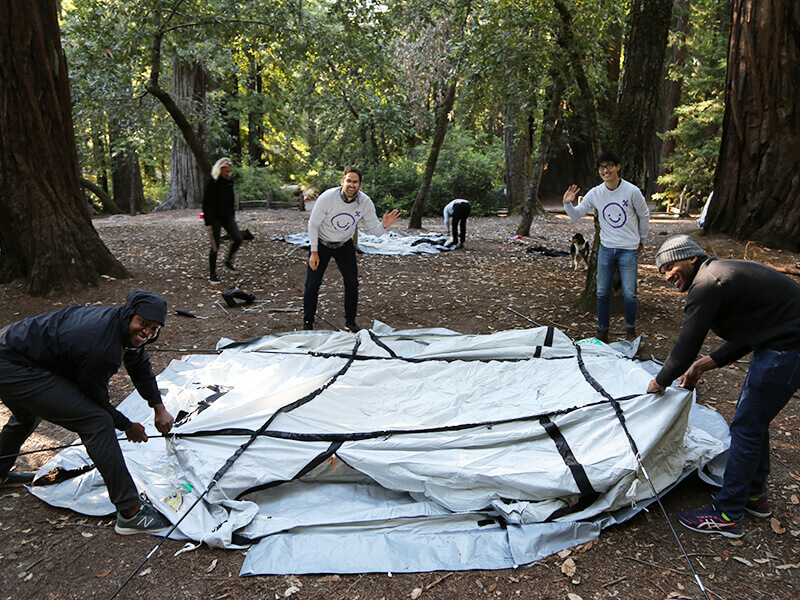 In small groups, staff were immediately challenged with setting up our tents in a session run in the same way as how we train our beneficiaries, led by our expert response team member Ned Morris.
This gave the team a chance to work together in groups that they would not normally work with and start to think about some of the challenges faced by families who have lost everything to disaster.
The camping was a big highlight. I wasn't sure at first, but ShelterBox made it very special.
Recovery starts with shelter. Having somewhere dry and warm to sleep, prepare meals and be with your family is vital for starting the long process of rebuilding your life.
Camping out in our relief tents gave the human team some insight into the experience of families affected by disaster and the opportunity to reflect on the impact of their partnership with ShelterBox.
I really enjoyed the incorporation of ShelterBox into our camping adventure. As always, any way we can tie our events back to our mission, is wonderful.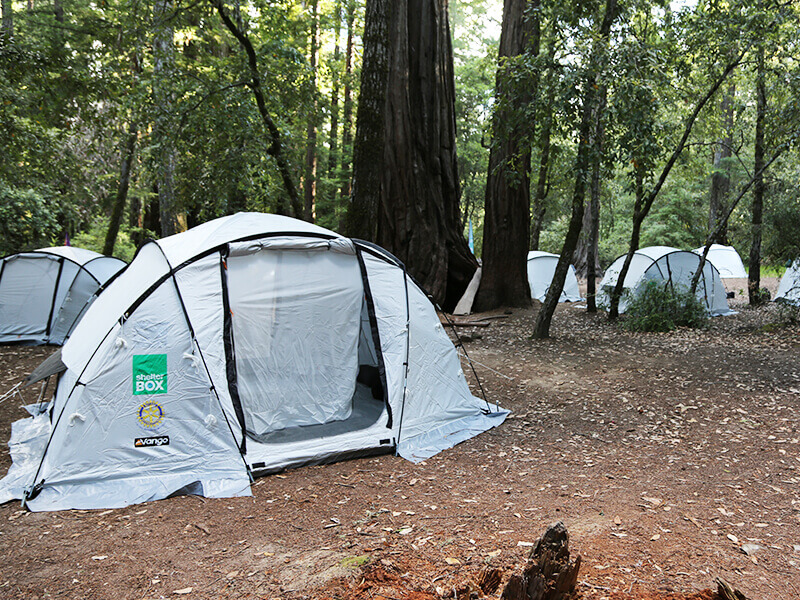 TEAM-BUILDING, LEADERSHIP AND HIGH STAKES DECISION-MAKING
---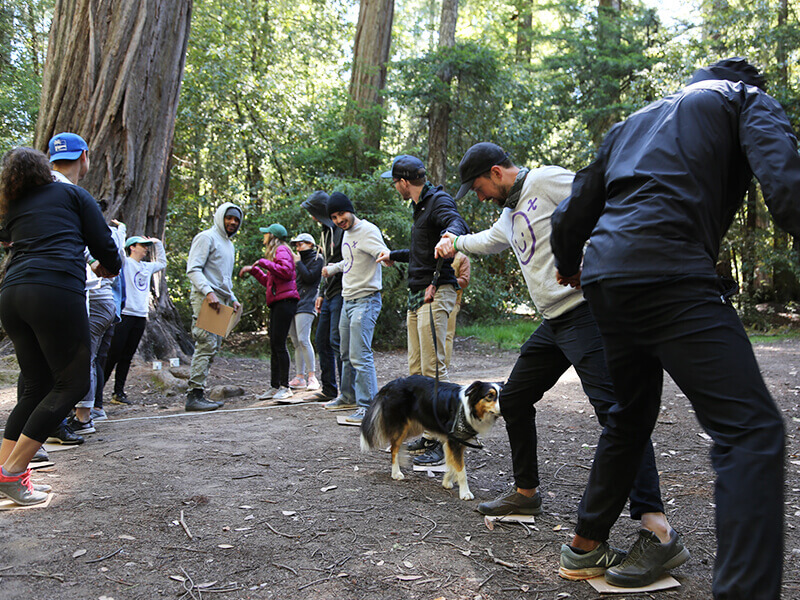 High-performing teams are as essential in business as they are in disaster relief. When a disaster strikes, our Response Team Volunteers come from around the world to quickly form high-performing teams to deliver shelter, tools and other essential items, usually despite never having worked together before.
We leverage elements of our Volunteer Response Team training like team-building, leadership and high stakes decision-making for select corporate partners like Airbnb.
The skills that participants learn can be used back in the office to boost company performance, while our exercises are framed by real-life disaster scenarios, giving participants a better understanding of our work.
"A BONDING EXPERIENCE"
---
INTERVIEW WITH EMMA JAGUNICH, SENIOR MANAGER FOR GLOBAL PRODUCT OPERATIONS, HUMAN TEAM
HOW HAS SHELTERBOX HELPED WITH YOUR TEAM OBJECTIVES?
Getting out of the city, getting away from the internet (because there is no internet or phone signal here) is unexpected and welcome for our team because we're plugged in constantly and this was a nice way to disconnect.
The activities really brought us together and work in groups that we don't usually work with on a day to day basis and even sleep overnight in tents with people who might not be in our direct team. All in all, it's been a real bonding experience for the whole team.
How is this different from other team-building events that you have done before?
The main difference is being in nature. I've done a lot of different team-building exercises with my team and others and this one, we're out in the peace and quiet, we're making our own meals, and everyone is contributing.
It's not just one person putting the event on and people just show up, everyone has had to contribute, and everyone has been really engaged in all the activities which is nice to see.
Do you think you know more about ShelterBox and better empathize with the beneficiaries that we help together?
Definitely! Seeing what a standard relief tent is and how much space that is, where you would put it etc. I heard people talking about it after the presentation, especially about the aid items and the bare minimum of things that are really helpful for people when they are evacuated from their homes.
This shed light for us as we're in the accommodation business, we're into helping people in the accommodation business.
We always think of a home with four walls, but this is something different, you're still offering shelter, still offering people a way to get back on their feet and I think we don't think about it in this way. It opens up our minds to what could be possible in terms of space for people.
Our corporate team has a wealth of experience in managing partnerships of every size and is keen to explore the different ways in which we can work together:
Strategic partnerships
Corporate donations
Employee and customer fundraising
Event sponsorship
Cause-related marketing initiatives
Emergency giving
Gifts in kind