Bangladesh
---
The Rohingya Crisis
Tom Stoddart is a respected photojournalist and veteran of documenting many of the most serious issues of our time.
Tom traveled with us to Cox's Bazar in Bangladesh where violence in Myanmar has forced over 655,000 Rohingya to flee, with more arriving each day.
ShelterBox has supported families with tarpaulins and rope for essential shelter, as well as blankets for warmth and solar lights to help them feel safer at night.
The sun rises over Kutupalong Camp, where thousands of Rohungya families have taken reuge after fleeing horrific violence in Myanmar.
A Rohingya girl comforts her baby brother as they and their family wait to be given aid.
12-year old Hossion Juhar wraps himself in a blanket to keep warm early in the morning as the sun rises over the camp.
Rohingya children slide down a dusty hill on plastic water carriers in Kutupalong Refugee Camp, home to more than 700,000 Rohingya Muslims.
10-year old Dill Kayes collects firewood from a forest near the Kutupalong Refugee Camp.
About Tom
---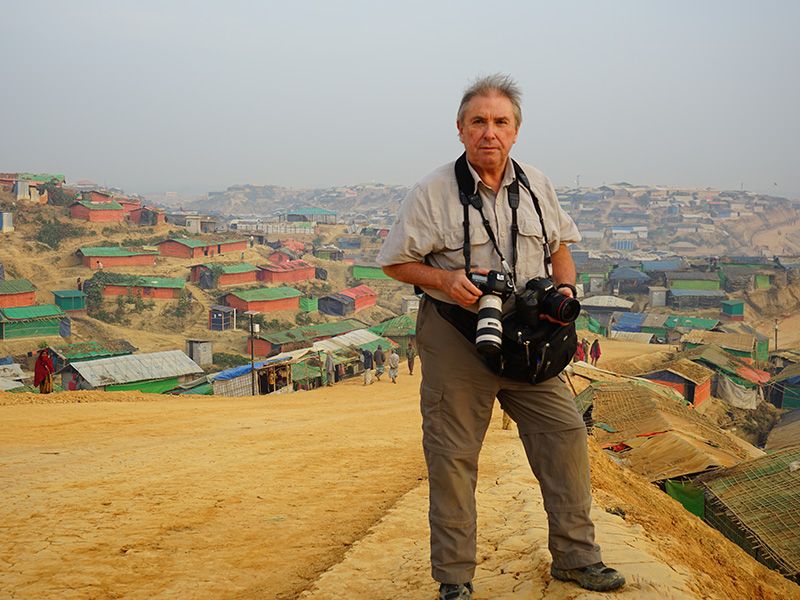 Tom visited the refugee camps in Cox's Bazar, Bangladesh, where more than half-a-million people crossed the Myanmar border after unimaginable violence forced them to flee their homes.
The inner strength of families there is incredible
These families are extremely vulnerable, having experienced severe trauma. Many left their homes with nothing and desperately need shelter, lighting and other essential items.
Tom said: 'When I visited the camps, what's striking is how much energy and hard work is going on, making a community. Everywhere you look people are doing something. They are building houses or walking for hours to collect wood. The inner strength of families there is incredible.'
Who We Are
---
About Us
ShelterBox is made up of people who believe in shelter as a human right – that shelter from the chaos of disaster and conflict is vital. We provide the tools that enable people to rebuild homes and transform their lives.
Building Peace
Every minute, more families lose everything in the chaos of conflict. Their homes, their livelihoods, and even family members are brutally snatched away. Take a look at how we're helping to build peace, one family at a time here.