Bangladesh
---
The Rohingya Crisis
Veronique De Viguerie is a multi-award winning French photographer, experienced in taking photos in the Middle East and conflict areas across the world.
Vero also travelled with us to Bangladesh, where violence in Myanmar has forced over half a million Rohingya to flee, with more arriving each day.
With help from our partner IOM, we are supporting families with vital aid including blankets, tarpaulins and rope, solar lights and water carriers.
More than 700,000 Rohingya who fled violence in Myanmar are living in Kutupalong Camp.
The open river inside the camp is where many Rohingya families wash and children play, bringing some kind of normalcy into theur daily lives.
Every day in Kutupalong Camp thousands of men, women and children can be seen carrying huge piles of wood back from the forest to cook with and to keep warm during the cold nights.
A mother and her child use a solar light given by ShelterBox
20-year old Hosna Ara had just given birth to her 3rd child at IOM Medical Center in Kutupalong Camp. Her mother, Minarva, is proudly holding her grandchild.
About Vero
---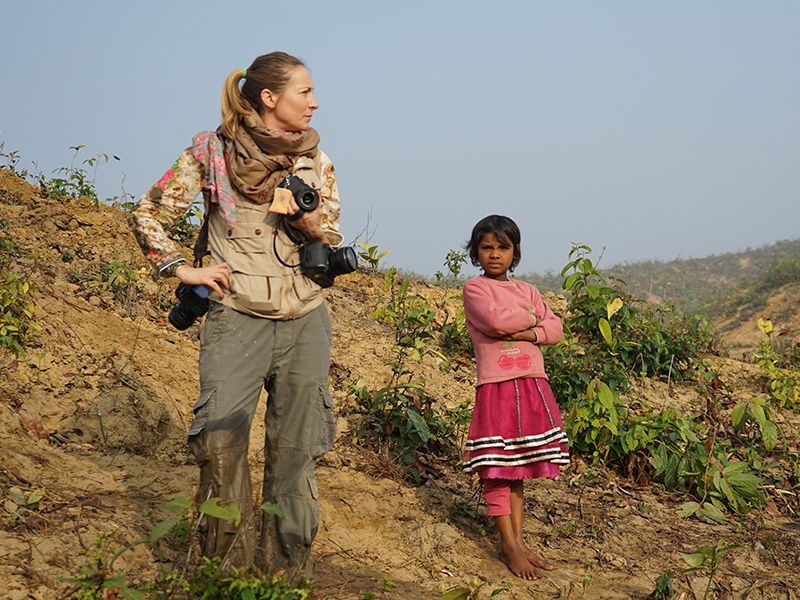 Vero visited the refugee camp in Cox's Bazar, Bangladesh, meeting vulnerable families who have experienced severe trauma.
I think hope and strength is all over these camps.
Many left their homes with nothing and desperately need shelter, lighting and other essential items. Vero said:
"The camp in Cox's Bazar is really colourful. In such awful circumstances, there is a lot of life. We saw a couple who had just married, a man having dental work in a crowd, children playing. I also saw the solar lights that ShelterBox provided. They are very useful, especially for families to share a dinner with at night. These are family moments you have to cherish, especially when you have lost everything. I think hope and strength is all over these camps."
Who We Are
---
About Us
ShelterBox is made up of people who believe in shelter as a human right – that shelter from the chaos of disaster and conflict is vital. We provide the tools that enable people to rebuild homes and transform their lives.
Building Peace
Every minute, more families lose everything in the chaos of conflict. Their homes, their livelihoods, and even family members are brutally snatched away. Take a look at how we're helping to build peace, one family at a time here.