POWER
---
GIVE IT UP FOR SHELTERBOX
Take part in Off the Grid and see how you cope with no power for 24 hours: that means no phones, no laptops, no lights, and no social media.
You'll raise awareness about families in crisis after disaster strikes. You'll also get a small glimpse of what life is like for those who have lost everything as a result of natural and man-made disaster.
Sign up to go Off The Grid below.
How will you survive?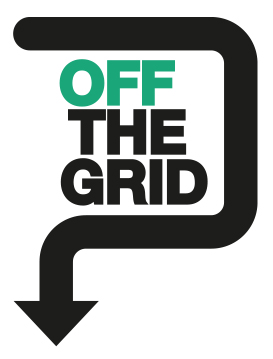 THE REASON
---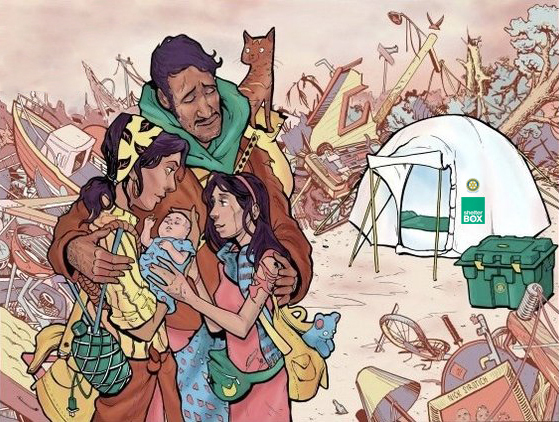 ShelterBox hand-delivers emergency shelter and tools for families robbed of their homes by natural disasters and conflict all over the world.
The awareness you raise by taking the Off the Grid challenge will make a real difference to families in crisis. Plus, any money raised will directly support our humanitarian efforts. Tents, ShelterKits, cooking equipment, solar lights, hammers, rope and water filterss are just some of the things your donations can provide.
You are never powerless to help – so thank you for taking part, for rising to the challenge and for supporting families in desperate need.
With your help we can build a world where no family goes without shelter when disaster strikes.
THE CHALLENGE
---
The Off the Grid challenge is a friendly competition to draw awareness about families left without shelter after disasters.
When disasters strike and power lines go down, families are left vulnerable, robbed of comfort, light and electricity.
Off the Grid challenges you to go without power for 24 hours to understand some of the impacts of disasters on families around the world.
The challenge can be accepted by individuals, classes, clubs or entire schools and companies! Get your squad together, pick a 24 hour period and sign up below.
The rules are simple
No electricity and nothing with an 'on' button for 24 hours.
Ideas of what to to do with no power
Cook meals over a fire (see recipe ideas below) • Go for a hike • Read a book • Play games • Build something like a kite, garden, windmill, treehouse, or community beautification coalition • Learn the constellations
Get Sponsored
Get sponsors to help your event! Sponsors can make donations to ShelterBox for each hour you're Off The Grid. Or a local restaurant can donate a meal so you don't have to use power. 😀
How far you take the challenge is up to you, the bigger the challenge, the more people that sponsor you, the more you will be helping people in crisis – who have no shelter, no home and no access to any power.
Your Own Webpage
---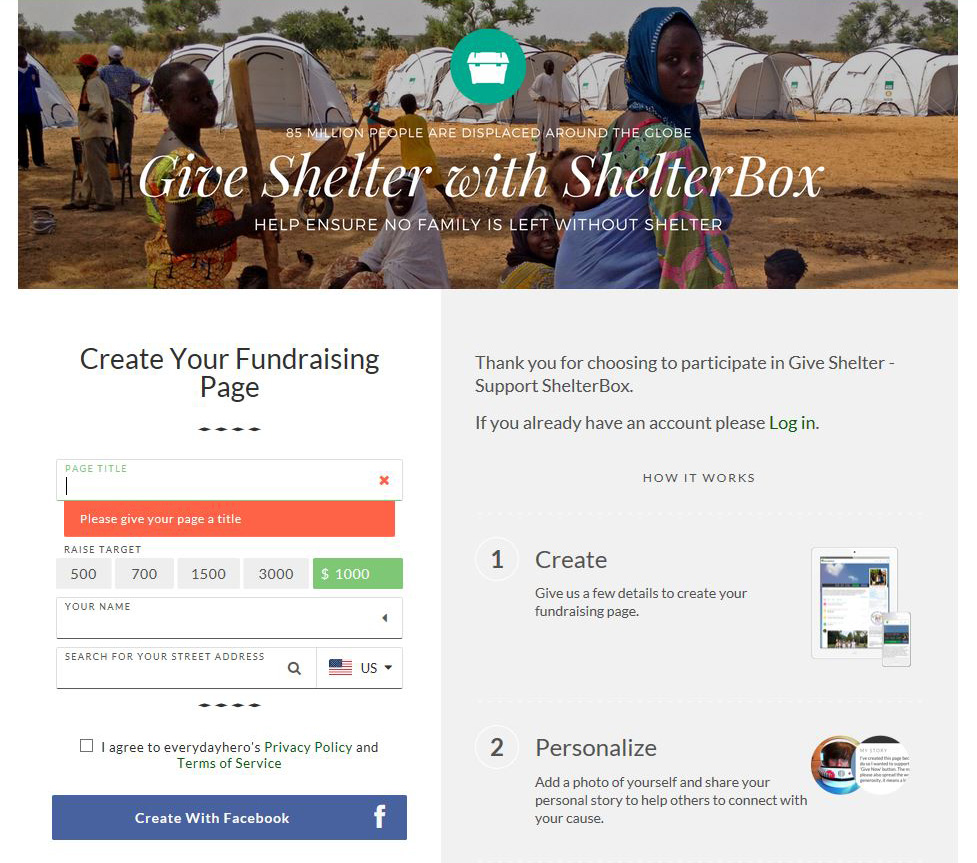 Harness the power of the internet!
Create an online page which allows you to do your own ShelterBox fundraising. Set a goal for your Off The Grid campaign and easily tell your story via email or social media.
We make it easy to connect with your community and track your own progress.
Everything you need in one place.
OFF THE GRID Recipes
---
Tasty food ideas to help keep you fueled up while Off The Grid!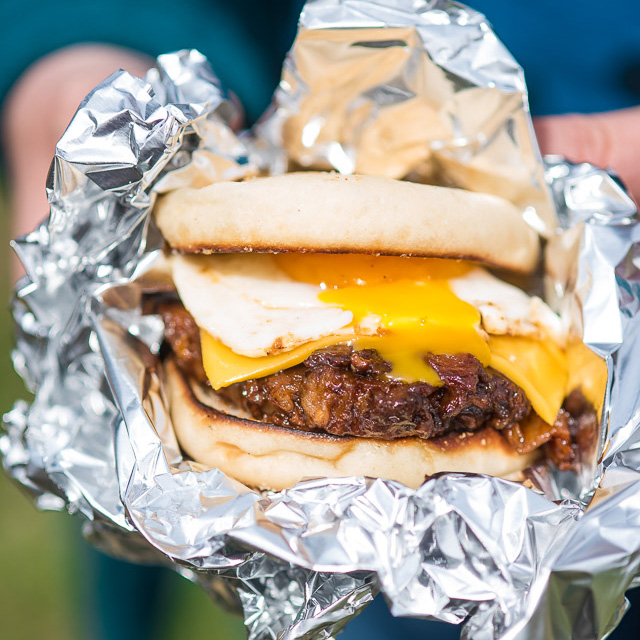 Camping Breakfast Sandwich
Prep Time 5 min
Cook Time 20 min
Total Time 25 min
Servings 4
Ingredients
4 English Muffins
2 cups leftover protein
4 eggs
4 slices cheddar cheese
Butter to crisp up the muffins
Instructions
In a medium cast iron saucepan, crisp up the english muffins with a bit of butter until golden and crispy. Set aside.
Reheat leftover protein in skillet and set aside.
Fry eggs.
Fill english muffin with ½ cup pulled pork, runny egg and a slice of cheddar cheese. Wrap in foil and place over fire until cheese is melted.
Serve!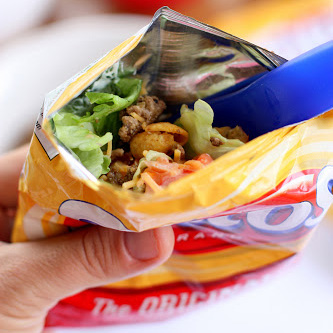 Walking Taco
Prep Time 15 mins
Total Time 15 mins
Servings 1 p/p
Ingredients
BBQ Pork or other protein
Small bags of chips
Shredded cheese
Shredded lettuce
Chopped cilantro
Sour cream
Pineapple salsa
Instructions
Heat the pork/protein as directed.
Open the bag of chips and crush them into smaller pieces.
Fold down the sides of the bag to make it more sturdy.
Top the chips with the pork barbecue, shredded cheese, shredded lettuce, pineapple salsa, sour cream and cilantro.
Enjoy!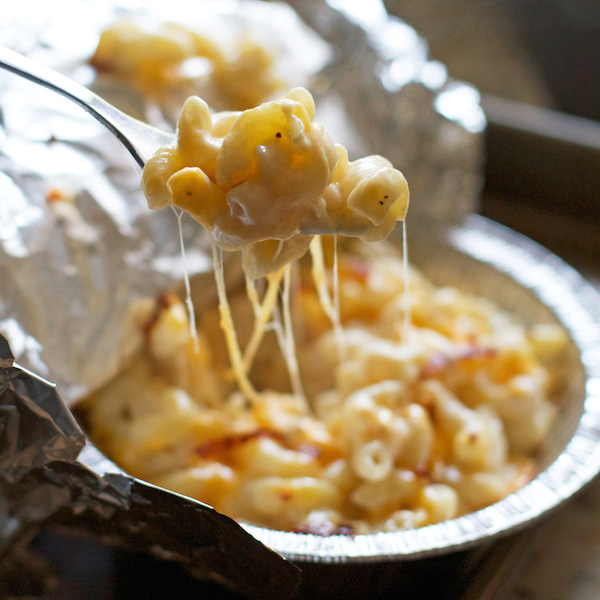 Camping Mac n' Cheese
Prep Time 20 min
Cook Time 10 min
Total Time 30 min
Servings 4
Ingredients
1 1/2 cups elbow macaroni
8 oz prepared Alfredo sauce (just over half a jar)
1/2 cup grated sharp cheddar cheese
1/2 cup grated Parmesan cheese
1/4 cup mozzarella cheese
1/4-1/2 cup half and half or whole milk
Salt and pepper, to taste
Instructions
Cook pasta according to package directions. Drain and rinse with cold water.
Stir alfredo sauce into the cooked pasta with the three cheeses and enough milk to keep things loosey goosey. (This is so the mac and cheese doesn't dry out while it's staying cool.) Stir in salt and pepper to taste. Divide between four mini aluminum pie tins – or one big one –  sprayed with nonstick cooking spray. Spray one side of aluminum foil with more nonstick cooking spray and cover each individual mac and cheese portion, sprayed side down, facing the food. Seal well. Store in a large plastic food storage bag in a cooler until ready to cook.
Prepare a fire and let it burn down to the coals. Place a cooking rack over top that would be 2-3 inches above. Place each pie tin over the hot coals and cook 8-10 minutes or until hot.
Remove from fire and serve immediately.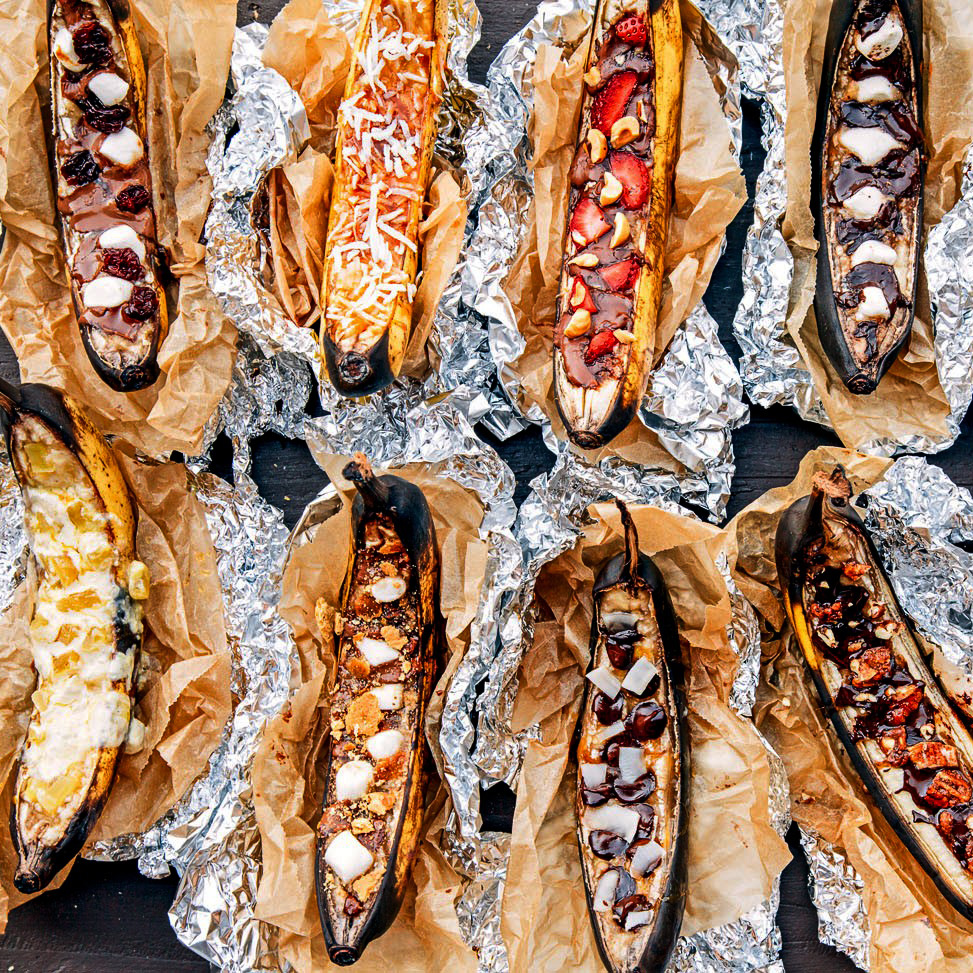 Campfire Banana Boat
Prep Time: 5 min
Cook Time: 5 min
Total Time: 10 min
Servings 1 p/p
Ingredients
Banana(s)
Assorted toppings (see below)
Instructions
Take a banana with its peel still on and cut it down the middle (along the concave side). Just until the tip of your knife grazes the peel on the other side. Pull the peel and banana slightly ajar and insert toppings.
Wrap banana in foil.
To cook: A controlled, even heat is what you're looking for. You want to warm the banana and melt the toppings, not turn the whole thing into a carbonized meteor.
Remove from fire with tongs, unwrap carefully and enjoy!
Banana Boat Ideas
CLASSIC S'MORES
Banana + Milk Chocolate + Mini Marshmallows + Graham Crackers
STRAWBERRY HAZELNUT
Banana + Strawberries + Nutella + Chopped Hazelnuts
SAMOAS
Banana + Chocolate Chips + Caramel Sauce + Toasted Coconut
DULCE DE LECHE
Banana + Chocolate + Dulce de Leche sauce + Coconut shreds
VEGAN
Banana + Dark Chocolate + Dandies Mini Marshmallows
PB & C
Banana + Peanut Butter + Chocolate Chips
HONEY GINGER
Banana + Honey + Candied Ginger + White or Dark Chocolate
BANANA SPLIT
Banana + Milk Chocolate + Marshmallows + Cherries
PECAN PRALINE
Banana + Pralines + Dark Chocolate
All recipes courtesy of CountryLiving.com