ShelterBox is sending an assessment team to the Caribbean region, after a powerful 7.2 magnitude earthquake and aftershocks in Haiti. Buildings have been flattened. Hospitals already under strain from COVID-19 are overwhelmed. 
Now with Haiti in the path of Tropical Storm Grace, survivors of the earthquake could be hit tonight by strong winds, driving rain, flooding and deadly mudslides. Many will be facing these conditions with their homes already destroyed. Existing rescue efforts could be severely affected. 
The ShelterBox team will work with fellow humanitarians to assess damage reports, understand from communities what they need, and work on the challenging logistics of delivering aid to areas where buildings have been reduced to rubble. 
This will be the first time a ShelterBox team has deployed since the coronavirus crisis severely restricted international travel in early 2020.
Early reports show that almost 3,000 homes have been destroyed and at least 5,400 more damaged – but search and rescue is the priority right now, so damage reports will soar in the coming days and weeks.
ShelterBox have responded several times to Haiti, including in the aftermath of the catastrophic 2010 earthquake. The charity will be using everything it has learned, and its close partnership with Rotary International, to forge local connections and make sure the right emergency shelter reaches communities when they need it. 
Interview Availability: ShelterBox USA President Kerri Murray is available for interviews related to Saturday's 7.2 earthquake and subsequent aftershocks in Haiti. Kerri Murray was in Haiti in 2010 after the earthquakes and can speak to her prior experience on the ground there. We also have volunteer ShelterBox Response Team Members, first responders who were also on the ground in Haiti in 2010, who can do live interviews as well.
Topic: ShelterBox is working to understand the full extent of the damage cause by Saturday's quakes. We think there will be significant need for emergency shelter and are sending an assessment team and will respond if needed with aid we have prepositioned in Panama. We are currently working on plans for the logistical and access challenges of working in an area where buildings have been reduced to rubble and where COVID-19 vaccinations rates are low.
Haiti is extremely politically turbulent, and Saturday's earthquake comes amid a political crisis in the country following the assassination of its president last month. Tropical Storm Grace could also impact Haiti on Monday and Tuesday – bringing heavy rains to the region and potentially affecting search and rescue efforts.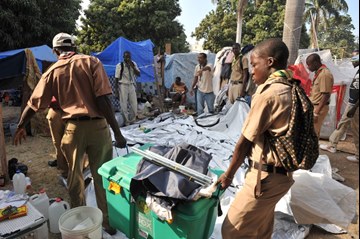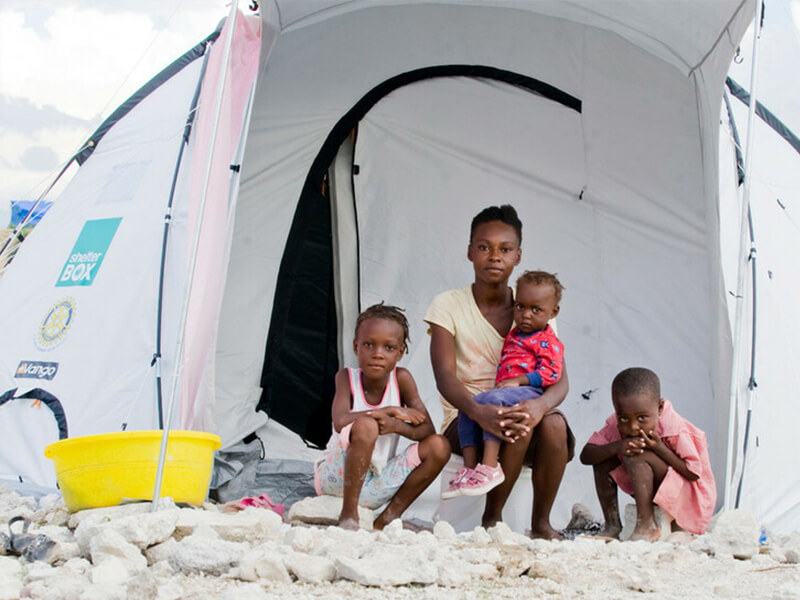 Major Points
ShelterBox has significant experience working in the region. We have worked in Haiti five times including in 2010 after a magnitude 7.0 earthquake devastated the country, when 200,000 people lost their lives and 5 million people lost their homes.
In 2010, ShelterBox provided shelter for 28,000 families (140,000 people) – our biggest response to date.
Our most recent response in Haiti was in 2016 following Hurricane Matthew. We worked in Les Cayes which is near to the epicenter of this most recent quake.
Haiti is extremely politically turbulent, and Saturday's earthquake comes amid a political crisis in the country following the assassination of its president last month.
Video/Image Assets: To support this media opportunity, ShelterBox USA has provided images of our past response work in Haiti. Click here to access the ShelterBox images of past work in Haiti and B-roll footage of our global responses. We do not have photography from the current disaster yet as in-country teams are in the midst of a search, rescue and recovery effort. Images are available on the wires, or images from ShelterBox's previous responses in Haiti are available through link above.
About ShelterBox
ShelterBox provides emergency shelter and other essential items to families who have lost their homes to disasters or conflict. In April 2021, ShelterBox surpassed providing support to two million people since 2000, responding to more than 300 disasters in nearly 100 countries. ShelterBox responds urgently to earthquakes, volcanoes, floods, hurricanes, cyclones, tsunamis, or conflict by delivering boxes of essential shelter, aid, and other life-saving supplies. Each iconic green ShelterBox contains a disaster relief tent for an extended family, blankets, a water filtration system, emergency lighting, and other tools for survival. The organization was nominated for a distinguished Nobel Peace Prize in 2018 and 2019. ShelterBox USA is based in Santa Barbara, California.
To schedule an interview with ShelterBox USA President Kerri Murray, please get in touch with Sarah Robinson at 907-854-0901 or [email protected].