Families in Somalia are taking desperate measures to survive the looming famine and increased violence across the country – leaving their homes and livelihoods behind in search of food and water.
This had led to more than 700,000 people without adequate shelter. As a result many people are living in unfit conditions with basic needs not met, and privacy and protection concerns. Women and children are especially vulnerable, and gender-based violence is not uncommon.
Read on to learn more about what it happening in Somalia and how we're helping.
WHAT'S HAPPENING IN SOMALIA?
---
A fifth consecutive failed rainy season across Somalia, Ethiopia, and Kenya is fueling the worst drought to hit East Africa in four decades. The next rainy season is also expected to fail – which could drive further displacement as people struggle to survive.
While drought and climate change are driving displacement, there is also increased violence and tension in the country which is causing people to flee their homes. While some have fled to neighboring towns, many more have ended up at displacement sites. There is an extreme shortage of shelter available.
Millions of people have been uprooted, sometimes more than once as they move on due to drought, conflict, or problems caused by rising food prices. Although there are problems with displacement throughout the country, the central and southern regions have been the most affected.
The impact has been devastating – according to an Oxfam report, one person is estimated to be dying from malnutrition every 48 seconds across Ethiopia, Kenya, and Somalia.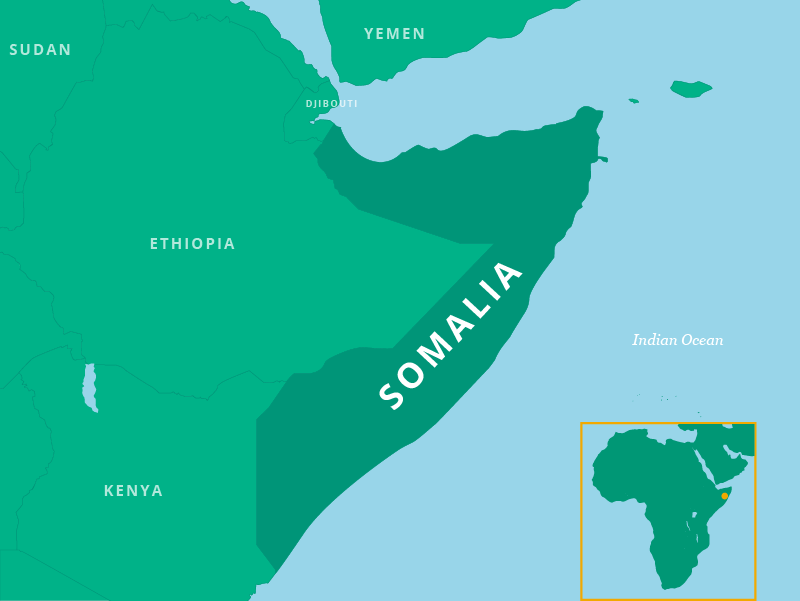 Map showing the location of Somalia
WHAT ARE THE BIGGEST CHALLENGES FOR PEOPLE IN SOMALIA?
---
Drought
After five failed consecutive rainy seasons, Somalia and other countries in East Africa are facing the worse drought in four decades. The drought means that millions of people are at risk of famine because water sources have dried up, crops have failed, and livestock are dying. Hundreds of thousands of people are leaving their homes and livelihoods behind. They are on the move, covering vast distances, in search of food, water, and health services.
Conflict
Conflict remains a key driver of displacement and the country is currently experiencing increased tension and violence.
Food prices
Food prices are rising in many drought-affected areas leaving families unable to afford basic food items. The cost of a food basket has risen by 36 percent in Somalia because of below-average harvests and rising food prices on international markets – partly because of the war in Ukraine. People are having to sell their homes and possessions to survive.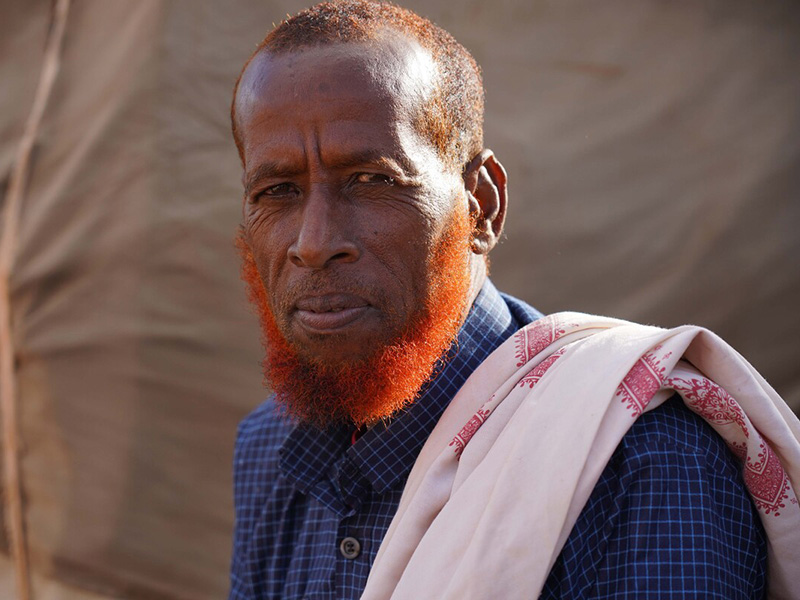 "I am burdened by the heavy weight of memories from the past, dreams that haven't come true, and a strong longing to return to the life I had before this one. On the other hand, whenever I am with my loved ones, I feel a spark of light inside me. It serves as a reminder to me that hope is something that can always be maintained, even in the most difficult of circumstances." Mohamed now lives in a displacement camp in Somalia
IS THE CRISIS IN SOMALIA RELATED TO CLIMATE CHANGE?
---
Droughts are a natural part of our climate. They can be influenced by moving weather patterns, high temperatures and lack of rain. However, the climate crisis is increasing the severity of extreme drought in some regions around the world, including Somalia.
Increasing temperatures and more extreme changes in rainfall patterns are contributing to worsening drought conditions. One of the most devastating effects of droughts is the strain put on food supplies, and this can lead to social unrest, famine, and migration.
While conflict in Somalia has been a long-standing driver of displacement; extreme weather, made worse by the climate crisis, is forcing more people on the move to find food, water, and somewhere to live.
Somalia is prone to droughts but this is extreme and far-reaching, and people there are facing the most prolonged drought in recent history.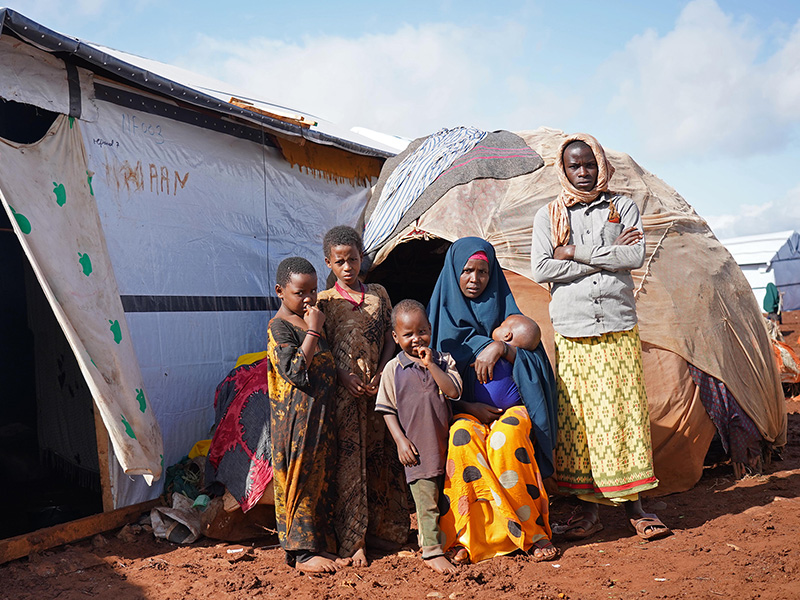 Fartuun and her young family fled their home. They have now received a new durable shelter.
HOW IS SHELTERBOX HELPING?
---
We are working with our partner the Juba Foundation to support thousands of people in Southern Somalia in need of shelter.
People on the move in Somalia are at constant risk of eviction because of the lack of property rights. With Juba Foundation, we'll be working with landowners and the local government to make sure people have a right to remain for two years.
We'll be providing the materials and technical guidance to Juba Foundation to construct locally appropriate shelters. Built using timber framing and tarpaulins, their durability means people will be well protected from extreme weather. The shelters have windows and a lockable door that give people privacy, space to spend time with their families, and additional security.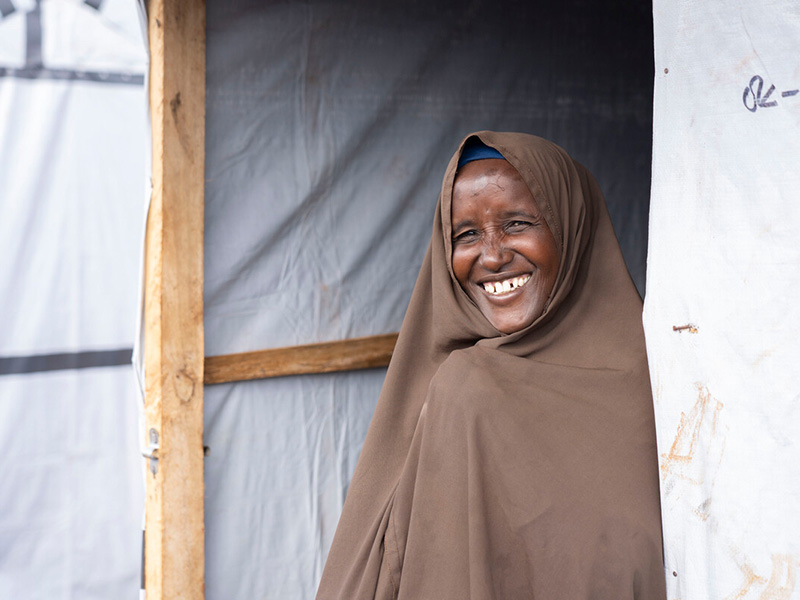 "I just took a quick look at the new houses being built for us, and I can't wait to move in there. All of the kindness that has been shown to us has filled my heart. Now that I know the rain won't be able to get into my house anymore, I can finally rest and feel relieved." Muno on the more durable shelters being created in Somalia.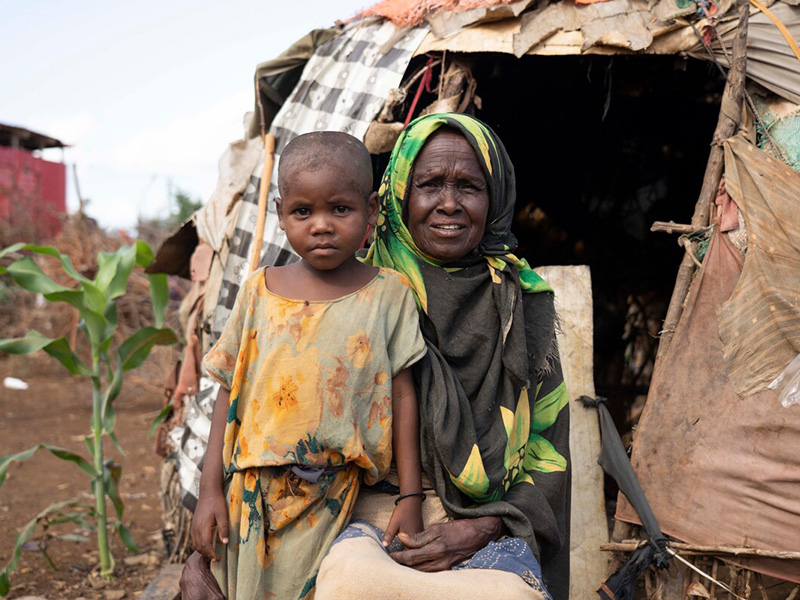 "When individuals are tested in times of hardships, it is at these moments that they reveal their actual strength… The fact that I have wrinkles on my face is proof that I am not scared to assist other people, that I am bold, and that I am working towards a better future for myself and others." Haawo is looking ahead to a brighter future despite past hardship
We are also providing aid packages with other essential items. People will receive a solar light, a simple but vital piece of equipment when there is no electricity. They give light in the dark evenings, helping people to cook safely with the kitchen sets we provide. Items like water carriers and mosquito nets mean that people can protect themselves and their families from diseases. Blankets and sleeping mats will help keep people warm and comfortable, especially at night. These items give those who had to leave everything behind a new starting point.
As ShelterBox has not worked in Somalia since 2011, we have taken the time to better understand the context and connect with the right partner so that we can work as effectively as we can to support those in need of aid.  We have also supported communities in neighboring Ethiopia affected by drought and conflict.
We realize there are difficult economic times at home but if people are in a position to donate then we firmly believe that is the best way they can help. Look at experienced aid agencies like ShelterBox that are in the region and co-ordinating responses. 
If donating isn't an option, we understand that. There are other ways to get involved such as fundraising and raising awareness of the ongoing need.
To learn more about disasters around the world, and how we're helping, you can also sign up to our newsletter.
"My children see me as an immovable rock that they can depend on, and they look to me to guide them through this life path that is fraught with unpredictability. When I look into their eyes, I am filled with the courage and determination to keep going, to be their safe haven even whilst everything around us seems to be in a state of chaos and difficulty." With your help, we can provide help to people like Dhaqan and her family.