Constantly Refined
---
ShelterBox works with Vango, a leading tent manufacturer with more than 50 years' experience, to design and develop tents that can provide security and sanctuary in the aftermath of disaster.
Our tents are now in their third incarnation. Feedback from families using the tents helps us constantly redefine our design, ensuring they are fit for purpose.
Made to withstand all types of severe conditions, these shelters see roaring winds, beating heat, and surging floodwaters.
The ingenuity behind every tent design is incredible – with your support, a family could have all they need to stay safe this winter.
Designed for Protection
---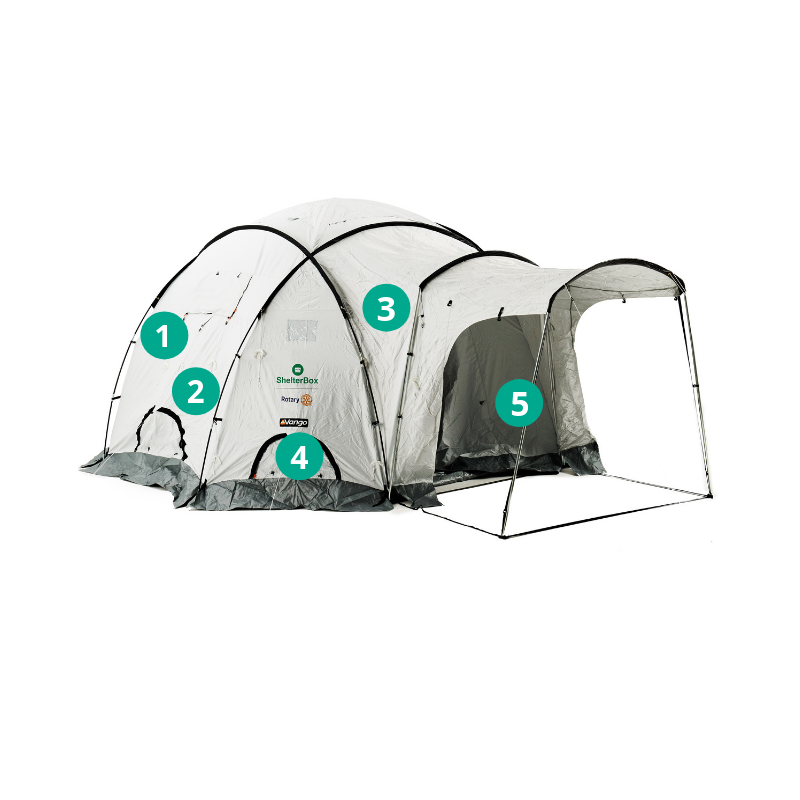 1 Wind
ShelterBox tents are tested in winds up to 100kmh where, even without guy ropes, they remain sturdy.
2 Rain
The high spec, waterproof outer layer keeps the interior dry, even in driving rains.
3 Stress
Flexible tent poles reduce damage from impact, helping the tent withstand falling and flying debris.
4 Heat
A reflective exterior shields from UV light, while ventilation windows allow the breeze to roll in.
5 Cold
A detachable thermal layer keeps warmth locked in, while the nylon outer stops frost from developing.
Generation Three Tent
---
This free-standing disaster relief tent is dome-shaped and has the space to accommodate a family.
Each tent contains outer and inner layers; the outer is made of hydrostatic head 3000mm material which is waterproof as well as UV protected and fire resistant.
A detachable thermal liner lies between the outer and inner liner to give extra insulation during winter.
The Generation 3 tent features cleverly-positioned vents and three extra guy ropes to help strengthen it against stress and help prevent tearing.
The ventilation windows have been designed to stop moisture seeping in, and the porch roof is curved to prevent rain collecting.
Fund cutting-edge shelter
Our tents have the power to transform lives. They're more than just canvas and pegs – they can become a home. A place where family and friends come together. An anchor in your community.