On The Ground
---
They've been bombed out of their homes. They've escaped attacks. Hundreds of families have run for their lives and need practical help.
As you read this, ShelterBox and our partners are helping Syrian families fleeing the latest devastating attacks in Eastern Ghouta. As crying children and worried parents pour into displacement camps, we must provide aid.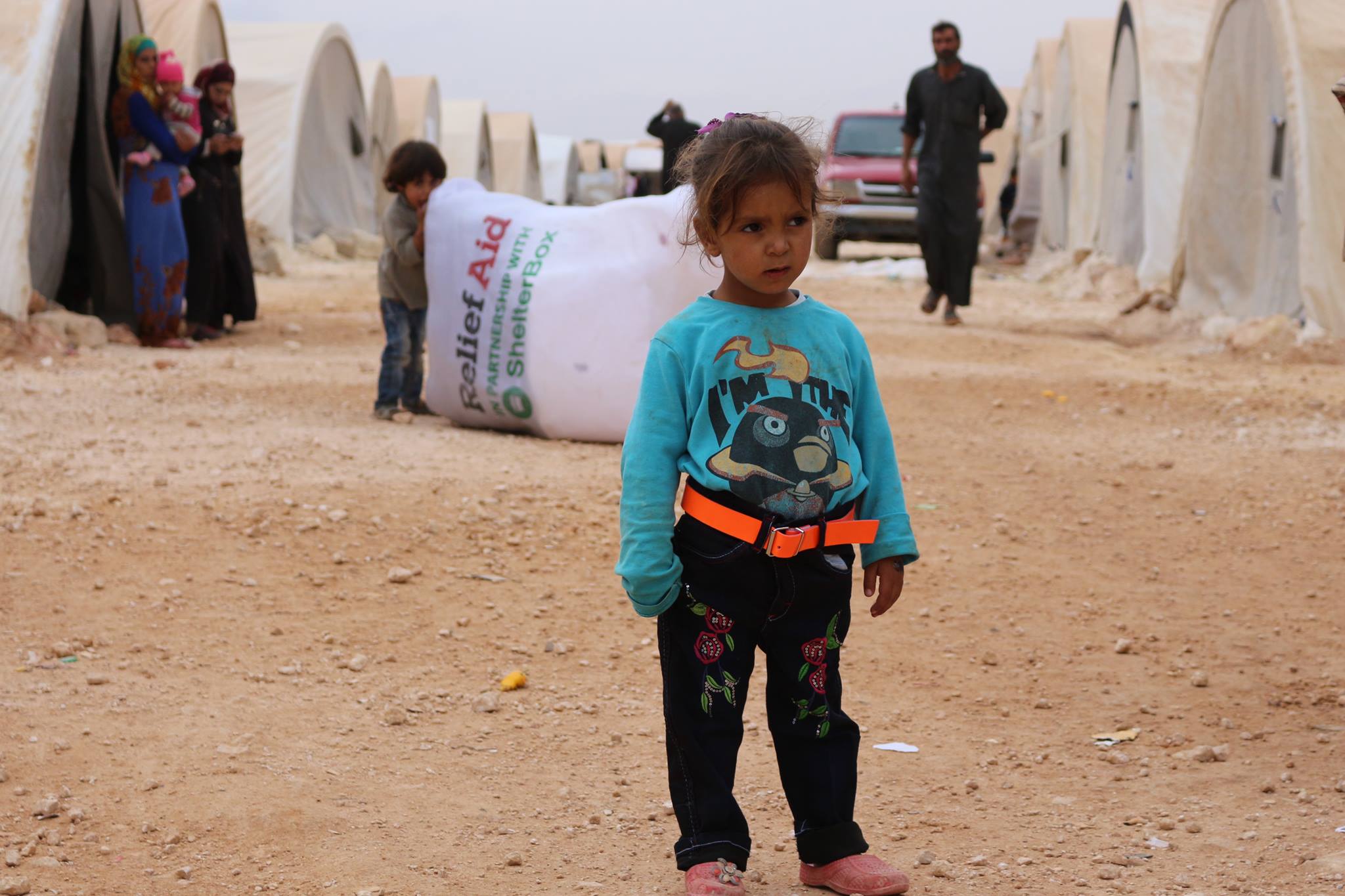 Please donate now to give blankets, water carriers, solar lights, ground sheets, tents and mattresses.
Families don't want much – they just want to live. You can help provide the practical, life-saving items they urgently need.
Since 2012, ShelterBox has supported 41,460 households displaced by the conflict in Syria.
Right now, we're providing aid to families who have left their homes with nothing but the clothes on their backs.
We have supported over 45,000 families affected by the conflict in Syria. But there are millions more living in Syria and neighbouring countries who have no shelter, nowhere to go, and no hope for the future.
We're working to change this. We are impatient to see a world where no family is left without shelter – but we need your support.
Millions Displaced
---
ShelterBox continues to respond
Since the 2011 protests in Syria escalated into civil war, the conflict has led to the displacement of 13 million Syrians.
The war has spilled over into Iraq and destabilized neighboring countries, leading to the displacement of a further 3.2 million people in Iraq. The United Nations Refugee Agency has described it as the greatest humanitarian crisis since the end of the Second World War. ShelterBox has been supporting displaced people either by means of deployed Response Teams where possible, or remote partnered approach as necessary, since 2012.
56% of the Syrian population have been forced to leave their homes
A mother and her children carry a ShelterKit in war-torn Aleppo
Responding to Crises Within a Crisis
In a protracted crisis such as that in Syria and Iraq there is a well-established humanitarian architecture in place to support people affected by the disaster. As in responses to natural disaster, ShelterBox has continued to focus on providing emergency shelter. The organization has positioned itself by offering surge capacity in times of massive displacement, such as the Aleppo Emergency in February 2016, when 75,000 people were displaced in a matter of weeks.
Syria is one of the most challenging operating environments in the world. It is too dangerous for a volunteer-led organization such as ShelterBox to safely operate and provide aid. Therefore ShelterBox has established partnerships with agencies working in Iraq and within Syria to allow access to these areas. Partners such as Hand in Hand for Syria and ReliefAid, who have networks in the affected areas and are able to access the people who are in need of assistance.
24% of all households helped by ShelterBox since the start of 2015 have been those displaced by the conflict in Syria and Iraq
A Flexible Approach
ShelterBox has dispatched tents, ShelterKits and non-food items (NFIs) to ease a variety of needs in Syria, Iraq and Greece. The equipment that is procured is based on the needs of Syrians and Iraqis, based on the contextual and seasonal needs of displaced people. For example, the ShelterKits distributed in Aleppo city in the summer of 2016 were tailored to protect against summer insects with mosquito nets, and included enough water purification equipment to provide families with drinking water for 5-months.
People are constantly displaced by the shifting front lines, as the different armed factions seek to take and hold territory. Tents are used to take people out of overcrowded communal shelters, or to provide shelter to people who have no protection from the elements except for trees.
Funding for shelter support to the Syrian conflict is chronically low. In 2016 the Shelter & NFI Sector within the Syrian Humanitarian Response Plan was 18% funded.
According to the U.N. in 2016, a staggering $4.5 billion was needed to meet the urgent needs of vulnerable Syrian families but only $2.9 billion was received.
A Syrian class receives ShelterBox school packs
The Zeidan Family
---
"Our only hope for the future is to be able to return to our home country and live our life as it was before."
In 2013, ShelterBox was the first international aid organization to distribute relief tents to Syrian refugees in Lebanon.
With so vast a story, the greatest insight often lies in individual tales and quiet voices. Meet 25-year-old Ahed Hussein Zeidan. Her eyes are full of sadness as she tells her story, sitting elegantly in her ShelterBox tent in Akaar, northern Lebanon.
"We left our village in Syria one day in the early hours of the morning. We had felt unsafe in our home for a while with all the shelling that was happening in our area. It was a frightening journey here as we had to pass through several checkpoints, but we made it across the border late at night the same day, so it was a very long journey."
Ahed is cradling her four-month-old baby, Omar. On either side of her are two of her three sisters who also live with her, one of whom is holding her own baby boy. Her brother in law is out working to raise enough money to rent the piece of land on which they have settled.
"When we arrived here, we were living in an unfinished building, like lots of other families. However, as winter approached, it was freezing as there were no walls. It was not closed or sheltered. We lived here until we received a ShelterBox. We then found this land and set up the tent. We are so grateful for it.
This tent is closed so it is much better, protecting us from all the bad weather, the wind and rain. It's much warmer and much better than the unfinished house. We are more comfortable and we feel safer and our children are safer.
More aid is desperately needed. Will you help?
Your support will help bring light to families in their darkest hour.