Working in partnerships is in our DNA. We have always focused on building lasting relationships and powerful partnerships so we can support the people who need us in a way that is right for them.
Read more about how we make those operational partnerships work, so we can provide families with the essential shelter they need to start recovering from a disaster.
TOGETHER IN THE FIGHT AGAINST CORONAVIRUS
---
Right now, we need our partners more than ever – and the feeling is mutual.
During the coronavirus pandemic, travel restrictions mean that collaboration with partners has never been more important. Disasters don't wait – and now families who have faced disaster are also facing this new and deadly threat.
The need for our support has never been greater.
When we work together with partners, we each play an essential role in making sure disaster-affected communities receive the help they need.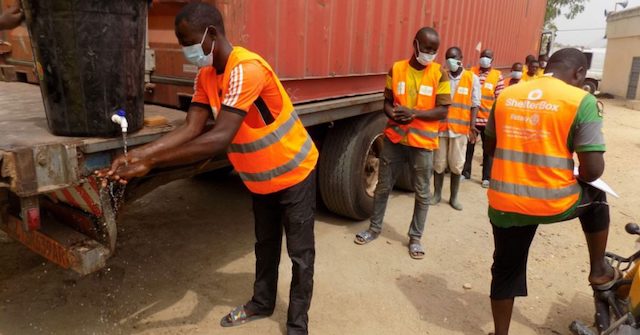 WHY IS SHELTERBOX NEEDED?
---
We are one of the few emergency shelter specialists in the world.
When disaster strikes, communities often need many types of support. Emergency shelter is our focus, but other needs can include WASH facilities (water, sanitation, and hygiene), food or healthcare. Many agencies will often come together to add their expertise to a coordinated response.
ShelterBox is recognized in the humanitarian sector for our world-leading technical and specialist expertise in emergency shelter.
Our staff and volunteers have specialist skills that many larger organizations don't have. We are valued for being flexible enough to work side by side with partners, we provide training not only for the communities we support but also for local partners who will provide longer-term support when we are no longer there.
PARTNERSHIPS BASED ON MUTUAL TRUST
---
Every time we respond to a disaster, we always evaluate the quality of our aid by asking families how it has worked for them. By listening to their feedback, we have been able to constantly evolve our shelter aid items to be the most suitable, quality items that people need.
This family-centered approach and attention to detail is one of the reasons we are so well respected in the humanitarian community.
We provide an in-depth understanding of what works in different emergency situations. Over 20 years of disaster experience helps us to efficiently work through challenges and come up with solutions in wide-ranging scenarios.
We also provide training for partner teams on how best to use the items we provide. In return, we benefit from our partners' local presence, their knowledge of communities and their in-country connections.
They have a detailed understanding of exactly where affected communities are and how to reach them. By working as part of a group of agencies, we can collectively better support disaster-affected families.
WHO ARE OUR PARTNERS?
---
OUR PARTNERSHIPS ENSURE WE CAN POOL RESOURCES AND SUPPORT FAMILIES AROUND THE WORLD IN THE MOST EFFICIENT WAY
Open all