ShelterBox was founded to provide emergency shelter to people affected by disasters and humanitarian crises around the world.
Since 2000, ShelterBox staff and volunteers have helped to shelter more than 1.1 million people in nearly 100 countries around the world.
In April 2000, the Rotary Club of Helston-Lizard in Cornwall, England adopted ShelterBox as its millennium project. Little did they know that it would become the largest Rotary Club project in the world, with affiliates in countries across the globe.
Learn more about our partnership with Rotary International.
In 2002, ShelterBox's American affiliate was adopted as a project of the Rotary Club of Lakewood Ranch in Sarasota, FL. In 2004, ShelterBox USA was officially established as a 501(c)3 nonprofit organization.
See the list of ShelterBox global affiliates.
The first consignment of 143 boxes was sent to earthquake victims in the Indian state of Gujarat in January 2001 (pictured). Over the next three years, the project matured, and by the end of 2004, nearly 2,600 boxes had been dispatched, following 16 major disasters.
On December 26, 2004, news came of the devastating Indian Ocean Tsunami and ShelterBox faced its most significant challenge, one that would change its course forever. Donations and volunteers poured in and ShelterBox was able to ramp up operations on a scale unimaginable just six months earlier.
In 2005, ShelterBox sent out more than 22,000 boxes, almost 10 times the number delivered in the previous three years. Not only were we sending aid to survivors of the tsunami, but we were also able to help those who had lost their homes to Hurricane Katrina in the USA and the massive earthquake that hit the Kashmir region of Pakistan.
In just a few short years, ShelterBox had emerged as a major player in the field of international disaster relief, responding to earthquakes, tsunamis, floods, typhoons, hurricanes, volcanoes and conflict.
Year-By-Year
---
2000
– ShelterBox is adopted as a millennium project by the Rotary Club of Helston-Lizard in Cornwall, England
2001
– India + Pakistan
– First response: ShelterBoxes are sent to Gujarat, India following an earthquake
2002
– Afghanistan + Angola
– ShelterBox USA affiliate adopted by Rotary Club of Lakewood Ranch, District 6960
2003
– Ukraine, Algeria, Iraq, Liberia, Uganda, + Iran
2004
– Liberia, Uganda, Dominican Republic, Burundi, Nepal, Gaza, Haiti, Grenada, + Philippines
– ShelterBox USA officially established as a 501(c)3 nonprofit organization
– The 4R teams (Rotary-Review-Report-Recover) are established which evolved into the current ShelterBox Response Team
– 11,000 ShelterBoxes sent following Boxing Day Tsunami
2005
– India, Sri Lanka, Maldives, Indonesia, Serbia, Romania, Uganda, Indonesia, Sudan, United States, Pakistan, Bahamas, + Guatemala
– ShelterBox becomes a signatory to Red Cross Code of Conduct
– ShelterBox UK headquarters established in Cornwall
– ShelterBox responds in the USA for first time following Hurricane Katrina

India, 2005
2006
– Sudan, Somalia, Kenya, Romania, Indonesia, East Timor, Indonesia, Lebanon, Ecuador, Pakistan, Afghanistan, Papua New Guinea, + Philippines
2007
– Kenya, Somalia, Bolivia, Soloman Islands, Pakistan, Nepal, Swaziland, Peru, DPRK, Nicaragua, Ghana, Jamaica, Uganda, Bangladesh, Mexico, + Mozambique
– HRH The Duchess of Cornwall becomes ShelterBox President and Royal Patron
2008
– Somaliland, Bangladesh, Kenya, Papua New Guinea, Zambia, Swaziland / Lesotho, Afghanistan, Bolivia, Ecuador, Myanmar, China, Belize, Myanmar/ Thailand, Ukraine, Nepal, Haiti, Turks & Caicos, Kyrgyzstan, Pakistan, Honduras, DRC, Cuba, + Brazil
– Green Box logo is launched
– ShelterBox works with Scouts for first time in Kenya (conflict)
2009
– Colombia, DRC, Namibia, Italy, Sri Lanka, Brazil, Philippines, Pakistan, Bangladesh, Malawi, DRC, Taiwan, China, India, Indonesia, Burkina Faso, Niger, Mexico, Samoa, + El Salvador
– Vango becomes aid partner with design of white dome tent
2010
– Pakistan, Kenya, Haiti, Egypt, Peru, Chile, Uganda, Fiji, Indonesia, Mexico, China, Guatemala, Brazil, Niger, Philippines, Benin, DPRK, St Lucia, Colombia, + Panama
– ShelterBox supplies roughly 1/3 of all tented shelter in Haiti following earthquake: 28,500 households helped

Haiti, 2010
2011
– Brazil, Madagascar, Bolivia, Japan, Colombia, USA, Ethiopia, Kenya, Malta/ Libya, Philippines, Pakistan, Thailand, Turkey, + Colombia
– Responses in Arkansas and Missouri, USA coordinated with Scouts following tornadoes

Arkansas, 2011
2012
– Philippines, Brazil, Somalia, Madagascar, Peru, Republic of the Congo, Fiji, Peru, Italy, South Sudan, Uganda, Russia, Niger, Pakistan, Sengal, Iraq/Kurdistan, USA, Nigeria, + Guatamala
– ShelterBox becomes Rotary International's first Project Partner (disaster relief)
– Tim and Sharon Bridgman set off from Cape of Norway to bring awareness to ShelterBox by cycling self-funded around the world 
– ShelterBox delivers warm clothing to New Jersey, USA following Superstorm Sandy
2013
– Philippines, Myanmar, DPRK, Australia, Solomon Islands, Madagascar, Uganda, USA, Pakistan, Sudan, Niger, Pakistan, Lebanon, Jordan, + Syria
– ShelterBox responds to powerful Typhoon Haiyan in the Philippines, requiring aid for 7,200 families
– Response to tornado-hit Oklahoma, USA
2014
– Philippines, DPRK, South Sudan, Zimbabwe, Bolivia, Serbia, Paraguay/Argentina, Nepal, Mexico, Niger, Colombia, Pakistan, Haiti, Syria, Iraq Kurdistan, + Lebanon
2015
– Malaysia, Gaza, Malawi, Madagascar, Niger, Pakistan, Vanuatu, Cameroon, DPRK, Colombia, Nepal, Chile, Tanzania, Greece, Syria, + Iraq
– ShelterBox provides aid for 15,000 families following massive earthquake in Nepal
– Kerri Murray becomes President of ShelterBox USA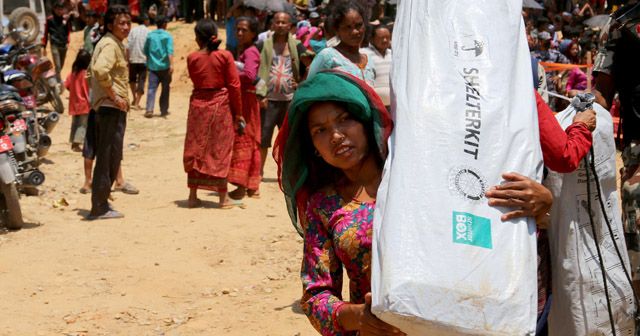 Nepal, 2015
2016
– Philippines, Paraguay, Nepal, Fiji, Syria, Ecuador, Niger, DPRK, Sri Lanka, Iraq, + Haiti
– Tim Bridgman completes world cycling event in Prudhoe Bay, Alaska
– ShelterBox responds to the second most powerful storm ever to make landfall – Cyclone Winston – in the island nation of Fiji