WHAT IS HAPPENING IN LIBYA?
---
On Sunday, September 10th, a severe storm known as Storm Daniel hit the northeast coast of Libya. It brought over 15 inches of rain in 24 hours in a region that typically receives less than an inch in the month of September. The rainfall caused two dams to burst on the ordinarily dry Wadi Derna riverbed. As a result, a torrent of water overwhelmed the city of Derna, entirely washing away several neighborhoods.
As a result of the flooding, 20,000 people are feared to have died. Rescue operations are still underway. The UN also estimates that over 30,000 people have been displaced by the disaster.
ShelterBox is responding in Libya, supporting people whose homes have been severely damaged or washed away by flood waters, in partnership with ACTED.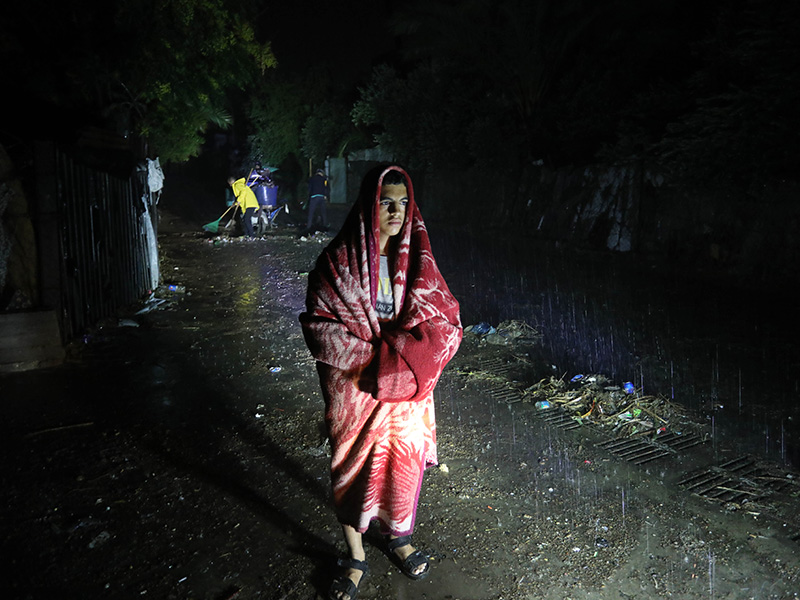 People whose homes have been lost or damaged are sheltering together in school buildings. This is where we're going to focus our efforts, and we're looking at what support is needed – it could be blankets, gas stoves, or kitchen sets.
A ShelterBox response team is deploying to neighboring Tunisia this week to meet with our partners to confirm what is needed and what aid we'll provide together.
Getting aid into countries where it's needed after a disaster of this scale can be difficult, especially with damage to infrastructure and supply routes. Access to Libya for foreign nationals is challenging, so to support people, we're partnering with ACTED, who were already working in Derna before Storm Daniel and have a good presence there.
YOUR DONATION TODAY WILL HELP PEOPLE MADE HOMELESS BY CONFLICT OR A DISASTER – WHEREVER THE NEED IS GREATEST.
Main image credit: AFP via Getty Images
Where has been affected by flooding in Libya?
The northeast coast of Libya was affected by extremely heavy rainfall. This brought flash flooding in several cities and communities in this area of the country.
The city of Derna has been particularly badly affected as the rainfall caused two dams to burst. As a result, the city was engulfed in a torrent of water that has been compared to a tsunami due to its suddenness and strength.
When did flooding affect Libya?
Storm Daniel reached Libya on Sunday, September 10, 2023. The heavy rainfall caused two dams to burst in the city of Derna that night.
Due to the amount of damage to infrastructure, full details of the devastation and loss of life are still emerging.
What caused the flooding in Libya?
Storm Daniel caused the flooding. This type of storm was known as a medicane – a severe storm in the Mediterranean compared to a hurricane. Storm Daniel formed in Greece and caused record-breaking rainfall there on September 5th and 6th. It then moved south towards Libya.
Storm Daniel caused over 15 inches of rain to fall on north-east Libya in 24 hours. That's over 200 times more rain than this area would expect to get in the entire month of September. The rain caused flash flooding and mudslides.
Who has been affected by the flooding in Libya?
Communities along the north-east coast of Libya have been affected by flooding and mudslides. The city of Derna has been particularly badly hit as the rainfall caused two dams in a normally dry riverbed through the city to burst.
This unleashed a torrent of water, which engulfed swathes of the city. Onlookers described the water as being like a tsunami. Scientists have estimated that millions of tons of water would have been released, capable of sweeping away people, vehicles, and buildings in its path.
The scale of the impact is still coming to light as a lot of infrastructure was also damaged in the flooding. The Mayor of Derna has estimated that 20,000 people have been killed.
As well as the staggering loss of life, the UN also estimates that 30,000 people have been displaced. As such, they will lack basic necessities such as food, clean water, medicine, and shelter.
Has climate change contributed to the flooding in Libya?
Storm Daniel cannot be specifically linked to climate change. However many scientists believe that the climate crisis is making severe storms more likely.
As such it is possible that we will see more devastating storms as our planet continues to warm up. You can learn more about the link between disasters and climate change here.
Is the flooding in Libya a natural disaster?
Extreme weather events like Storm Daniel are a part of the world's climate. However, the decisions humans make can decide whether such an event becomes a disaster.
In Libya's case, some point to the country's political turmoil as a factor in the scale of the devastation from the floods. Since the fall of Col Gaddafi's regime in 2011 the country has been split into two rival governments, and fighting has occurred between militias. As a result, the focus has not been on maintaining infrastructure. A government official for East Libya has said they had not been able to maintain one of the dams that burst at Derna. Reports suggest that experts raised concerns over the dam in 2011, but nothing had been done. In addition, advice to people regarding the approaching storm was confusing, with many told to remain in their homes.
The devastating flooding in Libya is another example of how disasters are not natural.
Where will my donation go?
When giving to ShelterBox, you are contributing to a general donation fund.
Your support today will contribute to part of our General Fund. We believe that the best way for us to be impactful is by staying flexible, and we must have funds available to support those affected by disasters around the world.